LRR Energy, L.P. (NYSE:LRE) is a new dividend offering in the energy sector. The anticipated annual dividend yield is 10%. The company is an exploration and production (E&P) master limited partnership (MLP). The company began trading on November 11th. The initial public offering was $19 a share on the New York Stock Exchange. 9.41 million shares were sold to the public. This article will focus upon the merits of buying LRR Energy shares for the dividend income.
Click to enlarge: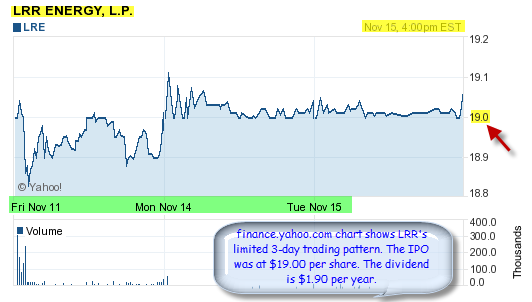 Dividend Expectations
The company's minimum quarterly distribution is 47.5 cents per quarter. This equates to a minimum annual payout of $1.90. Based upon the stock's current price of $19, the $1.90 is a solid 10% annual yield.
LRR Energy Background
LRR Energy acquires, develops, and operates oil and natural gas properties in the Permian Basin region in west Texas and southeast New Mexico; the Mid Continent region in Oklahoma and east Texas; and the Gulf Coast region in Texas.
Lime Rock Resources is the private entity offering LRR Energy shares to the public markets. The company is led by ex-Goldman Sachs employee Eric Mullins and Charlie Adcock, who has extensive experience with private and public energy entities.
Lime Rock Resources focuses upon acquiring low risk and long life assets in the oil and natural gas sectors. Lime Rock Resources has $850 million in private capital under management. My first impressions are that the company appears to be a good partner to invest alongside. This assumes the investor takes a position in LRR Energy. Lime Rock Resources has stated they may (and I assume it is likely) offer drop down assets to LRR Energy.
Negative Issues
1. One key issue is the business model. The company is an exploration and production MLP. This strategy differs from a midstream MLP. An exploration and production MLP needs to constantly have producing oil and natural gas wells in order to fund the quarterly dividends. Investors need to assume Lime Rock Resources will provide drop down production assets for LRR Energy to succeed in the long run.
In contrast, compare Chesapeake Midstream Partners, L.P. (CHKM) and its midstream MLP business model. In this article, "Chesapeake Energy Midstream Partners: Increasing Dividend Growth for Years to Come", I emphasize the infrastructure nature of a midstream enterprise. Midstream MLP's collect a fee on the passage of hydrocarbons, fees for storage and gathering oil, natural gas, and natural gas liquids. A midstream MLP is more of a toll booth business than a developer of new production sites. Investors recognize the difference in business models. Chesapeake Midstream Partners, LP trades at a stock price with a lower annual dividend yield, currently 6.0%. Investors demand a higher yield for a riskier business model. An exploration and production MLP is clearly a higher risk than Chesapeake Midstream Partners. Chesapeake Midstream Partners has Chesapeake Energy (NYSE:CHK) as its parent.
2. Now that the LRR Energy is off and running, Lime Rock Resources retains a 57.9% limited partner interest in LRR Energy. In addition, Lime Rock Resources, as the General Partner, will be entitled to receive 100% of the distributions LRR Energy earns as incentive distribution rights (IDRs) for a period of six years. These are funds which, under a Linn Energy (LINE) business model, would stay within the company. The General Partner clearly has a monetary gain versus a Limited Liability Company, which does not have to provide concessions to the General Partner.
Positive Issues
1. LRR Energy does have precedence for a successful exploration and production MLP.
Click to enlarge:

Investors can see the above table and the positive yields of other E&P master limited partnerships. Both Constellation Energy Partners (CEP) and Linn Energy are Limited Liability Corporations. This differs from a MLP because a General Partner does not exist. Constellation Energy Partners did stop paying dividends in 2009 and the above -21.8% return shows the negative outcome of halting distributions.
EV Partners (NASDAQ:EVEP) is the poster child for a successful E&P master limited partnership. In this article, "A Catalyst for Higher EV Energy Partners' Dividend Stream", the investor can note the high rate of return based upon a major Utica discovery. A midstream MLP would not possess such opportunities to discover a major oil or natural gas production site.
Vanguard Natural Resources (NYSE:VNR) owns production wells in producing natural gas and oil reserves located in the southern portion of the Appalachian Basin, the Permian Basin and in southern Texas. In addition, Vanguard is the General Partner of Encore Energy Partners (NYSE:ENP).
BreitBurn Energy Partners (BBEP) owns oil and natural gas assets in the Los Angeles Basin in California, and in Michigan, Florida, Indiana and Kentucky, and west Texas.
2. A core rationale for owning an E&P master limited partnership is a firm understanding of the business strategy. One of key low risk business strategy tenets is to pursue acquisitions of long lived, low risk producing oil and natural gas properties with reserve development potential. This is similar to Linn Energy. A key difference is Linn Energy does not have a General Partner to answer to and share its earnings with on an ongoing basis.
3. Lime Rock Resources has implemented strong hedges in place through September 2012. Fifty two percent of oil and natural gas are hedged at attractive prices. Fifty two percent of oil production is hedged at $105.37. Fifty two percent of natural gas is hedged at $6.46. These hedges, via swaps, provide ample confidence the dividend for the next nine months should be secure.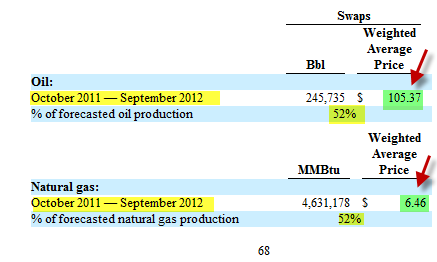 Per the SEC prospectus (pages 75-76), LRR Energy plans to hedge
...65% to 85% of our estimated production from total proved developed producing reserves over a three-to-five year period at a given point of time.
I want to see stability in the dividend over the long term. A rolling hedge provides dividend investors comfort in knowing the dividend is stable and backed by a derivative contract. Of course, this also means investors will receive less than fair market value if oil and natural gas prices rise above the hedged production prices.
Action Plan
Overall I am impressed with Lime Rock Resources' background. I want strong backers who have the technical insights to do what's right for investors. I have bought a position in LRR Energy because of the low price offering. The MLP was initially planned to be priced at the $19 - $21 range, and came to the market at the low end. The 10% yield, based upon solid hedges, offers some comfort on the downside risk. As with any E&P master limited partnership, the company has to prove themselves. I prefer to keep this sector on a short leash if they fail to deliver positive results.