By Bryan McCormick
A key bond indicator shows a clear rise in bearish sentiment on stocks in the last couple of days.
In the last three months I have written several times about the ProShares Short High-Yield (NYSEARCA:SJB) exchange-traded fund and its role as an indicator for risk-on, risk-off trades in equities. In sum, traders tend to sell the riskiest assets when they are risk-averse.
In credit markets, high-yield bonds--commonly known as "junk"--fit that bill and are more sensitive to risk than other types of bonds. The SJB tracks the inverse of a high yield corporate bond index, so that when it rises in price, risk is being shed, and when it falls, the risk trade is on.
The SJB is shown in red on the 14-minute chart shown below, and the green line is the S&P 500. As we can see, the red line rising is not a positive for stocks in general. Concerns earlier today centered largely centered around Europe and its lingering debt crisis, which sent European debt yields higher and stocks lower in the morning.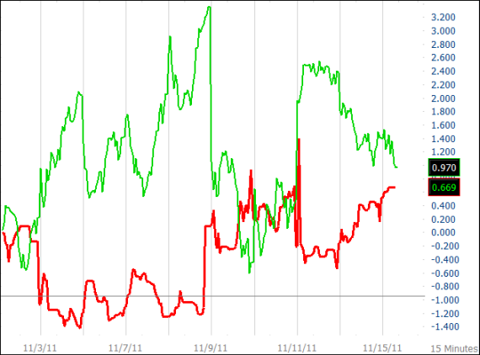 I have also included a snapshot showing the SJB and the S&P 500 on a daily time frame below. The exchange-traded fund, again in red, has been trending up since equity markets peaked in October. The trend has been gradual but shows that risk-aversion is increasing. If this trend is maintained, stocks will have a difficult time advancing.
This picture could change dramatically with some solid progress in easing the debt crisis in Europe. Failing such a move, traders would have to shrug off Europe's concerns as being country-dependent and begin pricing U.S. equities solely on their own merits to move the market higher.
The latter scenario could become a reality if traders start to view the United States as the best of bad choices. A return of U.S. asset flow could get a rally going into year-end. A drop in the SJB would potentially be a sign that the tide is turning in this direction.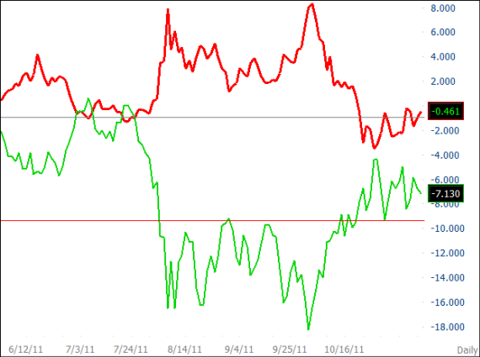 (Chart data provided by Thomson Reuters)