This is second and final part of my two part series on SiriusXM (NASDAQ:SIRI). Part one talked about positive factors of Sirius, while this article will focus on the negative forces affecting SiriusXM, and making my recommendation on the long term and short term futures of this company.
Sirius has a monopoly, but only in a narrowly defined sense. They are and will be the only satellite radio company the world will see for the near future. But what happens if the Internet becomes so widespread that Pandora (NYSE:P) could project their music all over major population centers? Sirius's value of commercial free music would decline. A way that Internet could become available in cars would be through mobile phones. They could provide the user with an Internet cloud, which they could use to connect their car to the Internet.
Companies like Pandora, or even Apple (NASDAQ:AAPL), could then provide music or other forms of entertainment for free or really cheap through that Internet connection. Sirius shouldn't be worried about direct competition, but rather cheaper substitutes. I don't see this a significant threat yet, but these cheaper substitutes need to be seriously considered when buying SiriusXM for a long-term position.
A lot of SiriusXM's satellites will be 'expiring' in the next couple of years. And here's a couple graphics from their 2010 10-k to demonstrate this.
click to enlarge


Click to enlarge

Click to enlarge
Of course, this estimated end of life is not when the satellite will actually be taken out of service, because Mel Karmazin specifically mentioned that they will have many years ahead without significant satellite expenditures. However, starting next year, six of their eleven satellites (I'm including the satellite that should be launching next quarter) will be over ten years old. This could mean reduced effectiveness and reliability over the next few years, which would directly affect how Sirius differentiates themselves.
Even if one satellite had to be replaced, that would cost them around $250M, and take a year at minimum to launch. I know they have spares, but they will also be ten years old starting next year. I get the $250M number by their ten satellites being worth $2B according to their 10-k, and adjusting that $200M for inflation. That is significant capital spending, and a large dent in their cash flows.
Sirius has a significant amount of Churn rate risk. 1.9-2% of self-pay subscribers leave every month, which equates to 23-24% of self-pay subscribers leaving every year. That is a huge turnover rate, and only sustainable because they add over 8M gross subscribers every year. If they missed subscriber growth for a couple quarters, then their churn would kill their bottom line. In addition, if the vague talk about Sirius 2.0 doesn't amount to a real improvement in their lineup, I would be worried about a permanent increase in churn, especially with their price increase for next year.
I say vague talk because so far all we know is that there are 20+ channels targeted towards Latino listeners, a radio that isn't out yet that costs almost $300 that will be able to basically DVR music, and an increase in bandwidth of 25% with additional channels that won't happen until sometime next year. These sound great, and the Latino channels really are, but the improvements will hardly improve current subscribers that will see their subscription cost increase. I emphasize this because those are the people that affect their churn, the promotional subscribers have nothing to do with it.
Another cause of concern could be the percentage of subscribers that are self-paying. The higher the better, because you'd rather have subscribers that like the service enough to pay for it, rather than subscribers that are there because it is free to them and don't have to commit yet. This has been dropping for the last couple years. This is another chart that I will be monitoring closely: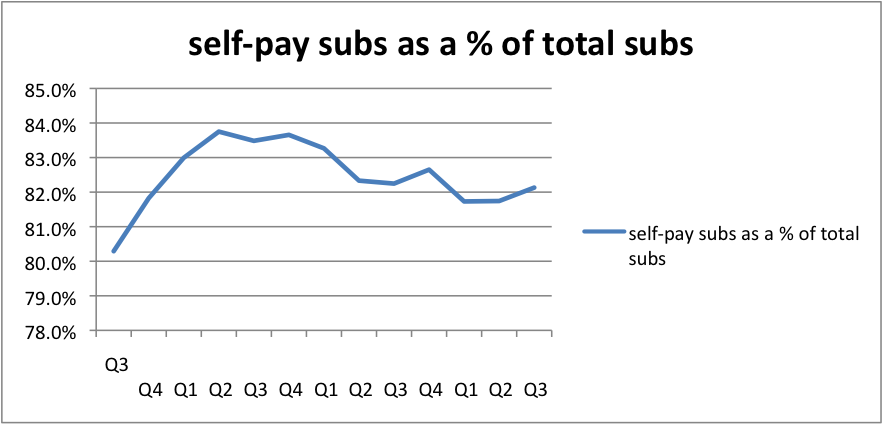 Click to enlarge
Liberty Media (LCAPA) is also an uncertainty that could be holding back the stock, even though I see many more positives than negatives. They can finally acquire more than 49.9% of the shares without any restrictions once March 2012 comes around. Currently they hold around 42%. An acquisition by Liberty Media would be good for short-term shareholders, as the price would certainly be a premium to the current price. However, the uncertainty of not knowing the intentions of Liberty Media could be a constraint on Sirius's stock until March passes.
To conclude both my articles, I really like Sirius for the short term, as they have some great short-term drivers ahead of them. Their ridiculous reduction of costs has caused their profit to increase dramatically, and they have very few cash expenditures next year. For example, they have only $1.3M of debt maturing next year, and after their launch of FM-6 satellite in the first quarter of next year, they should have very little capital spending left. They have an additional stock driver through the form of credit rating upgrades. They have received six upgrades over the last two years, and currently two out of the three major agencies have positive outlooks on Sirius.
In addition, they are guiding $700M in free cash flow for 2012, up 75% from the estimated $400M this year. I don't think the street is pricing this in, and if they reach that I see a catalyst. They also usually guide to the low end of their cash flow estimates. During their Q1 earnings call in May, they guided about $350M in free cash flow, which has turned out to be on the lower end. Furthermore, I also see returning capital to shareholders as a short-term catalyst.
Karmazin stated in the Q2 earnings call,
With no debt to pay off next year, we continue to think we will be in a position, subject to our board deciding to do this, to return cash to shareholders sometime next year.
Reducing shares outstanding, and increasing EPS would be a great way to enhance shareholders value at SiriusXM Radio. To conclude, I believe $700M in FCF will be reached, due to higher car sales, lower capital spending, and nearly zero debt maturities. I don't think the street is anticipating that number to be reached, and once the market realized they will reach that, the stock will appreciate to account for that.
On the long-term front, Sirius is in no way a 'safe' long-term play as some people on here claim it is. They have major challenges on the road ahead, mainly on the competition front. Sirius must innovate faster than they have been to keep ahead of the cheaper substitutes available. Sirius has a brilliant business model, 'outsourcing' their marketing to the automakers, but the Internet is a fast paced world, and could easily make Sirius obsolete if they don't stay ahead of the game.