At last week's TechAmerica Conference, CalAmp's (NASDAQ:CAMP) CEO, Michael Burdiek, made a strong case for why his company has reached an important new inflection point in its business. After releasing 30 new wireless products over the past year, CAMP's wireless division is now poised to elevate the company to new levels of expanding margins and profitability. This is significant. With CalAmp's profitability poised to move to new levels, what caught our attention from last week's presentation was the traction the company is enjoying in two new addressable markets: positive train control in the railroad sector and pay-as-you drive in the insurance sector. Let's examine.
PAY-AS-YOU DRIVE INSURANCE OPPORTUNITY
Hoping to incentive motorists into becoming safer drivers, insurance companies have begun accelerating the adoption of Pay As You Drive (PAYD) insurance, where premiums are derived from a formula that considers the type of vehicle, the amount of time spent driving, the distance, and the specific place. With more than 250 million registered vehicles in the U.S., insurance companies have begun to team up with telematics companies, such as CalAmp, who are in position to deliver the technological support necessary to make this offering a successful one. Here is what CEO, Michael Burdiek, had to say about this opportunity for CalAmp:
"Just this week, we announced the launch of our LMU-3000, a new location monitoring and messaging device designed specifically for commercial and consumer auto insurance applications. We are working with several top telematics service providers and Tier 1 cellular carriers in North America and Europe to integrate the LMU-3000 with their individual service offerings and we have several field trials underway with leading insurance companies.

We expect that those pilot activities will expand somewhat in scope. To be quite honest, we don't expect to see material revenue increases from that application until probably late this fiscal year and into our fiscal 2013. It's a very big opportunity, as we talked a fair amount about in recent investor presentations. We scoped the market size at roughly $300 million in terms of served market opportunity over the next four years."
In an article we published back in late July, we discussed how CalAmp's wireless division had overtaken the company's satellite product offerings as the main driver of top-line growth and underlying profitability. This trend should begin to accelerate as shipments of the LMU-3000 product line begin to ramp to insurance companies at the end of the current quarter. With "material revenue increases from this application expected in fiscal 2013" (beginning in March) and with a potential market opportunity of $300M over the next four years, this new business should translate into substantial growth in its wireless division. What's more, analysts have yet to include this jump in sales in their current models.
POSITIVE TRAIN CONTROL OPPORTUNITY
Perhaps the most tangible reason for management's confident tone on the conference call revolves around CalAmp's upswing of business in the railroad sector:
"In our positive train control rail project, we achieved a key milestone in the second quarter by completing the design phase in fulfillment of pilot units. Recent contract change orders have increased the overall value of this project to more than $14 million, with more than half of the backlog remaining to be shipped.

We are currently working with our prime contractor customer on opportunities to expand the scope of the current project as well as securing the rights to manufacture and sell fully qualified production radios once the preproduction phase of our PTC project is complete. Based on our current backlog, we expect meaningful revenue contributions from this project through the first half of our fiscal 2013."
CalAmp's Rail Growth Opportunity (Click to enlarge)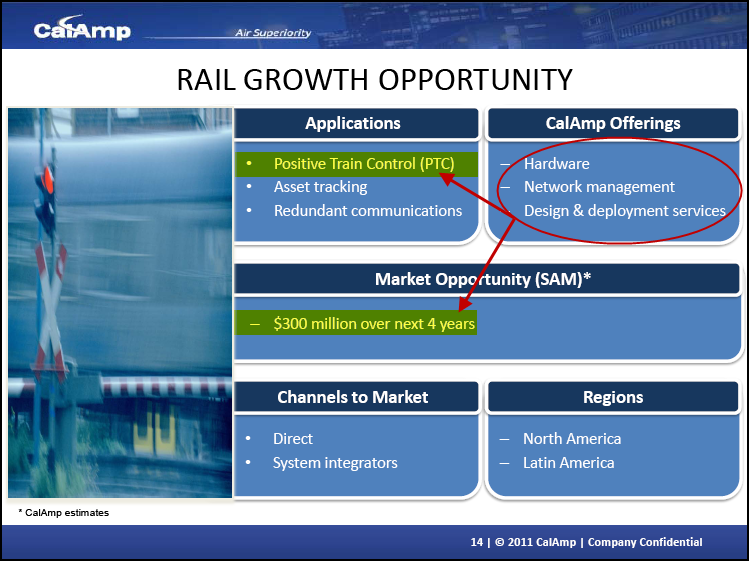 Source: CalAmp Investor Presentation
On the surface, a $14M contract may seem inconsequential to most investors. However, there are two significant points for investors to consider. First, with its wireless division at a $100M annual run-rate, $14M in incremental revenue will accelerate both the CalAmp's top-line rate of growth and its underlying profitability. More importantly, with a $300M total addressable market opportunity in positive train control, this $14M contract will ultimately act as a bridge to bigger orders for the company in the second half of next year.
With an impressive Q3 nearly complete, a robust Q4 on the way, and $600M in new total addressable market opportunities beginning to ramp, CalAmp is poised to post accelerating growth in sales, cash-flow, and bottom-line profitability. Given these factors, it seems that current analyst estimates for FY2013 are just too low. Instead of $0.23 in earnings, IPI sees a strong likelihood for $0.35 in earnings for FY2013. If we are right and CalAmp executes as we believe it will, underlying earnings estimates will be raised early next year. This is a very important catalyst as it should usher in a new set of investors who have shunned the stock for years: growth investors!
At $0.35 EPS for FY2013, CalAmp's earnings growth rate becomes 100%, year-over-year. Even in an environment that has been fickle towards growth stocks and breakouts, it would not be a stretch to see investors ultimately place a 15 P/E on the stock in the first half of next year. This implies 30% upside from current levels. And if this trendless tape happens to morph back into a bull market, we could easily see a 20 P/E placed on CAMP next year. The math is easy: a $7 stock price means 75% upside from current levels.
For investors in doubt, take some time and review the transcript from the company's recent earnings call. We think you will soon agree with our thesis: a company poised for accelerating growth due to $600M in new addressable market opportunities and a stock which remains undervalued and poised for healthy upside over the next six months.
Disclosure: I am long CAMP.