A recent article discussed the double-edged sword of the high yield / low payout ratio category of stocks. They can provide superior performance provided you keep one eye on economic trends. Over the last 5 years this strategy would have been a disaster if you focused on financial stocks only. The strategy works as long as you take care to reduce exposure to risky sectors and industries.
Has this high-dividend yielding strategy delivered strong excess gains in foreign markets as well? If so, this would improve your portfolio with diversification in addition to a market-beating strategy…if it holds up.
High Yielding / Low Payout Ratio Foreign Stocks
The setup will mimic our previous S&P 500 system with a couple of extra rules. In addition to yields being in the top 70% of non-OTC stocks, payout ratios being at least 25% less than the industry group average (TTM), and exclusion of the financial sector, we will include the following rules:
Prices over $1
Headquarters not based in developed nations
Market capitalization below 1 billion
While avoiding sub-one dollar foreign stocks, we focus on smaller capitalization companies in emerging markets which have historically provided superior diversification (see International Equity Diversification: Small-Cap Versus Small-Market Effects)
The test period is from April 2001 until today using monthly portfolio re-balancing in addition to a robustness check (compliments of Portfolio123).
The first test is to only hold those companies that meet all our buying criteria. Every month we re-balance to exclude the companies that have fallen off our list, and to include any new companies that have now made the list. The 10 1/2 year result is shown on the chart below. Click to enlarge: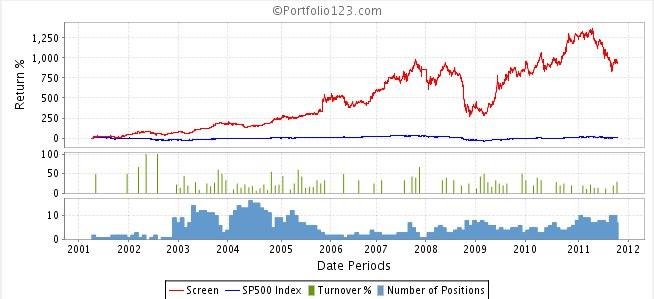 This translates into a 24.56% compound annual growth rate in capital gains alone. With the addition of yields this could be upwards of 27% annually.
The robustness check will buy and hold applicable stocks for a 12 month period from April 2001 onward. This test will be repeated over 500 times and we will analyze the averages. These results prove to be even more positive than our re-balancing test showing the following:
Average annual gain of 31.37% versus 3.08% in the S&P 500.
In up markets (12 month periods) this strategy rose 49.32% versus the S&P 500 of 14.08%.
In down markets this strategy dropped 7.96% on average versus the S&P 500 drop of 21.03%.
Companies Topping the List
Which companies are making our list today?
| | | | | |
| --- | --- | --- | --- | --- |
| Ticker | Name | MktCap | Industry | Yield |
| (NASDAQ:APSA) | Alto Palermo S.A. | 488.11 | Real Estate Operations | 14.39 |
| (NASDAQ:DEER) | Deer Consumer Products, Inc. | 175.02 | Appliance & Tool | 3.84 |
| (NASDAQ:HIMX) | Himax Technologies, Inc. | 187.54 | Semiconductors | 11.32 |
| (NYSE:IRS) | IRSA Inversiones Representaciones | 661.85 | Real Estate Operations | 4.18 |
| (NASDAQ:KEYP) | Keyuan Petrochemicals, Inc. | 106.52 | Chemical Manufacturing | 19.46 |
| (NYSE:NPD) | China Nepstar Chain Drugstore Ltd. | 260.83 | Retail (Drugs) | 11.16 |
| (NYSE:TGS) | Transportadora de Gas del Sur SA | 270.63 | Oil & Gas Operations | 47.99 |
Our small list of stocks come from Argentina, China, and Taiwan. Are you looking at TGS right now thinking that is a typo on the almost 50% yield? No, it did pay out a whopping $1.51 per share in May, but the share price also dropped from over $5 to just the mid-high $3s on the ex-dividend date. As well, this type of dividend payment is highly unlikely (or even impossible) to be a regular feature of the company.
As you look at each company listed, make sure you check whether what was paid out was a one-time special dividend, if dividend payments are irregular or suspended, and whether fundamentals show the payments to be sustainable. The above list is just an example of what a scan will produce with screening tools - due diligence is what you must do next.
Foreign Stocks, Dividend Strategy, and Market Timing
As you may have noticed during our first test of this foreign dividend strategy, the losses were steep during a domestic bear market. This is because global markets become highly correlated during a fall, and this is truer in recent times as globalization unlocks capital for a sloshing bathtub effect the world over. While we utilize diversification during calm and bull markets, we need to create a rule-set to keep up sidelined when markets are falling (you can read more about the specific market timing rules here). In brief, when the 3 week moving average of the S&P 500 (NYSEARCA:SPY) earnings forecast is above the 15 week average we consider it safe to go long.
To demonstrate how this improves our profitability, I will add this one rule to our first monthly re-balancing test. Click to enlarge: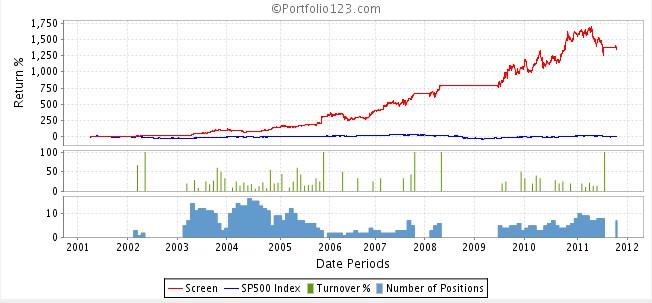 Our excess gain adds another 4% annually on average (as opposed to this strategy without market timing), our maximum portfolio loss drops to only 18%, and we are out of the market for almost 3 of the 10.5 years. The 3 years that we are sidelined would allow us to invest in bonds or even go short on the market for an extra couple percent of annualized gain spread over the decade. Once we factor in dividends, the combined result is a annualized gain in the 30 – 35% range with a reduction of downside risk.
Will this sort of gain continue going forward? A global recession will no doubt see these numbers cool. As more investors pour into these emerging markets, the excess gains will eventually fall more in line with developing lands that have free flowing capital. But for now, if you select small-cap companies in emerging markets when sentiment is bullish, you may be well positioned for another few profitable years with the aid this high-yielding dividend strategy.
Disclosure: I have no positions in any stocks mentioned, and no plans to initiate any positions within the next 72 hours.