File under confirmation bias—incoming data answers our question from last week ("Eurozone Meltdown Brewing?") in the affirmative. European imports, sovereign debt and interbank lending markets, and currency exchange rates are now flashing red, or at least bright orange.
Korea announced that exports to Europe declined a staggering 20% year-over-year in October, confirming the recent negative PMI numbers (hat tip to Warren Mosler, who also passed along a report of "mayhem" in European debt markets today).
Sovereign debt and interbank funding markets are showing signs of worsening. If conditions allow, we'll upload graphics of various markets after publishing, but for now, these observations from ZeroHedge and the second chart from FT Alphaville should suffice. The first chart shows the difference between the interest rates on euros and dollars in short-term exchanges of the currencies (the trend is closely related to the exchange rate dynamics mentioned below). The second chart shows the yield-to-maturity for a 30-year French government bond and a similar German government bond (favoring the German bund over other eurozone government debt is a fool's errand, in our view; more on that later if time allows).
We discussed the sudden and scary drop in the EUR-USD cross-currency basis swap last week and how it is perhaps a cleaner view of the funding crisis in Europe than the delinquent Libor market. Since our first discussion, the 3 Month EUR-USD basis swap has widened even further - only worse in the heart of the crisis in Q4 2008. As if that was not enough, GDP-weighted European Sovereign risk is back up to its highest levels ever as the clear message from the markets is the ring-fencing and backstopping of sovereigns and financials respectively is simply non-existent.

click to enlarge
Currency exchange rates are extremely volatile—large percentage moves in a day are highly unusual and often signal a regime change (as in a change of economic equilibria, but it's safe to assume that more political regimes could fall too). When a regime change is marked by a flight to U.S. dollars (USD), as is occurring in the table below (the euro (EUR) and British pound (GBP) rates are the denominators in the first two rates, and the USD is the denominator in the rest of them; so a higher rate in the latter implies that one USD can purchase more units of the other currency) it can be a harbinger of financial crisis (e.g., if driven by struggling and/or healthy-but-panicking financial institutions and/or the panicked unwinding of levered carry trades).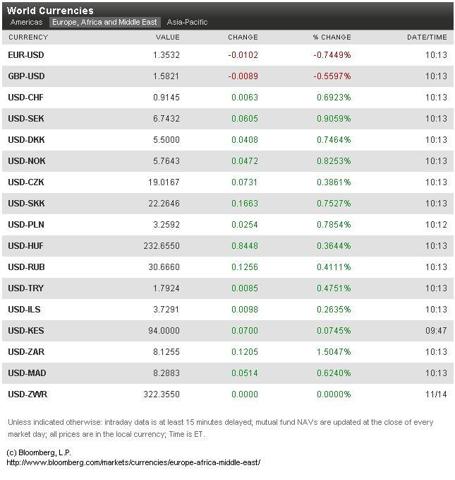 The EMU is the epicenter of the current crisis because, as we've pointed out, they run macroeconomic policy in a way that's analogous to a gold standard with no gold mining allowed. Under such a system, financial institutions and practices as we know them simply cannot survive long-term. And given their inherent leverage (and the still-limited ability of regulators and rating agencies to get a handle on the systemic picture) financial systems and institutions can only tolerate the kind of stresses outlined above for so long before something breaks.
Europe now faces its "they know nothing" moment (start at about 1:40), but its financial institutions are championed by mild-mannered technocrats rather than boisterous characters like Jim Cramer. That means we could be treated to all of the financial, economic, political, and human wreckage of the last crisis but without anywhere near the entertainment value.
The data seems to be coming around to our view that things will get worse in risk markets before they get better. We might be wrong, of course. For example, bulls really seem to want to take out 1,300 on the S&P 500 by year's end and they still could. But without concerted easing efforts by policymakers in Europe, which is unlikely due to severe cultural and legal constraints, the eurozone is set to drag the global economy into a nasty recession which, while priced into many credit markets, is not fully reflected in equity or commodity markets.
Important Disclaimer: Symmetry Capital Management, LLC (SCM) is a Pennsylvania registered investment advisor that offers discretionary investment management to individuals and institutions. This publication is for informational, educational, and entertainment purposes only. It is not an offer to sell or a solicitation to buy securities, or to engage in any investment strategy. Past performance is not indicative of future results. This material does not take into account your personal investment objectives, your personal financial situation and needs, or your personal tolerance for risk. Thus, any investment strategies or securities discussed may not be suitable for you. You should be aware of the real risk of loss that accompanies any investment strategy or security. It is strongly recommended that you consider seeking advice from your own investment advisor(s) when considering any particular strategy or investment. We do not guarantee any specific outcome or profit from any strategy or security discussed herein. The opinions expressed are based on information believed to be reliable, but SCM does not warrant its completeness or accuracy, and you should not rely on it as such. All views and positions are subject to change without notice.
Disclosure: I have no positions in any stocks mentioned, and no plans to initiate any positions within the next 72 hours.