By Jonathan Chen
There are two economies in this country: the super rich, and everyone else.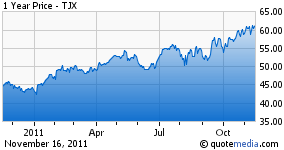 That is why a company like TJX Companies (NYSE:TJX) is reporting strong earnings, although this particular quarter was slightly below Wall Street estimates.
The company reported third quarter earnings of $1.06 per share on $5.79 billion in revenues. Wall Street was looking for earnings of $1.06 per share on $5.85 billion in revenues. The company said that same-store-sales rose 3% in the quarter.
TJX guided for the fourth quarter, saying it expects to earn $1.19-$1.23 per share, versus estimates of $1.23 per share.
The company, whose stores include Marshalls and T.J. Maxx in the United States as well as T.K. Maxx in Europe, said November sales are "off to a strong start," but that a higher tax rate and currency fluctuation could potentially offset the gains. As a result shares are slightly lower this morning, off around 1% as of the time of this article.
In a company release, CEO Carol Meyrowitz said, "We are pleased with our strong overall third quarter performance as our 15% increase in earnings per share was in line with our expectations and achieved on top of a 14% increase last year and 40% growth in the year before that. We achieved these strong results despite unseasonably warm weather during the quarter in many key regions of the U.S. and Canada, which hindered demand for fall apparel. We are also encouraged by the progress we are making at TJX Europe. Further, it's important to note that sales in the U.S. picked up when the weather turned cooler and we ended the quarter strongly."
TJX has proven that to succeed in this economy, you need to cater to either the very wealthy, as Tiffany's (NYSE:TIF), Coach (NYSE:COH), Nordstrom (NYSE:JWN) and Saks (NYSE:SKS) are doing, or the opposite end of the spectrum, where TJX lies.
We saw the strength in the luxury market from Ralph Lauren (NYSE:RL) last week, and now we are seeing that with TJX. The middle income consumer is shrinking by the day, as rising commodity costs and other purchases make day to day living more expensive. Procter & Gamble (NYSE:PG) has called this the "hourglass economy," as consumers are pushed to end or the other.
Shares are not expensive, trading at just under 14 times 2012 expected earnings, and sport a 1.2% dividend yield. If the company can continue to deliver value to consumers and shareholders (having returned 35% year to date), then traders may want to use dips in the name to be "shopportunistic."
ACTION ITEMS:
Bullish:
Traders who believe that the economy will continue to become hourglass-like in nature might want to consider the following trades:
This mantra also benefits well for Ross Stores, Inc. (NASDAQ:ROST), as well as TJX.
Bearish:
Traders who believe that the economy will pick up may consider alternate positions:
If the economy picks up, this could help the middle class and hurt the names that cater to lower end consumers, such as TJX. This could be beneficial for J.C. Penney (NYSE:JCP).
Neither Benzinga nor its staff recommend that you buy, sell, or hold any security. We do not offer investment advice, personalized or otherwise. Benzinga recommends that you conduct your own due diligence and consult a certified financial professional for personalized advice about your financial situation.
Disclosure: I have no positions in any stocks mentioned, and no plans to initiate any positions within the next 72 hours.