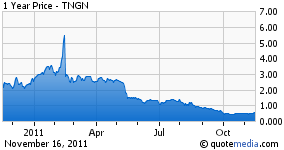 Tengion's (TNGN) restructuring plan is designed to fund their lead development programs through key milestones in 2012 while reducing anticipated cash utilization.
Key aspects of the restructuring:
Continue the P1 clinical trial of the Neo-Urinary Conduit, which is being evaluated in bladder cancer patients requiring a urinary diversion following bladder removal (cystectomy). This trial is designed to assess the safety and preliminary efficacy of the Neo-Urinary Conduit in up to 10 patients, as well as to allow the clinical investigators to optimize the surgical procedure and post-surgical care by incorporating the outcomes observed in each patient into the surgical approach for subsequent patients, as necessary. 3 patients have been enrolled and implanted to date. TNGN anticipates implanting a 4th patient during Q1/12 assuming appropriate safety data, up to 10 patients by the end of 2012;
Continue preclinical development of the Neo-Kidney Augment program through submission of a Pre-IND filing to the FDA, which is anticipated during the 1st half of FY12. Future development of the Neo-Kidney Augment program beyond submission of the Pre-IND filing, will be dependent upon obtaining additional funding for the program;
As part of this restructuring, Tim Bertram, D.V.M., Ph.D., has been promoted to President, R&D and CSO. Deepak Jain, Ph.D., has been promoted to CTO;
AS TNGN continues its search for a new CEO, Dr. Bertram and Brian Davis, VP and CFO, will continue to report to the BOD through David I. Scheer, Chairman of the Board of Directors.
The Bottom Line: As a result of this restructuring, TNGN expects to have sufficient cash to fund its planned operations through 11/12. Upon completion of the restructuring, TNGN will have 22 full-time equivalent employees, a reduction to its current workforce of 30 full-time equivalent employees, or approximately 58%. Most of the employees departing are leaving as a result of the decision to centralize R&D operations in North Carolina. TNGN will centralize its R&D operations in its leased facility in Winston-Salem, North Carolina. TNGN reported a Q3/11 adjusted net loss of $5.1M, or $0.21 per basic and diluted common share, compared with an adjusted net loss of $6.7M, or $0.54 per basic and diluted common share, for Q3/10. Decreasing losses but … The question lingers … can they survive … with only $9M in cash … a money raise with a new CEO will be tough in this market with a questionable development pipeline.
Disclosure: I have no positions in any stocks mentioned, and no plans to initiate any positions within the next 72 hours.