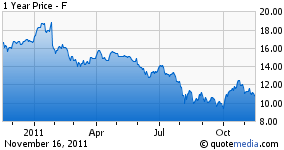 It's hard to go anywhere on the Internet and not find Ford (F) mentioned as a "cheap stock," or one that's "ready to double."
Several months ago, I agreed with this sentiment. Car sales are strong and have relatively decent growth prospects going forward, Ford's mediocre balance sheet has been improving, cash flow generation has been excellent, and Alan Mulally appears to be doing a good job.
I recently wrote an article explaining that investing in Ford, and other cyclical stocks, is all about the timing. In short, my thesis was that as a cyclical, Ford's operations swing from massive losses to massive profits in short periods of time, which provides the opportunity for both big capital losses and spectacular capital gains on the investment front. What most don't realize is that the market typically discounts cyclicals like Ford for a reason; record earnings and cash flows almost always fortell a slump in operating performance.
The reason for this is the boom-bust nature of modern economies, in conjunction with cyclicals' violent reactions to economic changes. The catalyst for cylclicals like Ford is rapid relative increases in economic growth. Stagnant growth is no good since inventories need to be sold rather quickly (storage costs, obsolescence risk) and because low margins mean higher volumes must be sold in order to have serious bottom line growth.
The automotive industry is not a very good business, regardless of popular opinion. Ford's operations produce:
Of course, I'll get plenty of comments saying "margins don't matter." Let me explain why they do.
Low margins mean that a company has a difficult time managing input costs, specifically their variable costs. Variable costs include wages, raw commodity costs, etc. A moderate increase in input costs or decrease in quantity demanded could lead a massive subsequent decline in profits, with margins already squeezed. Most importantly, lower margins mean that sales volumes need to be relatively high in order to see large profits.
Additionally, do you really like the sound of a business that nets you 5 cents on every dollar you put into it? The automotive industry as a whole is, bluntly, not a very good business.
For these reasons, let's throw out the notion that Ford is "cheap" based on its price to earnings multiple of 6.5. Ford's operations are absolutely not stable, and any number of catalysts could set them into a severe slump.
Let's break down Ford's shares based on cash, cash flows and debt.
Ford had $94.4 billion in long-term debt, though only about $14 billion of this is automotive debt. Also, $3 billion of this debt was through bank loans. The entire company had $16.5 billion in cash and cash equivalents at the end of 3Q. 2011 free cash flow looks to be about $9.5 billion.
On a per share basis, with 3.80 billion shares outstanding, Ford investors are paying for about $20 in debt.
A common technique is to subtract net cash per share from the current share price, so why not add net debt to the share price? This is, after all, a real cost when you own a business. On this basis, Ford is trading for $30 per share, or about 18 times trailing earnings.
With free cash flow of $9.5 billion, Ford is only trading at a measly 4 times FCF, which, when isolated, is a cheap metric. The debt is a real liability though that has real annual costs which deduct value from the business. Ford bulls tend to ignore the debt, figuring Ford's got it taken care of and all will be well.
The issue with this thinking is that:
Ford needs to maintain this exceptionally strong cash flow; not a particularly easy task in a fledgling economy with high input costs
Ford may need to increase capital expenditures to remain on top in a competitive industry, thus reducing free cash flow
Ford, or any cyclical for that matter, does not have a history of producing exceptional cash flows for an extended period of time, and these flows are not predictable in the slightest. The best investments are of the opposite nature: Strong, predictable cash flows that can be discounted only slightly to the present, and low necessary capital reinvestments.
An investment in Ford is also a bet on the economy, and we all know how difficult it is to predict macroeconomic trends. Ill-timing in a cyclical is not like poor timing in something like McDonald's (MCD), Coke (KO) or any other non-cyclical or higher margin business. Rising costs can be absorbed more effectively in those firms, and their products aren't large relative purchases for consumers like a car is.
Despite Ford's low P/E ratio, an investment in Ford is significantly more risky than most investors are currently aware of right now. Everyone and their mother takes one look at Ford and says it's cheap. The reality is, when you take a look at what you're actually paying for, Ford is fairly valued, if not slightly overvalued.
*Data sourced from Ford's 2010 10-K, Ford's 2010 2Q 10-Q Yahoo Finance, and Forbes, unless otherwise noted.