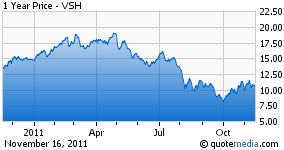 Vishay Intertechnology (NYSE:VSH) is a pure-play discrete components company, well-positioned to participate in long term growth in the electronics and technology industries. At a recent price of $10.74, the stock has the potential to reach a target price of $24, within 2 to 3 years.
I've written it up twice on Seeking Alpha. In October 2008, with shares at $4.33, I saw $15 within 2 to 3 years, a price that was met in January 2011. In July of 2010, with shares at $7.05, I was looking for $14, within a year, a price that was met in December that year. After reaching a 52 week high of $19.36, shares have retreated to the current level due to the global slowdown, macro concerns, and weak guidance.
This article updates my opinion on Vishay, focusing primarily on valuation. The previous articles included a discussion of the company's background and operations, which will not be repeated here. There's a good presentation at their website.
Valuation and Buybacks
Assuming the global economy grows at a nominal 3% rate going forward, and that Vishay participates, I see normalized earning capacity at $1.50 per share. Comparing current assets to current liabilities, counting anything over 2:1 as excess cash, and verifying that it is present on the balance sheet as cash and short term investments, Vishay has $6.15 per share on hand, over and above the amounts required to operate the business on a prudent basis.
$1.50 EPS X 12 P/E = $18, to which I add $6 for the excess cash, arriving at a target of $24, as mentioned earlier.
There are currently 157.2 million shares outstanding, down from 187 million in 2009. Prices paid on buybacks were not optimal, but are well under my estimate of fair value. The company recently amended their credit facility to permit as much as $300 million of additional repurchases, which would reduce shares outstanding by 17.7% at today's prices.
Long term debt at 26% of shareholders equity is at a manageable level.
Management believes they can enhance shareholder value by repurchasing shares. I concur. While I didn't include the effect of buybacks in estimating fair value, diligent and opportunistic buybacks could be very effective at current price levels.
Guidance and Estimates
From the 3Q 2011 earnings press release:
Commenting on the results for the third quarter 2011, Dr. Gerald Paul, President and Chief Executive Officer, stated, "In the third quarter, Vishay was confronted with an unexpected drop of demand. Especially weak was the consumer market segment resulting in lower revenues and orders from Asia and from our distributors, strongly impacting our semiconductor businesses. We adapted manufacturing capacities quickly and were able to reduce internal inventories in the quarter. For the fourth quarter, we expect an inventory reduction at distribution."

Dr. Paul continued, "We remain very confident in the unbroken growth of our end markets. We will continue to push the main elements of our growth plan, in particular new product and process development, design-in activities supplemented by selected acquisitions, preferably in the field of specialty products."

Commenting on the outlook for the fourth quarter 2011 Dr. Paul stated, "Based on the low order intake, we anticipate revenues of between $555 and $595 million with a mainly volume-driven gross margin reduction."
Putting midpoint revenue guidance into my model, I see 4th quarter EPS at 0.14, vs. consensus of 0.19, bringing the year in at $1.38. Looking past the soft spot, and working with current share counts, potential earnings work out to $1.50 annualized, somewhat above analyst consensus of $1.36 for 2013.
Inventory Considerations
Supply and demand in the electronics industry can be distorted by mishandling of inventory by customers and distributors. Nobody wants to be caught holding inventory in a downturn, or to be caught short in an environment of increasing lead times.
This effect is expected to reduce 4Q 2011 revenues. Assuming demand is gradually increasing over the long term, these temporary fluctuations should reverse during 2012.
Cash Flow vs. EPS
Vishay has typically reported earnings per share that were substantially less than cash flow per share, with earnings averaging 30% of cash flow from 2002 to 2007. Following heavy writedowns in 2008, earnings as a percentage of cash flow was 65% in 2010, and is developing along similar lines in 2012.
This is suggestive of considerable financial strength and earnings quality.
Trajectory and Tactics
Over the years Vishay has had a tendency to outperform the S&P 500 in April, May and June, and at year end. EPS for 4Q 2011 may very well disappoint. Macro events are creating considerable uncertainty for the economic outlook, although it is reasonable to anticipate greater clarity over the next few months.
Under the circumstances, an accumulate and monitor approach makes good sense. Beta checks in at 2.3, implying considerable volatility, while the company's position in its industry, and its strong balance sheet, imply a relatively stable long term value. Patient investors may be able to accumulate substantial positions at discounted prices.
With that in mind, I've taken up a starter position, and anticipate adding over the next several months as the situation develops.
Options
Vishay is optionable (no LEAPS), with adequate open interest and bid/ask spreads that are workable for near the money strikes. Implied volatility stands at 58%.
Given the high beta and undervalutation, a risk reversal makes sense to me. I've had considerable success with that ploy on VSH in the past, and it could very possibly work again. Selling OTM (out of the money) puts at today's prices is unlikely to do any lasting harm, while the ownership of OTM calls would be profitable in the event the shares make a rapid move toward fair value.
Disclosure: I am long VSH.