By Brendan Gilmartin
Overview
Marvell Technology (NASDAQ:MRVL) is slated to report 3Q 2012 earnings after the closing bell on Thursday, November 17. Results are typically released after 4:00 p.m. EST and will follow with a conference call at 4:45 p.m.
Outliers & Strategy
Key measures:
Non-GAAP Earnings Per Share (EPS): Marvell reported in August it expects Non-GAAP EPS of $0.41, "plus or minus a couple pennies." The current analyst estimate is at the low end of this range at $0.39 (Source: Yahoo! Finance)
Revenue: Marvell announced back in August it expects revenue in the range of $940 million to $980 million (Consensus is $940.03 mln). The company also indicated in its 2Q 2012 earnings conference call that it expects revenue from the mobile and wireless end market to deliver double-digit growth, networking to increase high single digits, and storage revenue to be flat.
On October 12, Western Digital (NYSE:WDC) warned that that production of hard drives in its facilities close to Bangkok, Thailand, will be constrained due to the severe flooding in Thailand. The announcement weighed heavily on Marvell, which derives about half its revenue from the hard drive market through the sale of the HDD controller chips. Western digital is the largest customer for this particular chipset. While the Thailand floods and the impact on Western digital have been a major overhang, Marvell is still seeing increased demand in this same segment from Seagate Technology (NASDAQ:STX) and Hitachi Ltd.
Recent News
11/15: J.P. Morgan reiterated an Overweight rating and $18.50 price target on Marvell, according to a report on Benzinga.com. Despite strength in the smartphone market, the firm sees 3Q earnings below consensus, due in part to HDD shortfalls resulting from the flooding in Thailand.
11/14: Greenlight Capital, managed by renowned investor, David Einhorn purchased nearly $247 mln in Marvell shares during the 3Q, according to a 13-F filing.
10/20: Marvell shares came under heavy selling pressure after Western Digital warned of a shortfall in hard disk production, due to the floods in Thailand, according to Forbes.com. Goldman Sachs reportedly noted that it sees an impact on Marvell's storage business, while Oppenheimer slashed estimates for the 4Q and FY2013.
10/19: Marvell announced Samsung has launched the new S5820, a China 3G TD-SCDMA Android smartphone for China Mobile, powered by the Marvell PXA920 platform and Avastar 88W8787 wireless solution, which is Bluetooth 3.0 and FM enabled.
Technical Review
Despite the negative sentiment surrounding Marvell, the shares are up nearly 15% from the mid-October lows, following the warning from Western Digital. Marvell is now right at the 200-Day SMA near $15, a line it failed at in early October. A break above the 200-Day in the event of a positive earnings release sets up a run back toward the intraday highs near $16.00, with little long-term resistance up to $18.00. Should earnings disappoint, support is at the 50-day SMA near $14.50, followed by $13.00.
(Click chart to expand)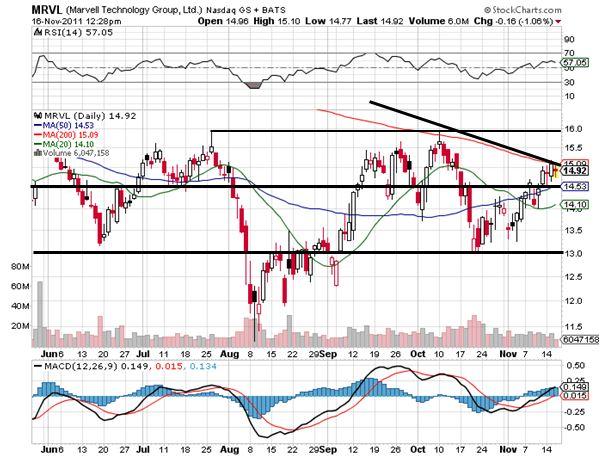 Click to enlarge
(Chart courtesy of StockCharts.com)
Summary
Marvell shares have rallied over the past couple weeks, as demand for Bluetooth and Wi-Fi chipsets overshadow the potential impact of the Thailand floods on its HDD controller storage chips. The shares also received a lift after Hedge Fund Manager David Einhorn bought a nearly $250 mln stake in Marvell during the third quarter at a time when the Street is mostly pessimistic. Those tempered expectations are evident by consensus estimates at the low end of the company's guidance. With that being said, Marvell shares may have priced in any negativity, while the 15% increase since mid-October suggests the Street may be overly discounting the impact of the situation in Thailand.
Disclosure: I have no positions in any stocks mentioned, and no plans to initiate any positions within the next 72 hours.
Disclaimer: By using this report, you acknowledge that Selerity, Inc. is in no way liable for losses or gains arising out of commentary, analysis, and or data in this report. Your investment decisions and recommendations are made entirely at your discretion. Selerity does not own securities in companies that they write about, is not an investment adviser, and the content contained herein is not an endorsement to buy or sell any securities. No content published as part of this report constitutes a recommendation that any particular investment, security, portfolio of securities, transaction or investment strategy is suitable for any specific person.