SAP (NYSE:SAP), Oracle (NASDAQ:ORCL) and Microsoft (NASDAQ:MSFT) Dynamics are the enablers of the global enterprise. These three companies hold collectively 53% of the vendor market share in enterprise resource planning.
SAP holds a commanding lead at 24% of the market, with Oracle 18% and Microsoft Dynamics 11% becoming the final member of the "Big Three" for ERP vendors. The share price of SAP is around $60, down from $68 back in May. Shares had dipped down below $50 before the October earning results allowed a good recovery in November.
Is the run over? Is SAP at or slightly above its potential price?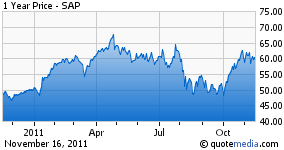 In most companies a 20% run up in a little over a month would signal it was time to take profits. I think SAP still has some room to grow.
In a Seeking Alpha article from October 26, Kendall J. Anderson examined positive trends for SAP AG. I would like to add to those trends.
The HANA product will be the first to market with large-scale ERP on your phone. I have seen it in action, and the product will greatly improve the mobile ERP experience.

The company is mature and is making its 35% margin targets. SAP although it is losing some market share it is still dominant at the largest companies. SAP's BPC (Business Planning and Consolidations) product is more open to development that the similar Hyperion offerings of Oracle.

These are all reasons to have SAP in your portfolio. Over the last few months I have seen scores of Oracle customers in health care and other fields switching or planning to switch to SAP to use their tailored options. It seems as if Oracle is just dumping growing sectors of customers to avoid providing specific solutions. If this trend continues and spreads to other sectors, SAP may be able to put more distance between it and Oracle. This will lead to top- and bottom-line growth.
If you believe in custom solutions and would like to access your ERP from your smart phone, I would put a strong buy on SAP.

Disclosure: I have no positions in any stocks mentioned, and no plans to initiate any positions within the next 72 hours.