Hibbett Sports (NASDAQ:HIBB) is attempting a similar strategy as Wal-Mart (NYSE:WMT) by operating sporting goods stores in smaller, more rural markets. In many cases, Hibbett's stores are located in the same shopping mall or shopping center as Wall-Mart stores.
Besides its rural strategy, the company's hinges its success on enhanced sales training and information systems for efficiently managing inventory and costs.
Hibbett's potential customers typically have the choice of staying local and paying Hibbett's higher prices or driving some distance in order to purchase items at lower prices. With the elevated price of gas, consumers appear to be opting out of driving the distance and shopping local with Hibbett.
The company has had three quarters of double-digit comparable sales and has 774 stores located in 25 states. Hibbett stores are primarily located in the Southeast, Southwest, mid-Atlantic and Midwest portions of the United States.
The downfall of Movie Gallery has been to Hibbett's advantage, as the empty retail space is now available for Hibbett to locate its sporting goods stores. Over the next year, Hibbett's is planning on opening 30 new stores, expanding 20 high performing stores and closing 10 to 15 under performing stores. The company also plans to continue opening 20 new high volume stores every year.
Hibbett experienced weaker comparables for its Georgia stores as a result of the state not offering its citizens a tax-free weekend in 2011.
In its most recent conference call, there was some discussion related to one of Hibbett's competitors, Dick's Sporting Goods (NYSE:DKS), planning on expanding into more rural areas, and potentially creating problems for Hibbett. Company representatives indicated that for stores located in shopping malls, the impact of a competitor would not be significant, but for stores located in strip malls and shopping centers, there could be some negative consequences of the increased competition.
Hibbett indicated there are 350 to 400 additional small markets the company could expand into in the 25-state area it currently has a presence. Based on this, the company potentially has around 17 to 20 more years of potential growth before it saturates its market.
Hibbett's stock price is up over 50% for the year, as shown by the graph below: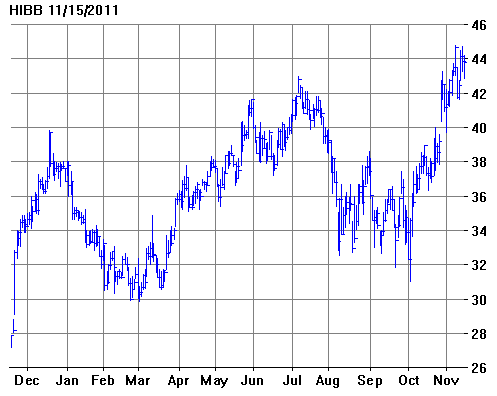 Click to enlarge
A discounted cash flow analysis for the company assuming a 10% growth rate for 17 years yields an estimated price for the Hibbett's stock of $57. With the company's current stock price around $44, an investment in the company looks attractive.
However, if Dick's starts meddling in Hibbett's business, the company might not do so well. Investors in Hibbett might consider entering a married put for the stock. A married put can be entered by purchasing a put option for protection. The married put strategy enables investors to continue to realize returns if the price of the stock increases and also protects against a significant drop in stock price.
For example, using PowerOptions search tools, a married put for Hibbett was found with a maximum potential loss of 9.1%. The specific put option to purchase is the 2012 April 50 with a price of $11.20. A profit/loss graph for the married put position is shown below: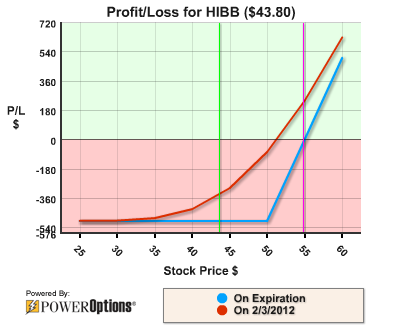 The nice thing about the married put position is that once the price of the stock is equal to or greater than the strike price of the put option, income methods, like covered call, can be used for generating income while remaining protected by the put option.
Disclosure: I have no positions in any stocks mentioned, and no plans to initiate any positions within the next 72 hours.