China is the world's largest economy in terms of Gross Domestic Product, not suffering from the double-edged sword of deep debt and a sagging economy. This makes a few select Chinese stocks one of the last refuges from the turmoil of this global economic storm. Indeed, many Chinese companies produce products that are exclusively aimed at homeland markets, and will continue to grow and prosper at amazing rates based solely on its own domestic demand.
When you find such a company, you have found an investment that will provide superior returns, and at the same time, provide you with a safe haven from the current market volatility. Volatility that promises to continue for the foreseeable future, continuously churned by the ongoing global economic problems and social unrest it generates. Lihua International, Inc. (NASDAQ:LIWA) is a perfect example of such a company, as it is completely focused on meeting the very high demands of an exploding domestic Chinese copper market. Lihua represents the exact intersections of growth and safety most of us are seeking.
China is the world's largest consumer and importer of copper. The charts below detail this growth as well as how the copper is being utilized. According to China Customs statistics, over the first 8 months of 2011, China imported 8.788 million tons of scrap metals with a value of USD 15.84 billion. As the Chinese economy continues to grow, industry experts are predicting that China's copper utilization could exceed world supply. The line chart on below and on the left accurately describes China's insatiable appetite for copper. It also provides an excellent visual barometer on the growth and direction of the entire Chinese economy.
Click to enlarge charts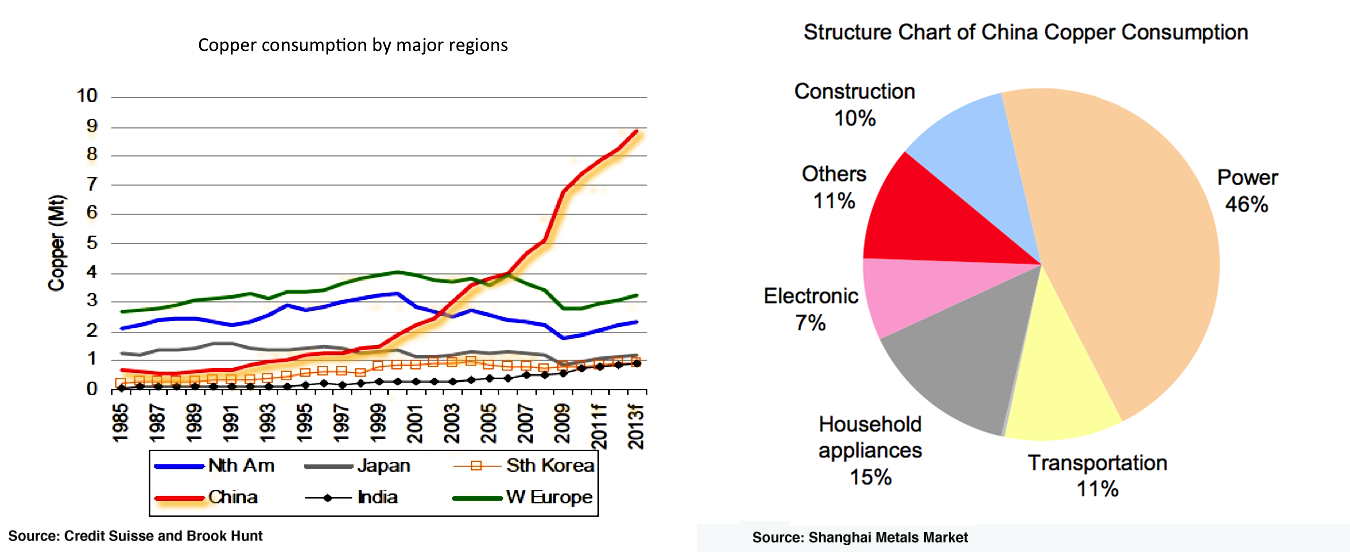 A recent Bloomberg article carefully details this growing demand and provides an excellent breakdown of the pie chart above and on the right, providing details of the exact utilizations causing this amazing growth.
Lihua International is a relatively small (Market Cap $145 Million), but rapidly growing copper products company that is profiting from this insatiable demand. Lihua is the U.S. traded parent company of its two primary Chinese divisions: Lihua Copper and Lihua Electron. Each produces a range of copper products, but with a focus on pure copper and copper clad aluminum wire, its most profitable products. Lihua incorporates innovative material technologies and strategic supply side strategies, enabling it to transform a low profit margin, commodity driven business into a diverse mix of profitable products.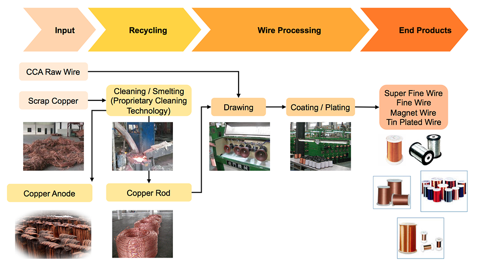 Products targeted at specific markets where the combination of reduced material cost, reduced manufacturing cost and product specific, value added, specialization dramatically increase its net income. The chart above demonstrates Lihua's product development process in a process flow chart.
Lihua Copper produces multiple pure copper wire products from recycled scrap copper, as the diagram below illustrates. Utilizing recycled scrap as its source material has provided Lihua with several advantages over its competitors. Scrap copper is usually sold at a discount to refined copper, reducing Lihua's underlying material cost. Lihua has developed an exclusive U.S. supply chain for this recycled scrap copper, and this should provide it with additional cost advantages that will begin to show up in its bottom line early next year. These potential supply contracts provide Lihua with a savings of about $150 on each ton of imported material and shorter shipping and dock processing times, resulting in addition cost savings.
This U.S. supply chain has a history of providing higher quality raw material than any other sources of scrap or recycled copper. Lihua's resulting products, each generally aimed at specific technologies sectors and industries, are very competitively priced for its respective markets. Even though Lihua has a reduced manufacturing cost, its products do not sell at significant discounts to comparable copper products. Manipulating this scrap supply chain more effectively than its competitors has provided Lihua with additional significant advantages that I discuss in detail later in this article.

Lihua Electron produces Copper Clad Aluminum wire (CCA). The most obvious advantage to this product is the reduced material cost of the aluminum core over copper. This innovative wire product can be utilized in virtually any scenario where pure copper wire would traditionally be specified. Because of its high electrical conductivity, pure copper wire is used in many components and a wide variety of motorized and electrical appliances. In most instances, CCA wire and recycled scrap copper rod and wire products are a less costly substitute for pure copper wire products. It also has other obvious advantages in the manufacturing process and to the end user. Aluminum is less expensive than copper, melts at lower temperatures, is easier to machine or draw into wire than pure copper, and it weighs less-- so transportation cost in its bulk and finished states are reduced. All of these attributes contribute to reduced cost, including reduced fuel consumption during manufacturing and reduce transportation cost.

Additionally, it should be noted that Lihua has the capability to draw wires to much finer diameters than much of its competition-- as thin as 0.025mm. This ability broadens its market and raises the potential of substantially higher margins in any quarter based on specific customer demand during that period. These very fine wire products are typically utilized in a wide variety of modern, sophisticated, or high technology components, which are accompanied by higher profit margins. Combined, these elements enable Lihua to make significant profits while undercutting competition in the same markets.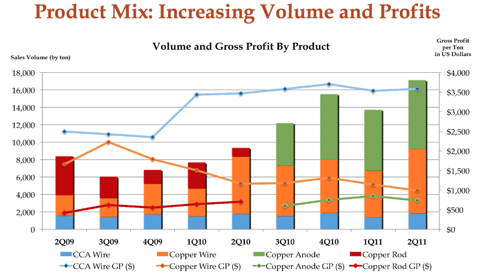 In addition to CCA and copper wire, Lihua's other current product offerings include copper rod and copper anode. Except for CCA wire, all other products are produced from recycled scrap copper. Lihua's products are sold in China, either directly to manufacturers or through distributors in the wire and cable industries. The profit contribution of each of these products can be seen in the chart above. These include the consumer electronics, white goods, automotive, utility, telecommunications and specialty cable industries. Examples of the end user's mix of products produced utilizing Lihua's products can be seen in the graphic on the left. Lihua's corporate and manufacturing headquarters are located in the heart of China's copper industry in Danyang, Jiangsu Province. (Source)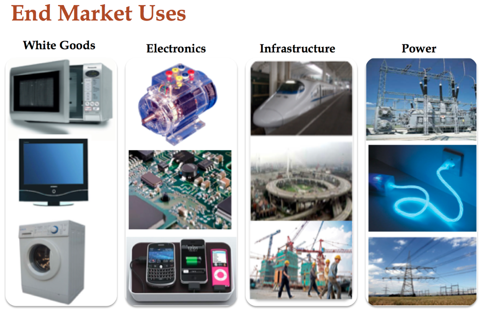 Lihua International is headed by a well respected industry veteran with over 26 years of experience in China's copper industry. Jianhua Zhu is Lihua's Chief Executive Officer and Chairman of the Board of Directors. He founded Lihua Electron in 1999 and Lihua Copper in 2007. Mr. Zhu was a recent featured speaker at the SCRAP METAL CONGRESS 2011 NOV 1-3 SHANGHAI CHINA. This is one of China's largest industrial conferences and garners a lot of industry and press attention within China each year.
Copper prices are predicted to remain almost stable, but increased demand-- especially in China-- may impact these predictions. Chinese companies will continue "madly buying" scrap copper in overseas markets for the next five years, with industrialization and urbanization spurring demand, a senior executive of a unit of the Yunnan Copper Group said.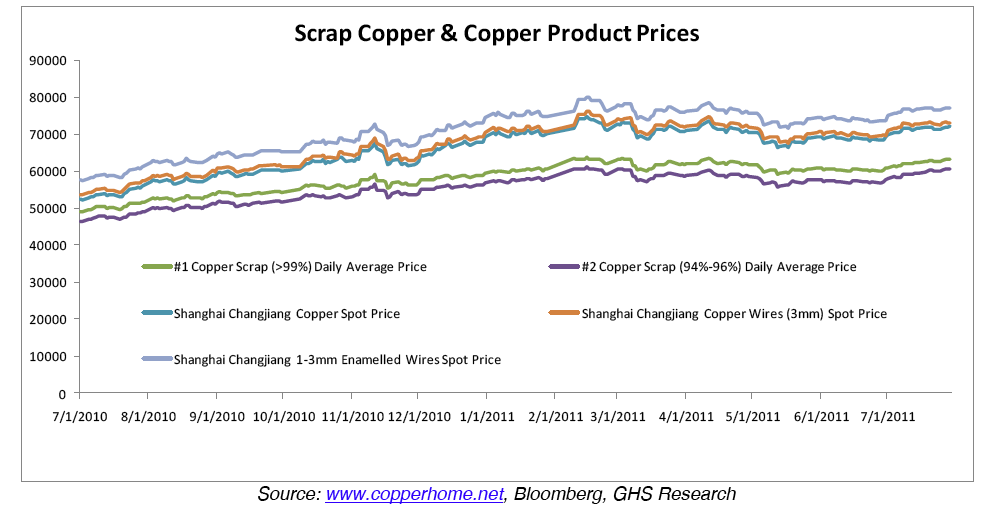 The previous paragraph demonstrates the potential pricing volatility of the world's copper supplies. Whichever way these pricing winds blow, it will have a negligible impact on Lihua. As you can see from the chart above, the fluctuations in the price of copper do not affect the profit margins of companies producing these products as the base metal cost are utilized in real time or spot pricing methods, always favorably reflecting Lihua's underlying material cost. Lihua does not have any commodity risk because all of its products are sold on a cost plus basis, and as a result, Lihua's profits remain stable in a rising or falling copper price environment.
As mentioned above, Lihua has been very adept at anticipating and strategizing the scrap copper markets and its license to import scrap copper from the Peoples Republic of China, is a prime example. Lihua had previously received a scrap metal import license from the General Administration of Quality Supervision, Inspection and Quarantine from the PRC in November of 2010. Together with this new environmental import license from the Ministry of Environmental Protection of the People's Republic of China (PRC), Lihua is now preparing to purchase and import scrap copper directly from overseas suppliers. The unencumbered flow of these shipments will commence as soon as the company receives suitable financing terms from its bankers. Chinese Premier Wen Jiabao has gone on the record stating the economic importance of providing financing to these enterprises. The first trial containers under these contracts were recently received.
The importance of these licenses and the ability to import copper directly to its manufacturing facilities becomes evident with the following headline from the Wall Street Journal.
Trading houses say scrap-copper imports are piling up in Chinese ports as China enforces stricter environmental standards.

China's Ministry of Environmental Protection introduced on Aug. 1 the regulations for importing scrap goods. The new rules require importers to have certificates for bringing solid waste into the country to ensure the imports meet environmental standards, according to a statement on the ministry's website.

The new rule requires an environmental certificate and immediate inspection at ports, which wasn't the case before, so the whole process of customs clearance is a lot more complicated and takes a lot longer now," said a trader at a trading house in Guangdong province.
Because Lihua anticipated this change and has already obtained both of the required licenses, its newly contracted, direct U.S. supply chain will experience fewer and shorter delays than some of its competitors have encountered with these scrap copper container shipments. Many are completely stalled while waiting for the appropriate licenses to be approved.
FUTURE EXPANSION PLANS:
The company has been engaged in an aggressive expansion plan that has enabled it to expand production at a pace that matches the speed at which the Chinese copper market is growing.
The following chart provides a detailed description of the capital expenditures utilized on expanding production. If you compare the doubling of smelting capacity each year from 2009 through 2011, you will see it aligns closely with the net income growth over the same time period. Chart was provided by Global Hunter Securities.

The following pictures make it readily evident that Lihua's existing production facilities are impressive, well maintained and modern. Additional pictures can also be seen on Lihua's web site here.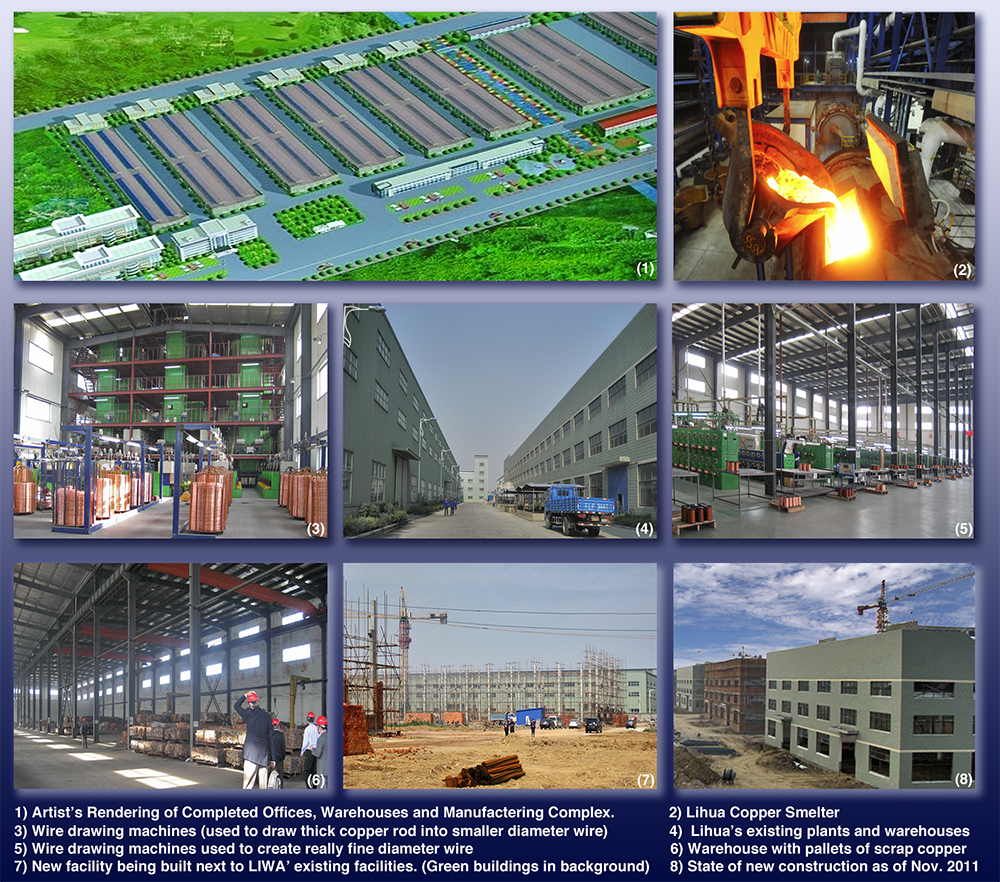 Lihua's growth is amazing, but well within the framework of the growth rates China has demonstrated in the copper commodities and products market over the last three years. The projections for this amazing growth extend out for the next five years and Lihua is positioning its manufacturing and sales teams to stay well ahead of those projections for China's current and future copper utilization.
The financials below demonstrate this dramatic growth, but what should be focused on is the incredible value that is going unclaimed by U.S. investors. In the right hand column of the Balance Sheet Data below you will see the value each share of LIWA represents in Cash and cash equivalents, Accounts Receivables, and Assets such as copper oar, copper ingots, machinery and buildings. It's an amazing $11.69 after subtracting outstanding Total Liabilities. With the last trade executed at $5.45, this leaves LIWA attractively priced without even considering current or future earnings per share. Currently finviz has LIWA with a forward P/E of 2.25 and P/E of 3.26.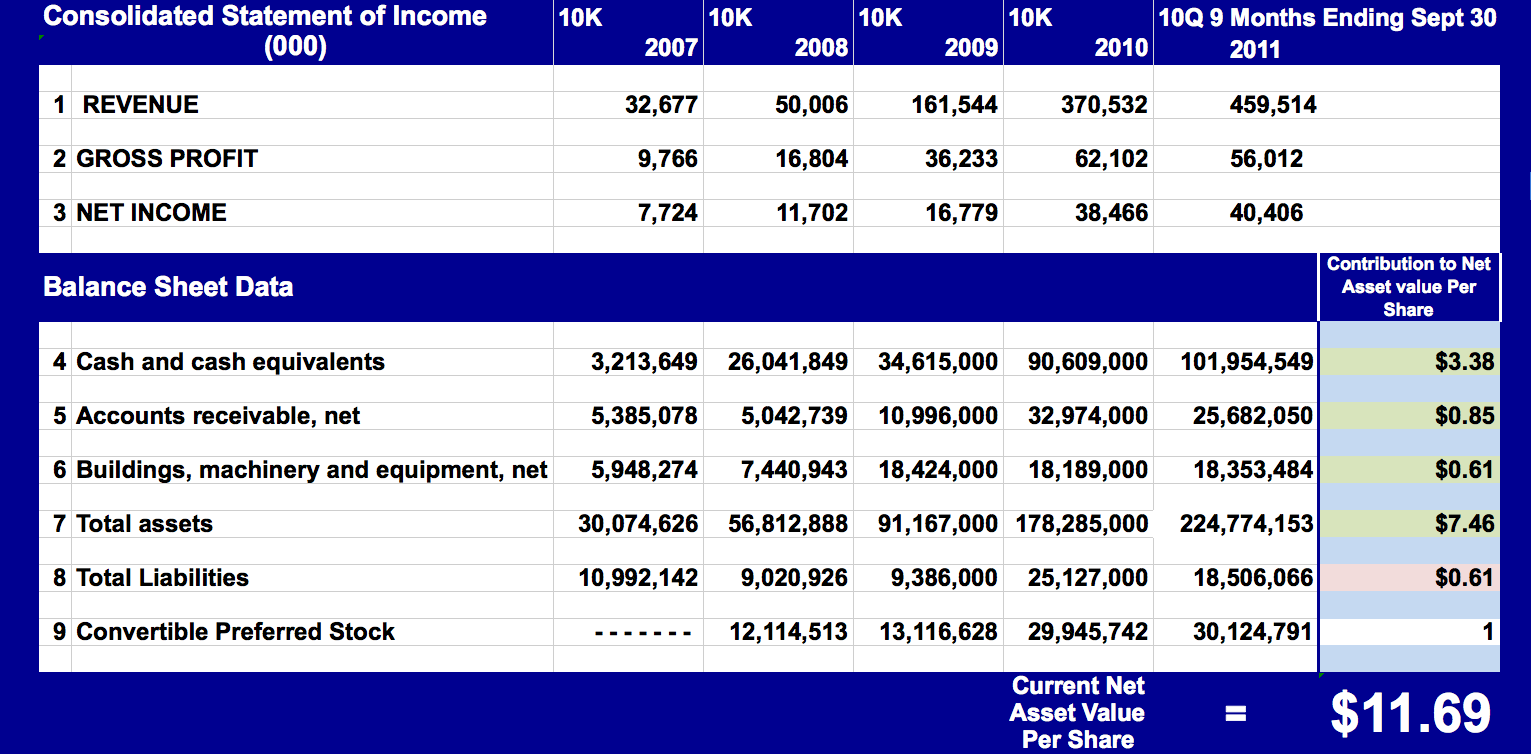 There are several other elements that can be checked off from my previous article that further validate LIWA as a solid, safe investment.
Stock buy backs and management purchases are great signs of management confidence. CEO Zhu Jianhua, recently promoted CFO Mr. YU YANG and Director Bruce Robert continue to purchase shares in the open market. A detailed list of these "insider buys" can be found here.
Major institution and private equity involvement are also great signals of strength and security to watch for. Currently there are twenty institutional investors and or mutual funds holding LIWA shares. These institutions own a total of 6,954,804 shares or 23% of all outstanding shares of the company. Look for this to grow dramatically in the very near future.
Currently Yahoo Finance list 10 Financial reports on LIWA dating from September 24 of this year with the latest one appearing on Nov 7th. The average price target of these ten reports is $22.00.
On Oct. 27th 2011, Lihua International's Board of Directors appointed Daphne Huang to the positions of Chief Financial Officer and Treasurer of the Company. Ms. Huang was an experienced Vice President at GE Capital's Debt Capital Markets Group. Prior to that, Ms. Huang was with Bank of America Securities. Ms. Huang has nine years of corporate finance and debt capital markets experience. Earlier in her career, Ms. Huang spent three years as a Senior Auditor at PricewaterhouseCoopers. Ms. Huang was a sell side equity research analyst for a year for Cowen & Co. For the previous year she was a mutual fund analyst with Morgan Stanley Dean Witter. Ms. Huang is a Certified Public Accountant and received an MBA degree from the Stern School of Business of New York University. This is a particularly noteworthy promotion by a Chinese company, because the companies new CFO is a U.S. citizen and imminently qualified. If a publicly traded Chinese company is guilty of financial improprieties, what recourse do U.S. shareholders actually possess against Chinese citizens who reside in China? The appointment of a U.S. citizen as CFO demonstrates a very high level of confidence in the company's financials and regulatory filings, on both the part of Lihua International and also by Ms. Daphne Huang. This is a president-setting example for fiduciary responsibility on the part of Lihua International.
Crowe Horwath (HK) CPA Limited, is Lihua's independent Certified Public Accountant. Crowe serves clients worldwide as a leading independent member of Crowe Horwath International, a global professional services network.
Lihua's Cash Balances have been reviewed and verified by an independent forensic audit firm; John Lees Associates, an independent forensic accounting firm engaged by LIWA's Board of Directors under the supervision of the company's Audit Committee.
Lihua announced two special dividends of $0.03 per share for Lihua stockholders of record as of December 31, 2011 and March 31, 2012, respectively, with the special dividends to be distributed on January 13, 2012 and April 13, 2012, respectively. The special dividend amounts of $0.03 per share are calculated on an annualized method based on 5% of Lihua's GAAP net income for the twelve months ended December 31, 2010.
Lihua's current price-per-share dramatically undervalues the company as the net asset valuation chart above demonstrates, placing it in play for privatization.
If you would like additional information on LIWA, China 360 Solutions has produced an excellent, exhaustive and detailed report that can be found here.
CONCLUSIONS:
Lihua's International management team is acutely aware of the benefits derived by a small-cap Chinese company being responsive to U.S. investor needs and perceptions. Currently its actions speak volumes toward exceeding those expectations. Lihua's revenue is surging year over year by meeting the increasing domestic demand for the critical infrastructural components of copper and copper wire. Given the vast number of products and industries Lihua's products are incorporated into, the company represents a proportional play in the entire Chinese economy-- an economy experiencing exploding growth when compared to European or American economies. Lihua is keeping pace with the rapidly expanding Chinese markets through aggressive expansion plans, coupled with strategic and innovative business strategies. Lihua is a safe, dramatically undervalued industry leader, representing an incredible long-term "buy" opportunity.
Disclosure: I am long LIWA.