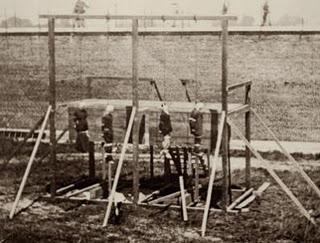 On Halloween, we got a visit from the ghost of markets past. MF Global, a major, global financial derivatives broker run by Goldman Sachs, U.S. Senate and New Jersey Governor's Mansion alumni John Corzine, filed for what is now the 8th largest bankruptcy in U.S. history. No surprise that the S&P 500 gave up nearly 2.5% on that day as investors had flashbacks of the Lehman Brothers failure in fall of 2008.

Immediately, there was pulling of hair and gnashing of teeth comparing MF's flop to Lehman's. There are similarities and differences (some of which I debated with Fox Business News' Charlie Gasparino via Twitter that morning). The major difference was the size and scope. While certainly newsworthy, MF's (kinda makes me laugh writing "MF") failure was nowhere near the size and scope of Lehman's. Lehman was like the class skank who gave the entire football team herpes; they had sold EVERYONE their shitty mortgage backed products and everyone had bought tons of what would eventually become Lehman's shitty bonds. No wonder Hank Paulson was so pissed! They helped infect the whole system. MF Global affected an already gun shy market mostly psychologically.

The main similarity is how both MF and Lehman blew themselves up (and Bear Stearns and Wachovia and Long Term Capital Management): some kind of derivative. There's a reason Warren Buffett called them "financial weapons of mass destruction". If used incorrectly, they almost guarantee wrecked markets and firms who dabble with them. You'd think that eventually, these guys would learn. Apparently, they don't.

When institutions fail due to their own stupidity, I have very little sympathy. Wachovia was an awful bank. I had a checking account with them because I had to open one with a home equity line we had with them. It was an awful bank. I'm sure many people are glad it's dead. Although, while firms like MF Global and Lehman and Bear Stearns were arrogant. Wachovia was more dumpy and pitiful. Good riddance.

There's enough blame for where we are to go around. However, what really makes me angry is that the "bank runs" that created chaos and failure in 2008 and today, mostly in Europe, are all institutionally driven. It had everything and nothing to do with how you and I as individuals invest our money. And we feel powerless. To steal from Chris Rock, I don't agree with Occupy Wall Street but I understand them. Apparently they don't have a cohesive issue. I think I have one for them.

*"Let 'Em Dangle" is an awesome, creepy Elvis Costello song about a conviction and execution by hanging. It's on the album "Spike". If anyone has seen my copy, please return it.

Well…enough darkness…maybe this week's three lil' piggies can brighten things up…

"You might get some in your stocking…"

Oxford Resource Partners (OXF)
Recent Price: 16.32
P/E: NA
Current Yield: 10.72%

The Skinny
I haven't been real piggish on energy MLPs for a while. Mainly because everyone wanted them. Now that they've gotten clobbered, I'm changing my tune a bit. OXF fits that bill as units currently trade at a 40% discount to the 52 week high, thus bumping the yield way up there. The numbers are encouraging. 2001 EPS will come in at a loss of around 45 cents. The forecast for next year is $1.17...a possible 300%+ increase. Despite the loss, things aren't all bad. Assets (the stuff in the ground) have increased by 18% over the year and since the U.S. is the Saudi Arabia of coal, if regulatory attitudes change for the better, OXF could be an interesting position.

The Danger
Coal, like just about all commodities (except for oil), has been beaten like a rented mule. In fact, some of the punditry talks of the commodity trade being dead. Finis. Maybe. Maybe not. While OXF units look cheap, a buyer could be walking into a classic value trap. Also, no one really has to rehash the current, hostile regulatory environment. The jury's still out on a global slowdown. If there is one on the horizon, rest assured coal exports will slow.

"Hey now…you're an all star…"

BlackRock Enhanced Dividend Achievers (NYSE:BDJ)
Recent Price: 7.15
P/E: NA
Current Yield: 9.51%

The Skinny
If dividend stocks are all the rage (you're reading this…aren't you?), this closed end fund is on steroids. Historically, the fund chose stocks based on the Dividend Achievers Index, although that has changed (more in the next paragraph). In addition to selecting companies that have been growing their dividends consistently, the fund uses a covered call option writing strategy to enhance the yield. The fund does this rather than employing leverage which is a plus. Shares trade at a 10% discount to NAV which is a pretty good bargain. All in all, not a bad lookin' little CEF.

The Danger
The fund changed managers and strategies last year. Apparently, it wasn't a smooth transition. The fund gave up 10% last year and is off the same this year. Thank God for the huge yield, eh? Speaking of the yield, it seems a little high. Hopefully they can keep it up, but as yields on everything continue to shrink, prepare for a cut. Lastly, covered call options are an awesome protective, income tool, but, you always cap your upside.

"Go fly a kite…"

Kite Realty Group Trust (NYSE:KRG)
Recent Price: 4.10
P/E: NA
Current Yield: 5.85%

The Skinny
KRG is a smallish ($265 million market cap) Midwestern retail REIT. The firm is vertically integrated with about 9.3 million square feet in its portfolio. Their current FFO (funds from operation) trend is good growing at a decent 6.3% clip which ain't bad considering that commercial real-estate is basically in a bonafide depression. Shares trade at 22% discount to their book value and the low, single digit share price is tempting if you're still trying to bottom fish REIT reef.

The Danger
Commercial real estate still sucks and will continue to suck for a few years. Be prepared to wait. While KRG has some great, big box anchor tenants (Publix), it does manage a lot of smaller spaces geared towards small businesses. Again…depression conditions. Small shop occupancy declined last quarter by 60 bps. And for a deeply discounted security, the yield actually feels a little chintzy. There are higher yielding REITs out there.