I have a confession. I am an investing "tweaker" but not an investing "victim". I tweak my portfolio based on new facts as they present themselves. As a dividend investor, I am personally doing something wrong if I am not making money. I won't offer any excuses or claim to be a victim. The purpose of this article is to discuss 3 hybrid mortgage real estate investment trusts (mREITs) to buy, 3 to avoid, and 1 to watch. A few hybrid mREITs are truly doing very well. My views on a few names have changed based upon the hybrids' results and performance. My investment strategy is to make money and adjust, as necessary, the stocks with the passage of time.
mREIT Background
Agency mREITs make money by borrowing funds at short term yield curves and investing in higher yielding government sponsored entities (GSE) and mortgage backed securities (MBS). GSE securities are guaranteed by the Federal Government.
A hybrid mREIT owns both agency and non agency mortgage backed securities (MBS). Non agency MBS are not backed by the Federal Government.
Hybrid Mortgage Valuations in Context of Book Value Per Share
This is an important table, but only as a starting point for taking investment action.

Remember, we are dealing with hybrid mREITs. Not all the assets are guaranteed by the Federal Government. As an investor, I have to determine if the above valuations are fair in contrast to opportunities in the "agency mREIT" space.
American Capital Mortgage (NASDAQ:MTGE)
American Capital Mortgage is a name I have owned for a short time. The company came to the markets, via their initial public offering, on August 9th.
The hybrid fund has almost of its investments in agency MBS. Per the September 30th10-Q filing, the fund's $1.7 billion holdings included the following break down:
$1.6 billion, or 94% - 95% of the net portfolio, is invested in agency MBS.
Approximately 4% - 5% is in non agency MBS.
The key issue is the portfolio managers. Buying MBS in a difficult economy requires highly competent portfolio managers. The agency MBS manager of American Capital Agency (NASDAQ:AGNC) is Gary Kain. American Capital Agency (AGNC) invests in only agency MBS. As I highlight in this Gary Kain interview, the performance has been nothing short of outstanding. Fortunately for American Capital Mortgage (MTGE) investors, Gary Kain is managing the agency MBS selection.
Investors, including myself, can scoop up American Capital Mortgage (MTGE) shares at a 12% discount to net asset value. American Capital Agency (AGNC), on the other hand, is trading at $28.09 per share. This is a 3.9% premium to American Capital Agency's (AGNC) third quarter book value per share of $26.98. American Capital Agency (AGNC) issued a secondary when the premium was 6% to net asset value. The caveat is American Capital Mortgage (MTGE) can trade out of agency MBS and into non agency MBS at the time of its choosing. I am, however, sticking with a winner. Gary Kain, in my opinion, is a winning jockey to back.
AG Mortgage Investment Trust, Inc. (NYSE:MITT)
AG Mortgage is a name that I initially passed on. I missed on some terrific prices when it trended lower. My only salvation was a coffee mug as discussed in the AG Mortgage discussion article. Well the coffee mug isn't enough, and I am the proud owner of AG Mortgage shares.
The below table (click to enlarge) highlights the focus upon book value per share and creating value for shareholders. The below data is as of the September 30th 10-Q filing, page 12: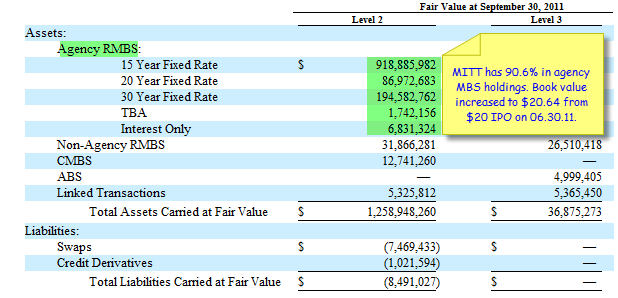 The initial dividend was 40 cents and paid on October 27th. This yields 8.3% on an annualized basis. I really like the increase in book value per share with a 90% stake in agency MBS.
Two Harbors Investment Corp. (NYSE:TWO)
I respect the Two Harbors management team. The book value per share did take a dip from the 2nd quarter. Insiders continue to buy shares as recently as November 10th. Click to enlarge: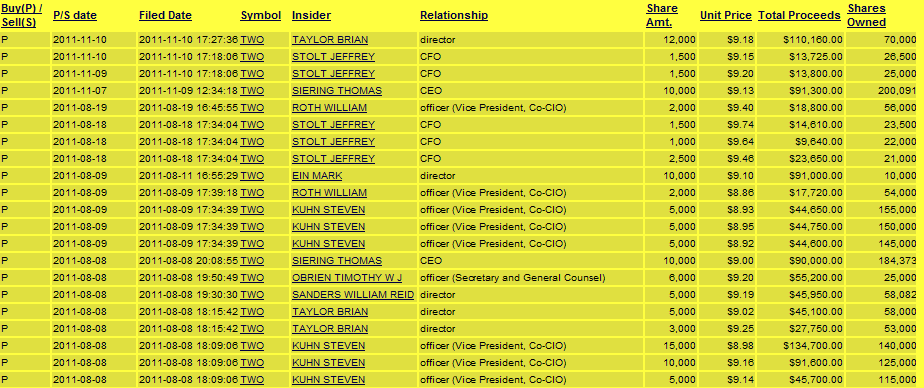 The company had a strong 3rd quarter. The 55 cent, per Generally Accepted Accounting Principles (GAAP), earnings per share was a strong number. The book value impairment can not be ignored, but management has taken strong action to improve earnings in future periods. The MBS asset mix has moved to prepayment risk management via buying prepayment protected agency bonds. The MBS asset mix now has shifted towards senior non agency MBS. This move is a change in direction from a prior focus upon current coupon agency MBS. Senior non agency MBS does bring credit risk to the equation.
One Name I am Watching
I like to see insider buying. One name that has caught my attention is Apollo Residential Mortgage, Inc. (NYSE:AMTG). The company has 88% of its assets in agency residential MBS. Here is a table of recent insider buying. The SEC form 4 filings have relevant info on whether the insider buying will continue in the weeks ahead.
The company is trading at a discount to its July IPO price of $20 per share. The book value per share, as of September 30th, is $19.58 per share. I like a lot of factors in this small cap name. Click to enlarge:

Invesco Mortgage Capital Inc. (NYSE:IVR)
Invesco Mortgage Capital has done nothing to deserve consideration for ownership, in my view. The dismal performance has been inexcusable when compared to its peer group. The latest insider buying I am showing was in September 2011. All insider buys are under the water. For shareholders, it would be "comforting" to see a few new SEC SEC Form 4 purchases. Do insiders believe the value is compelling? A lack of insider buying signals the stock is not a compelling purchase at current levels.
This name should be avoided as it is trading at 93% of its book value. The company owns non agency MBS. The September 30th 10Q, page 11, shows total agency holdings of $10,160,907,000 fair value and $14,336,951,000 in total MBS fair value. This represents 70.8% fair value in agency MBS. Based upon Invesco (IVR) performance as a hybrid mREIT, I would avoid the position. Investors can purchase Anworth (NYSE:ANH) at 91% of book value per share, and Anworth owns 100% agency MBS.
Invesco's November 3rd investor presentation highlights any background info on the equities negative performance. On a positive note the presentation states "no swaps were purchased in Q3".
Chimera Investment Corporation (NYSE:CIM)
Chimera's business is designed to thrive when housing prices stabilize. Typically housing prices stabilize when employment gains occur in the economy. Chimera's SEC 10Q, page 11, highlights the troubled assets in its portfolio. The 3rd quarter 10Q will be filed as soon as practical. Click to enlarge:

The Annaly (NYSE:NLY) unit Fixed Income Discount Advisory Company (FIDAC) is an excellent external manager. Annaly (NLY) is the biggest agency mREIT run by the MBS expert Michael A.J. Farrell.
Chimera, or FIDAC, have stated that they do accrete discount on a loss adjusted basis. Unfortunately the company has not presented the size of the loss reserves to shareholders. Secondly, Chimera or FIDAC have not publicly stated the extent of discount which is not accretable due to it being "pledged" as collateral. Shareholders, who assumably own the company, deserve this information.
Chimera's non agency residential MBS are, at the end of the day, the problem. Housing has not improved in the U.S. The national foreclosure rate increased by 14% from the 2nd quarter to the 3rd quarter. Click to enlarge: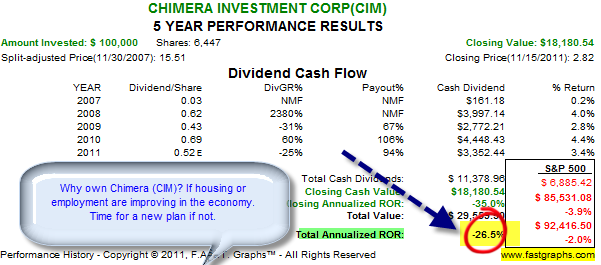 Realist Paul Simon's "50 Ways to Leave Your Lover" has sage advice for this kind of investment. I would recommend shareholders refer to his timeless, simple and effective plan of action: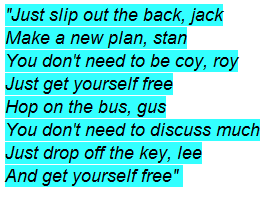 Action Plan
My investment style if focused upon my dear friend William Arthur Ward's words: "The Pessimist Complains About The Wind; The Optimist Expects It To Change; The Realist Adjusts The Sails." A few hybrid mREITs are truly doing very well. Where once I was a non believer, now I am a believer. Time clearly sorts out the winner from the losers. I shall stick with the winning stocks, sell losing stocks, and try to ensure my portfolio increases in value with the passage of time.