I have been working very hard to identify strong stocks for inclusion in my "Buy and Hold" model on Covestor. One of my recent purchases and a current holding of mine is Cardtronics (NASDAQ:CATM). I wanted to share some of my thinking behind this selection and current holding. CATM closed at $26.23 on 11/16/11 down $(.31) or (1.17)% on the day. I have an average cost of $22.22 on this stock.
According to the Yahoo "Profile" on CATM, this company
"... together with its subsidiaries, provides automated consumer financial services through its network of automated teller machines (ATMs) and multi-function financial services kiosks. As of June 30, 2011, it offered services to approximately 37,800 devices across its portfolio, which included approximately 31,600 devices located in 50 states of the United States, as well as in the U.S. territories of Puerto Rico and the U.S. Virgin Islands; approximately 3,300 devices throughout the United Kingdom; and approximately 2,900 devices throughout Mexico. The company also deployed approximately 2,200 multi-function financial services kiosks in the United States."
On Tuesday, November 8, 2011, Cardtronics reported 3rd quarter 2011 results. The company came in with revenue of $165.1 million for the quarter up 20% from the prior year. This exceeded analysts' expectations of revenue of $160.1 million. Earnings came in at $46.88 million up 126% over last year's results. This worked out to an adjusted net income of $.39/share ahead of analysts' expectations of $.37/share. To top off this result, the company went ahead and raised guidance for the full year of adjusted profit of $1.35-$1.38/share, ahead of analysts expectations of $1.31/share and up from prior guidance of $1.26-$1.31/share. To summarize, the company reported results that exceeded expectations on both earnings and revenue and raised guidance going forward. My kind of result!
Reviewing the Morningstar.com financials on Cardtronics for longer-term results, we can see that revenue has steadily grown from $294 million in 2006 to $532 million in 2010 and $585 million in the trailing twelve months (TTM). The company turned profitable in the last several years after losing $(.46)/share in 2006, increasing that loss to $(4.11)/share in 2007, improving to $(1.81)/share in 2008, then $.13/share in 2009, $.96/share in 2010 and $1.65/share in the TTM.
Outstanding shares have increased from 2 million in 2006 to 40 million in 2009, and have increased only slightly to 43 million in the TTM.
The Morningstar balance sheet on CATM shows the company to have a total of $55 million in current assets and $99 million in current liabilities, with a current ratio of .56. Generally I prefer to see a current ratio of at least 1.0 supporting good financial health. However, with the company rapidly growing and only in the last few years turning profitable, I am willing to accept a sub-par ratio.
Fortunately the free cash flow makes up for this excess of current liabilities, and as Morningstar reports, has improved from a $(11) million in 2006, decreasing to a $(43) million level before improving to $49 million in 2009, $57 million in 2010 and $56 million in the TTM.
Reviewing the Yahoo "Key Statistics" on Cardtronics for some valuation numbers, we can see that this is a small cap stock with a market capitalization of $1.15 billion. The trailing P/E is a moderate 16.51 with a forward P/E (fye Dec 31, 2012) estimated at 16.50. The PEG ratio works out to an acceptable 1.27 (for me under 1.50 is reasonable).
Yahoo reports that there are currently 43.86 million shares outstanding with 42.73 million of them that float. As of 10/31/11 there were 1.80 million shares out short, with a short ratio of 4.90 (slightly ahead of my own 3.0 day ratio for significance---over 3.0 from my perspective may be a bullish indicator).
The company does not pay a dividend and has not split its stock recently.
Examining the 'point & figure' chart on Cardtronics from StockCharts.com, we can see that the stock price, after declining from $10.0 in May, 2008, declined to a low of $.50/share in November, 2008, before starting a sustained increase in price toa recent high of $28.00 this month and the current level of $26.23.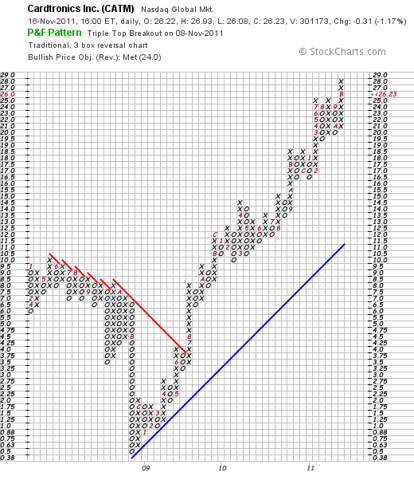 To summarize, Cardtronics is a small cap stock that has been growing rapidly-- both by 'organic' growth as well as acquisitions. It recently reported a terrific quarter that exceeded the analysts' expectations and it raised guidance. It is reasonably valued with a PEG under 1.5 and a P/E under 20. Looking at the financials, we do see that the current ratio is only 0.55, making this a little less solid an investment than I would prefer. However, the cash flow is positive and growing and the technicals look beautiful.
I am certainly aware of the pressure that financial stocks are under in general, with concerns about Greece, Italy, and now other European Union countries. In addition, there is pressure on the ATM business to keep fees as low as possible. However, it appears that Cardtronics has its own niche in this business, and I am glad to be a shareholder as long as the business continues to hum along!
Disclosure: Long CATM