Many dividend investors consider the Dividend Aristocrats to be the best stocks to buy for dependable dividends. It's a pretty logical assumption since these dividend stocks have increased their dividends every year for the past 25 years. However, even with the ongoing scramble for low risk yield, some of these stocks are currently out of favor in the market, for various reasons, and look undervalued: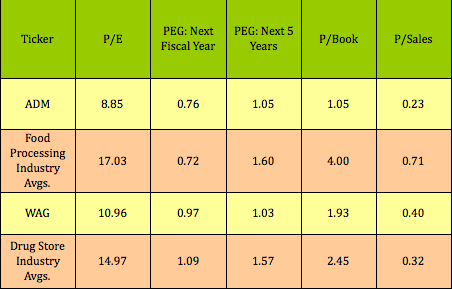 Valuations: Archer Daniels and Walgreen both have low PEGs for next year and the next 5 years. In addition, they have very low Price/Sales and Price/Book ratios. WAG has been beaten up this year due to its ongoing negotiation with Express Scripts (NASDAQ:ESRX), over remuneration rates for prescription drugs. If WAG drops the Express Scripts deal, they estimate it'll shave $.21/share from their 2012 earnings, which will put their projected 2012 earnings roughly flat with 2011.
Dividends: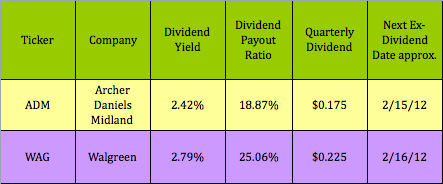 Options: Although the following firms aren't high dividend stocks, you can easily earn a high yield on them, via selling options.
(The put and call option trades listed below all expire in March for ADM, and April for WAG.)
Covered Calls: These 2 trades have call option premiums that will pay you 9 to 12 times the amount of the dividends during the 4-5 month terms. (See the highlighted areas in the tables below.)
Other features: You'll get paid your option premiums within 3 days of the trade, and you'll lower your risk via having a lower break-even price.
(You can see more details on this and over 30 other high yield covered call trades in our Covered Calls Table.)

Cash Secured Puts: If you're a bit leery of this volatile current market, and you want to be even more conservative, another approach is to sell cash secured puts at a strike price near or below the stock's current share price. You can often achieve an even lower break-even price, like we did below with WAG, and thereby lower your risk even further. Selling cash secured put options is a strategy via which you get "paid now to wait". However, unlike covered call sellers, put sellers don't collect dividends.
The put options below pay approx. 11 to 13 times more than the dividends during this 6-7 month period.
(There are more details on this and over 30 other high yield options trades in our Cash Secured Puts Table.)

Earnings: Although these aren't growth stocks, both firms had strong EPS growth quarter-over-quarter, and are projected to grow at steady rates during their next fiscal year: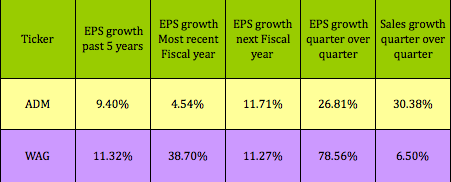 Financials: ADM just announced that it will build a 265 million liter (70 million gallon) biodiesel plant in Lloydminster, Alberta, Canada, which will increase ADM's North American biodiesel production capacity by 50%. Biodiesel produced at ADM's facility in Lloydminster will help fulfill Canada's renewable diesel mandate. Since July 1, 2011, all diesel fuel and heating oil sold in Canada must contain at least 2 percent biodiesel.
ADM, being one of the largest ethanol producers, has had its ethanol margins squeezed by ongoing rising corn prices, hence the lower than average operating margin seen below: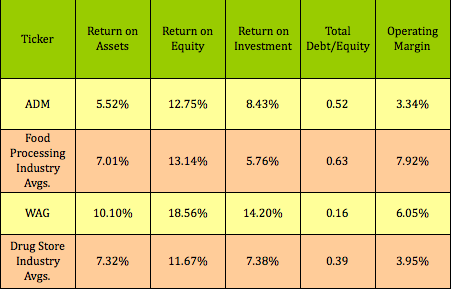 Disclosure: I have no positions in any stocks mentioned, and no plans to initiate any positions within the next 72 hours.