Any portfolio of stocks is only as strong as the grounds for its collection. Much like a building is planned and built to suit its location, so must a stock portfolio be built to suit the owner's purpose. Many investment strategists have recommended dividend paying stocks. Recent articles have investigated and compared projected dividend yields from eight indices in an effort to sort out an answer to the question, "which dividend stocks are good, better, best, bad or ugly?"
Many well-paid financial wizards busy themselves attempting to gain followers and credibility for their chosen collections of equities. Some are:
* Most investment houses, such as JPMorgan, Morgan Stanley, Merrill Lynch, Morningstar, Vanguard, Edward Jones, Fidelity and Vanguard, collect lists of multi-purpose equities.
Instant Investment Wisdom
To determine the best of the best dividend stocks, many investors rely on a once per year trading system triggered by yield, called the "Dogs of the Index" strategy. This strategy gives the investor the tactical advantage of obtaining all the wisdom and knowledge of the well-paid wizards of investment and publishing for free merely by choosing the existing collection of equities built by the experts.
Charts below reveal low yielding stocks whose prices increase (or whose dividends decrease) to be sold off once each year to sweep gains and reinvest the seed money into higher yielding stocks in the same index. Two key metrics determine the yields that rank the 3X9 Sectors dog stocks: (1) Stock Price; (2) Annual Dividend. Dividing the annual dividend by the price of the stock declares the percentage yield by which each dog stock is ranked. Thus the investor is able to follow, trade, and await the results from an investment in the lowest priced, highest yielding five or ten stocks in the index.
3x9 Sector Index Revelations for November
Picks below as of 11/11/11 by Yahoo Finance data rank the top dividend yielding stocks listed on the 3x9 Sector Index. This collection of 27 stocks is derived by selecting the top 3 dividend yielding stocks in each of nine business sectors: Basic Materials, Conglomerates, Consumer Goods, Financial, Healthcare, Industrial Goods, Services, Technology, and Utilities. (In January of 2012 one top yielding stock from each sector will be selected for the nine top Dogs or the 3x9 Sector Index along with the best yielding runner-up from any sector to be the tenth. This change is expected to perfectly diversify the top ten portfolio.)
Note that the rankings of 1, 2, or 3 for the nine sectors indicate the relative positions of the stocks in each sector as reported by Yahoo Finance for October 7: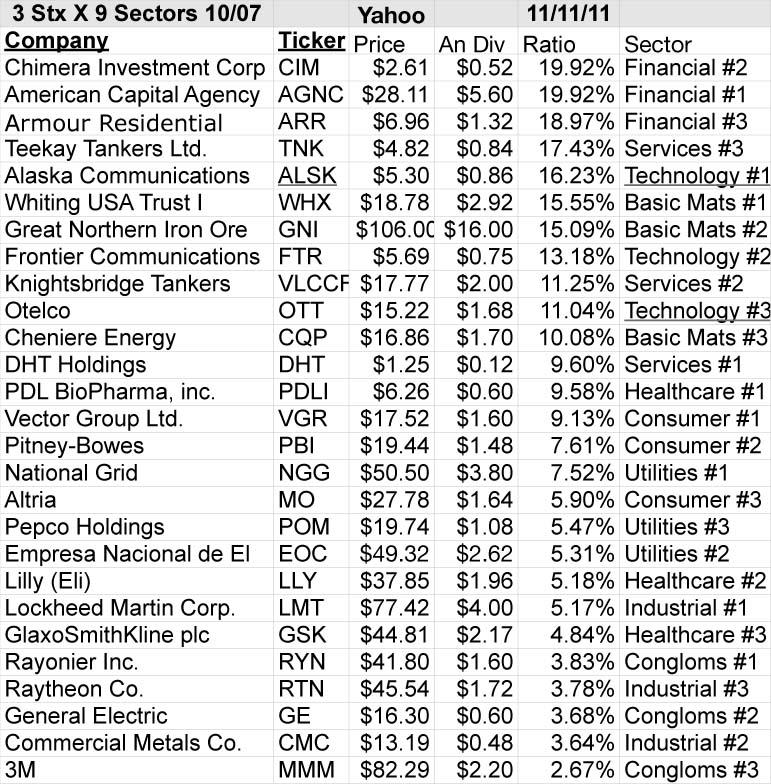 This month the top ten dividend paying stocks in this index again represent four sectors: three Financials, two Basic Materials, three Technologies, and two Services. The top dividend yield slot has been abandoned by last month's newly listed service firm, DHT Holdings (NYSE:DHT), as a result Yahoo reporting a cut in DHT's recent quarterly dividend from $.10 paid July 26 to $.03 paid November 4. Now tied for the top yield post are CIM and AGNC.
Changes in 3x9 Sector Index Dividend Paying Top 27 for November
Over the past eleven months four different firms have now bubbled to the top of the list. Color code shows: (Yellow) firms listed in first position at least once between January and November 2011; (Cyan Blue) firms listed in tenth position at least once between January and November 2011; (Magenta) firms listed in nineteenth position at least once between January and November 2011; (Green) firms listed in twenty seventh position at least once between January and November 2011. Duplicates are depicted in color for highest ranking attained.
November Dividend vs. Price Results for 3x9 Sector Index Top Dividend Paying 10
Below is a graph of the relative strengths of the top ten Russell 1000 index stocks by yield as of November 11, 2011. Using eleven months of historic projected annual dividend history from $1000 invested in the ten highest yielding stocks each month and the total single share prices of those ten stocks creates the data points for each month shown in green for price and blue for dividends.
October's yield lead by DHT Holdings (DHT) was short lived. A 70% drop in estimated future dividends sent last week's top 3X9 Sector dog stock down to the middle of the pack. DHTs annual projected dividend total for $1000 invested contributed to the increased gap between yield and aggregate total single share prices that month. Now the mother ship of yield is moving back toward earth in November to approach rising stock prices in this index. While the entire October uptick in yield cannot be attributed to one stock with over estimated forward looking dividends, this incident is a graphic example of the distortions and gyrations possible when relying on forward looking estimates.
Yale professor Robert Schiller borrowed the term "irrational exuberance" from a quote from Alan Greenspan to title two books predicting famous market bubbles. Schiller's first Irrational Exuberance book predicted the dot com crash. His second predicted the housing bubble. The following quote from Robert Schiller is very appropriate for any market: "People still place too much confidence in the markets and have too strong a belief that paying attention to the gyrations in their investments will someday make them rich, and so they do not make conservative preparations for possible bad outcomes."
Disclaimer: This article is for informational and educational purposes only and shall not be construed to constitute investment advice. Nothing contained herein shall constitute a solicitation, recommendation or endorsement to buy or sell any security.
Disclosure: I have no positions in any stocks mentioned, and no plans to initiate any positions within the next 72 hours.