By Brendan Gilmartin
Overview
Hewlett Packard (NYSE:HPQ) is scheduled to report 4Q 2011 earnings after the closing bell on Monday, November 21. Results are typically available at 4:05 p.m. EST and will follow with a conference call at 5:00 p.m. HP is a member of the Dow Jones Industrial Average (DJIA) with significant market influence and the potential to impact the index futures and broader market gauges.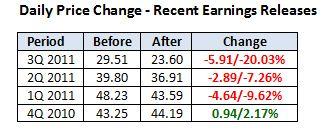 Outliers And Strategy
Key measures:
Non-GAAP Earnings Per Share (EPS): HP previously announced in August it sees non-GAAP EPS of $1.12 to $1.16.
Revenue: Company guidance is approximately $32.1 billion to $32.5 billion.
Adjusted Earnings Per Share (EPS) Guidance (FY2012): Given the difficulties HP faced over the past year, the outlook for 2012 is expected to draw close scrutiny from the trading community. The current estimate is $4.60 (Source: Yahoo).
Revenue Guidance (FY2012): Estimates call for FY2012 revenue to decline by 0.6% y/y.
Takeaways from the Dell 3Q 2012 earnings release that could impact HP:
Dell is trending to the lower end of the range of its revenue outlook of 1% to 5% full fiscal-year growth. Dell cited the uncertain macroeconomic environment and the impact of the recent floods in Thailand on hard drive production.
Enterprise solutions and service business grew 8% to a record high $4.7 billion.
The pricing environment was slightly more aggressive, while the company faced challenges in certain parts of its business, namely consumer in developed countries, U.S. federal and our public business in Western Europe.
Recent News
11/14: JP Morgan reiterated an Underweight rating and a $20 price target on HP, according to Benzinga.com. The report cited macro and company-specific factors, while decisions to replace the CEO and keep the PC business are longer-term catalysts.
11/09: Goldman Sachs reportedly expects HP to report 4Q results below consensus according to a post on Benzinga.com. The firm also expects guidance for the January quarter to come in below forecasts.
10/31: Sanford Bernstein says HP is worth $37 with an Outperform, according to Barron's. Risks include execution and leadership.
10/27: HP announced that it has completed its evaluation of strategic alternatives for its Personal Systems Group (PSG) and has decided the unit will remain part of the company.
09/22: HP announced that its board of directors appointed Meg Whitman president and CEO.
Technical Review
After recently slipping to levels not seen since mid-2005 (intraday low was $21.84 on October 4), HP shares have rebounded nicely, with the 20-Day SMA recently crossing above the 50-Day SMA – a sign of improving momentum. The stock is now at a critical resistance level near$29 – the top of a gap created in the wake of a weaker than expected earnings release in mid August. A well-received earnings release this time around could drive the shares through this resistance barrier with potential upside to the 200-Day SMA near $34. Initial support is just above the 20-Day SMA followed by $26, and the 50-Day SMA at $25. (Chart courtesy of StockCharts.com).
Click to enlarge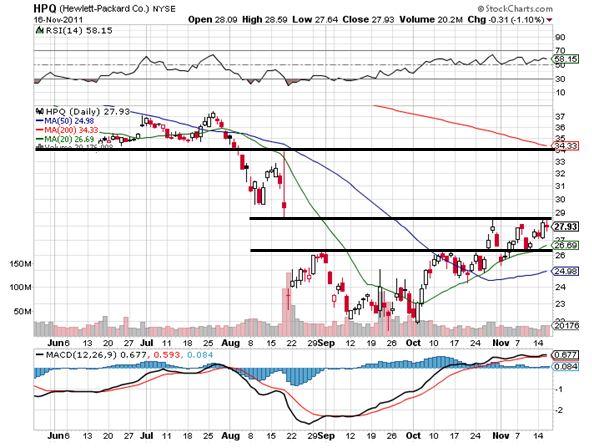 Click to enlarge
Summary
HP shares are coming off the lowest level since mid-2005, following a series of key decisions, including the appointment of Meg Whitman as president and CEO and retaining the PC business. Since bottoming out in October, HP shares are up more than 25%. Even after the recent advance, the shares trade at 6x forward earnings, resulting in a FWD PEG ratio of less than 1.0 and a mere 0.43x sales and 1.44x book value. HP also pays a respectable dividend of 1.72% and continues to repurchase stock, while management reigns in expenses. Nonetheless, the near-term direction of HP shares will likely hinge on the outlook for 2012 and follows tepid guidance from rival Dell.
Disclaimer: By using this report, you acknowledge that Selerity, Inc. is in no way liable for losses or gains arising out of commentary, analysis, and or data in this report. Your investment decisions and recommendations are made entirely at your discretion. Selerity does not own securities in companies that they write about, is not an investment adviser, and the content contained herein is not an endorsement to buy or sell any securities. No content published as part of this report constitutes a recommendation that any particular investment, security, portfolio of securities, transaction or investment strategy is suitable for any specific person.
Disclosure: I have no positions in any stocks mentioned, and no plans to initiate any positions within the next 72 hours.