It's weird for me to be writing this. I had kind of written off Nokia (NOK) myself, even though it's still the largest seller of mobile phones in the world. What happens is that Nokia gets its numbers from selling a lot of feature phones, a segment which is in decline and low margin, while losing a lot of market share selling smartphones, a segment showing strong growth and the only segment that shows decent margins.
This trend is even more exacerbated in the top range of the smartphone market, which Apple (AAPL) dominates with the iPhone. By capturing just 4.2% of the smartphone market, Apple actually captures 52% of the profits in the same market. This happens because although the iPhone retails for as little as $199 with a calling plan, the mobile operators are subsidizing it heavily and end up paying Apple $600+ for each unit.
Now, given these trends, why do I say that Nokia might be back? Recently, under the guidance of its new CEO, Stephen Elop, Nokia has decided to revolutionize its smartphone line, dropping the dated Symbian OS and embracing Microsoft's (MSFT) Windows 7 as its smartphone OS from now on. The first results of such initiative were unveiled just a few weeks ago, at Nokia World 2011. These included the Lumia 710 and the Lumia 800. Today, we also got to know that Nokia will be expanding above and below that line, eventually including a Windows 8 tablet.
It happens that the Lumia 800, similar in design to the Nokia n9, does seem to be very promising – it is perhaps the most distinctive new mid/top-line smartphone to hit the market, and it gains from the fact that Windows 7 is also being well-received and breaks successfully from the "grid of icons" paradigm that still rules almost every phone (iOS or Android). The Lumia 800 went on sale in several European markets today.
A quick look at the phone itself is enough to see how beautiful, and thus promising, it might be, in a segment that thrives on image: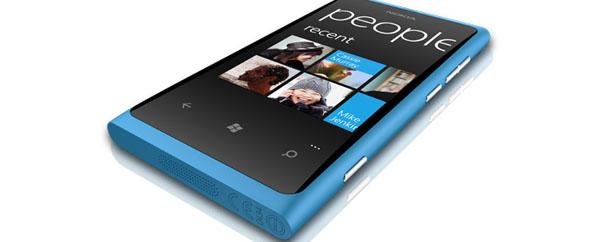 The Lumia 800 seems distinctive enough, and Windows 7 seems good enough, that both Nokia and Microsoft might be able to regain some exposure in the profitable high end of the smartphone market. Nokia trades at undemanding multiples and expectations (18.3 P/E for 2011, but only a 4.9 EV/EBITDA; estimates for 2012 are down from 2011) so any success penetrating the smartphone market is bound not to be reflected in the share price yet. Downside seems limited if the product doesn't do too well, allowing for a graceful exit.
Disclosure: I have no positions in any stocks mentioned, but may initiate a long position in MSFT, NOK over the next 72 hours.