Master Limited Partnerships, better known as MLPs, have had an excellent record of providing high yields and excellent growth. The future for MLPs remains bright with a virtually unlimited demand for more infrastructure to deliver (primarily) oil and gas in the U.S. and Canada. Two of the largest are Kinder Morgan (NYSE:KMR) and Enbridge Energy (NYSE:ENB). What sets them apart from other MLPs is that each has a companion form of ownership. Besides the partnership with ownership measured by units, a second company was formed as a corporation with stock ownership that pays stock dividends based on distributions paid to unit holders of the partnerships. No 1099s are sent to stockholders.
Enbridge Energy Partners has 2 companies
Enbridge Energy Partners is a leader in energy transportation, delivering crude oil and natural gas in the Mid-Continent and Gulf Coast regions of the U.S. The Liquids Segment is conducted largely through the world's longest liquid petroleum pipeline, which transports crude oil and natural gas liquids from western Canada to refining centers in the Midwest and Ontario, Canada. The Natural Gas Segment consists of transmission, processing and marketing operating in the Mid-Continent and Gulf Coast regions. Enbridge Energy Management is a corporation that manages the business of the partnership. Enbridge Inc., based in Calgary, Alberta, holds 26% interest in EEP with EEQ and 87,000 unitholders owning the balance. Enbridge, Inc. is one of the largest energy companies in Canada.
Three weeks ago, EEP announced it will invest $90 million in projects to expand the gathering capacity on its North Dakota system by 100,000 barrels per day (called the Bakken Access Program). This upstream expansion is expected to be in service by early 2013, and it involves increasing pipelines, construction of storage tanks and addition of truck access facilities at multiple locations in western North Dakota.
Last month, EEP and ENB, announced two projects for expansion of EEP's light crude line between Superior, Wisconsin and Sarnia, Ontario by 50,000 barrels per day at a cost of $20 million and targeted to be in service late next year. The project will grow light crude production from the Bakken shale and from Alberta to meet refinery needs in Michigan, Ohio and Ontario.
Kinder Morgan has 3 companies:
Kinder Morgan Partnership (NYSE:KMP) unit partnership
Kinder Morgan Management (KMR) stock corporation
Kinder Morgan (NYSE:KMI) general manager
Kinder Morgan is one of the largest pipeline transportation and energy storage companies in North America with more than 37,000 miles of pipelines and 180 terminals. The pipelines transport and terminals store petroleum, crude oil, gasoline, jet fuel, ethanol and coal. Kinder Morgan, Inc. is the general partner. A 3rd entity is Kinder Morgan Management and the 3 companies have a value of $55 billion.
KMP believes natural gas is the fuel for the future to meet energy demand and reduce carbon emissions in the US. Growth can come from natural gas shale in abundant supply in the US. KMP made substantial investments in the Haynesville Shale in Louisiana and the Eagle Ford Shale in Texas. In addition, KMP is expanding and building new infrastructure to get natural gas from these supply basins to marketplaces around the country. KMP handles 30% of ethanol used in the U.S., is developing crude oil reserves in the Permian Basin in West Texas and is expanding infrastructure to transport CO2 for 3rd-party use in enhanced oil recovery projects.
Last week KMP announced its participation in Battleground Oil Specialty Terminal, a venture with TransMontaigne Partners, to construct and operate a $400 million oil terminal on the Houston Ship Channel. Kinder Morgan will buy El Paso Corp. (EP) for $21 billion, one of the biggest energy deals ever, to increase natural gas drilling and production. Then Kinder Morgan will be the biggest midstream energy company, operating 67,000 miles of pipelines.
Both companies have outstanding records of growth and raising distributions (comparable to dividends). EEP has been more cautious about raising distributions, but still has a record that many stocks would envy (shown below).
Enbridge Energy Partners Distributions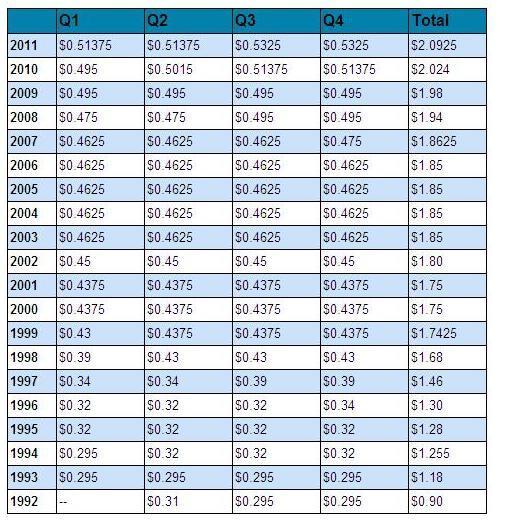 Click to enlarge
(Click to enlarge)
KMP has been more aggressive with its annual increases and is on its way to become a Dividend (Distribution) Aristocrat. The current rate is $4.64 and the company is guiding for nearly $5 next year.
Kinder Morgan Distributions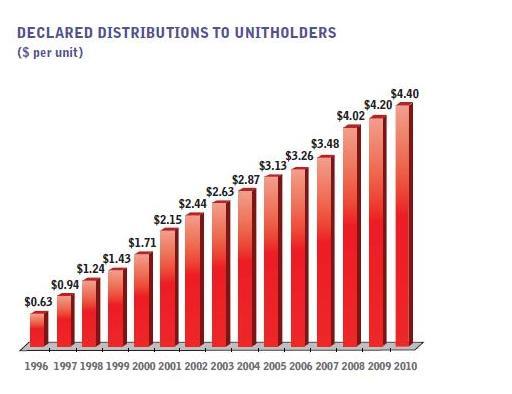 Click to enlarge
(Click to enlarge)
At Kinder Morgan, KMI has a short record as a public company. EEP and KMP have long records of growth and are investing aggressively to bring more energy products to the market. Partnership units provide investment income with tax advantages (along with some tax hassle) for those requiring income from investments. Their comparable corporations allow investors to participate in business growth but without tax hassle. Shares of each corporation are backed by units of the partnerships on a one for one basis and stock dividends are based on distributions paid.
Shares in the corporations have particular interest for retirement investing. Retirement accounts can have time horizons of decades. A stream of growing stock dividends will grow shares, key for increasing the value of an investment. KMR and EEQ each yield more than 7%. A compounded annual growth rate of 7.2% will double shares in 10 years (4 fold in 20 years). Higher stock prices will follow the lead of larger stock dividends. Increased investment worth from more shares at higher prices is the primary goal for retirement accounts so they will provide higher income in later years.
Disclosure: I have no positions in any stocks mentioned, and no plans to initiate any positions within the next 72 hours.