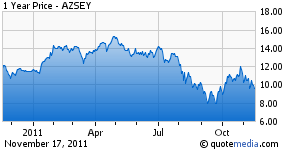 German insurer Allianz (OTCQX:AZSEY) reported a third-quarter net profit of EUR196 million last Friday widely (or wildly, depending on which adjective you prefer) missing analysts' estimates of a EUR600 million profit. This compares to a net profit of EUR1.26 billion during last year's third quarter. The company cited higher taxes, stock market losses, and last but certainly not least, write-downs on Greek sovereign debt as reasons for the shortfall.
Specifically, the company took a EUR198 million hit when it wrote down its Greek debt to market value in late September. The company said its exposure to the debt of troubled eurozone peripheral nations was relatively small, and it downplayed the risk associated with the Italian debt it holds, calling the market's reaction to Italy's debt crisis "exaggerated." The bond market of course, doesn't agree with Allianz at all -- yields on Italian 10-year bonds have persistently climbed above 7% of late, despite the ECB's best efforts to keep borrowing costs under control for the eurozone's third largest economy.
While Allianz's Greece-related loses may indeed be manageable, it is important to note that the insurer's Greek sovereign bond holdings account for [only] .1% of the firm's EUR413.5 billion fixed income portfolio -- while the Italian exposure amounted to [fully] 6.2%" during the third quarter. That puts the value of its Italian bond portfolio at around EUR26 billion.
The company says it still plans to hit its target for operating profit this year and plans to increase its dividend to compensate investors for the unexpected losses incurred from equity writedowns. While the company says it is not overly concerned about the sovereign debt it holds, it is interesting to note that the company's chief financial officer Oliver Baete suggested today that eurozone governments should tier their debt in an effort to provide investors more transparency. Allianz's CFO said sovereign debt should be structured like corporate debt so investors would "know what they were buying." Baete also suggested that Italy's new government should make it clear that there is no chance of an Italian default.
These do not sound like the words of a man who is entirely sure that his company's EUR26 billion worth of Italian debt is completely safe. In my opinion, Allianz's exposure to eurozone sovereign debt is too large to manage in the event of an Italian or Spanish default, let alone a downgrade of France's debt. I would short these shares for now, based on the unpredictable nature of the situation in Europe right now.
Disclosure: I have no positions in any stocks mentioned, and no plans to initiate any positions within the next 72 hours.