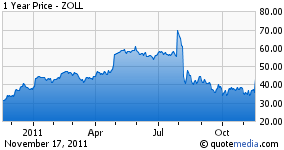 Zoll Medical (NASDAQ:ZOLL) develops, manufactures, and markets resuscitation devices and related software solutions worldwide. LifeVest is Zoll's bread and butter product, and represents 20% of its sales. On October 28th, Zoll announced that physicians have prescribed over 50,000 LifeVests to patients.
Zoll Medical (ZOLL) reported record quarterly and annual revenues and earnings yesterday. It has impressively beaten quarterly earnings for the 4th time in a row, with Q4 EPS $0.52 vs. est. $0.49, and revenue up 26% to $151.9 million vs. est. $142 million.
The following are reasons why you can expect ZOLL to do well now and in the future:
1. ZOLL is a small, specialized company that isn't affected as much by macro-economic factors. Its products are its own, so it doesn't compete with the big medical supply companies. ZOLL's products are also relatively inexpensive and get the patients out of the hospital quicker to save expenses.
2. Despite continuing to beat estimates, ZOLL is still far from its 52 week high. After reaching a peak of $70 per share back in July, a couple weeks later ZOLL had plummeted down to $40 a share, and has been range-bound between $35 to $40 ever since. This is because it put out a notice in early August that there's a new risk that Medicare might not reimburse LifeVest purchases as often as assumed.
This spooked the market big time, however, to this day Medicare has continued to reimburse LifeVests, and it's apparent that hospitals around the world are continuing to buy them. On November 11, North Carolina Medicaid has decided to continue its policy of reimbursing LifeVests, as it has been deemed medically necessary.
3. ZOLL is on a ROLL! For a small company with a unique product, success breeds success. Hospitals are more likely to buy ZOLL's products when ZOLL can show all the other reputable hospitals using its products and all the accolades they have gotten. Otherwise, small medical supply companies like ZOLL are looked upon with skepticism regarding quality of products.
4. It's demanding to its employees. Looking at glassdoor.com, it appears that the company is disorganized and has unsatisfied employees. Only 25% of employees approve of the CEO (out of 4). On the surface, this might look like a bad thing. But upon further analysis, it actually might be good for shareholders. Think of it this way, what are some things that make a happy employee? How about a laid back, easy job, and high pay? It appears that a job at Zoll Medical is anything but that. One disgruntled former employee wrote on September 27, 2011:
"Opportunities- None! Survival until outpaced by forecast."

"50% turnover both internally and externally-runs like a call center"
This former employee used to be a Territory Manager, and I can only assume he didn't perform satisfactory and got fired. The high turnover he mentions means ZOLL gets rid of employees that don't produce, and just keeps the good ones. It possible doesn't overpay employees either. These kinds of penny-pinching companies are often the ones that come up with high earnings and revenues.
5. Looking up Zoll Medical on LinkedIn.com, I saw it has employees all over the world. Even in places like Sydney and Brazil. Knowing this, I could imagine that with a good sales force, ZOLL can sell its products to any decent hospital in any developed country. And, ZOLLS past record and accolades help it to sell to those hospitals.
6. Finally, ZOLL is debt free. With its spare cash, it authorized yesterday a $50 million share buyback, and that's always nice.
Despite warnings back in August that reimbursement might not be available for its LifeVest, SunTrust still gave the stock a $74 price target. Now that Medicare is beginning to approve them, starting with North Carolina, those fears should be put to rest, and ZOLL could easily break through its 52 week high sometime in 2012.
Disclosure: I am long ZOLL.