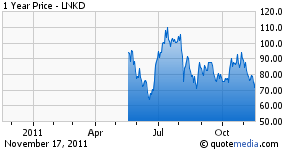 If you own shares of social networking site LinkedIn (NYSE:LNKD) , you might consider unloading some of your position before next week. The post-IPO, 180 day lock-up period during which insiders are forbidden from selling their shares expires on Monday, meaning that as many as 24 million shares of the company could come to market next week if LinkedIn's early investors and company insiders decide to unload their shares.
While no one knows for certain just how many shares will be sold next week, a few things are certain. Bain Capital Ventures is selling its entire 4.3% stake (3.7 million shares) as part of a secondary offering announced by LinkedIn last Monday. Additionally, Greylock Partners is selling 1.4 million shares, Bessemer Venture Partners is selling half a million shares, and an SAP AG affiliate is selling 145,300 shares. That amounts to nearly 6 million shares coming to market--but who's counting right?
Complicating the matter is the fact that LinkedIn itself plans to offer around 1.3 million shares to the public as part of the deal bringing the total amount of new shares involved in the secondary offering to around 8 million. The company hopes to pitch the new stock primarily to institutional investors who will presumably hold onto the shares for the long term. The secondary offering is an attempt to "control the number of shares on the market," and "ensure an orderly distribution of shares."
Whatever the intent, the new offering of 8 million shares will double the company's float and will likely attract short-sellers. Like Groupon, LinkedIn offered only a small number of shares in its IPO, artificially driving up demand for the stock. Now that more shares are available for purchase, investors may be unwilling to pay a premium as the shares are less scarce than they once were.
Investors should also know that venture capital firms aren't the only ones selling their shares. Jeff Weiner, the company's CEO, and Steven Sordello, LinkedIn's CFO are both selling 10% of their shares in the company. One can hardly blame all of these folks for cashing in. Shares of LinkedIn recently closed at $71.56 -- that's a hefty premium to the $45 per share paid by those who snagged the stock at its IPO price. With all these shares coming to market next week, investors would do well to sell their shares of LinkedIn. If you don't own any, now may be a good time to buy some puts on the company.
Disclosure: I have no positions in any stocks mentioned, but may initiate a short position in LNKD over the next 72 hours.