Youku (NYSE:YOKU) 3Q11 Earnings Highlights
Net revenue: $41.2 million (+129% year/year and 35% quarter/quarter)
Bandwidth cost was $14.5 million (+41% q/q), representing 35% of net revenue compared with 44% last year, while content cost was $10.5 million (+36% q/q) and remained flat at 26% of the revenue compared with a year ago.
Gross margin: 26%
Operating expense: $18.8 million (+120% y/y)
Net loss: $7.4 million
Non-GAAP net loss: $4.4 million
What I liked
Strong top-line growth. The 129% y/y revenue growth exceeded the high end of management guidance and continues to take shares from its competitors, specifically Tudou (NASDAQ:TUDO) [+52% y/y]. Online video revenue growth from Sina and Sohu were +125% y/y and +110% y/y, respectively, indicating that Youku continues to maintain its industry standing while Tudou continues to be the industry laggard as the company faces challenges in transitioning itself from a website that focuses on UGC to PPC.
Continue to gain shares. Youku increased its advertiser base by 139% y/y and saw higher revenue per advertiser, compared to Sohu.com (NASDAQ:SOHU), which saw 50% y/y increase in advertiser base. The company also executed well in gaining users' time as video streamed per month increased 22% q/q to 20.5 billion. The figure is still pale compared with YouTube, which streams 90 billion videos per month (~3 billion per day) but implies that Youku could have significant upside if it continues to execute.
What concerned me
Weaker guidance. Youku guided 90% – 100% y/y growth for next quarter, which is less than the average analyst forecast of 108%. The weaker guidance could indicate increased competition ahead, which has been reflected in the decreasing y/y revenue growth since Youku's IPO (see chart - click to enlarge).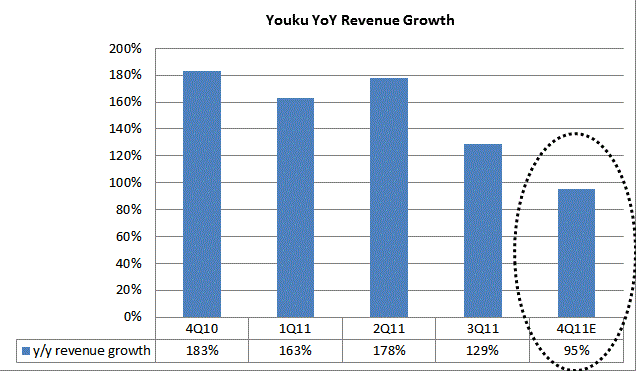 Disclosure: I have no positions in any stocks mentioned, and no plans to initiate any positions within the next 72 hours.