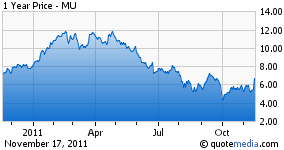 When we are looking for companies to invest our money in, buying the stock and then exploring whether it is a good idea to use options to create additional income off the stock is a powerful strategy. One of the good tech stocks to explore is Micron Technologies (MU).
MU engages in the manufacture and marketing of semiconductor devices worldwide. Its products for data storage and retrieval comprise dynamic random access memory (DRAM) products-- for use as main system memory in computers and servers. It also is involved in NOR flash memory products that are electrically re-writeable, non-volatile semiconductor memory devices used in consumer electronics, industrial, wired and wireless communications, computing, and automotive applications. The company sells its products to original equipment manufacturers and retailers through its internal sales force, independent sales representatives, and distributors, as well as through a Web-based customer direct sales channel, and channel and distribution partners.
If we look at them from a product stand point, there is caution and there is opportunity.
DRAM Products
This is where we would raise caution as to the opportunity of in this market for MU. In 2010, DRAM prices kept falling and were projected to continue down into the second quarter of 2011. Cumulatively, prices of memory have fallen by roughly 50% since the start of the ongoing year (2011).
An article by Dan Nystedt educates us on the state of this market. DRAM memory is used in personal computers. In 2009 and early 2010, chips, which are important to the overall speed of a computer, were over priced because of a PC industry recovery. As the economy stalled again, less than stellar consumer confidence has hurt PC sales and sent chip prices down. Along with an over abundance of production output, DRAM prices continued to fall. Dan goes on to write: "Investment banking firm Credit Suisse forecast the DRAM market will remain in oversupply through the middle of 2011 but will regain footing in the second half of the year. The firm said quarterly DRAM revenue will likely bottom in the first quarter of next year before starting to recover in the second quarter." This could provide an opportunity for us as investors.
The first half of October of this year, DRAM prices managed not to go any lower, though staying flat wasn't an overly large improvement. But, hopefully it is a sign over stability and future price improvement. Production of DRAM has been cut but we still need to see a market increase for the personal computer. This will be a good sign for investing but presently-- caution abounds.
Nor Flash Market
Micron Technology, Inc. introduced This is a positive for MU. The NOR market is expected to continue to journey toward the SPI devices with 50% of its revenue from there by 2013. (control devices, sensors, camera lenses, LCD Displays ... etc.)
This is a market in expansion mode. It will grow from increased usage in a broad spectrum of applications including currently popular tablet devices like Apple Inc.'s (AAPL) iPad, the embedded NOR flash memory market in 2011 is set to grow 8 percent.
The largest segments in 2011 for neither embedded NOR will be hard disk drives and PCs, with both areas enjoying double-digit market share. This is right up MU's market. So the NOR market brings great opportunity for MU.
The Rambus suite is over for all intent and purposes and the stock spiked on the news. A San Francisco jury has rejected a $4 billion antitrust claim by Rambus against rival RAM makers Hynix Semiconductor (OTC:HXSCF) and Micron Technology. It is the end of this suit that had given life back in to MU. Before this, MU wallowed in uncertainty even as the projections of a stabilization of the DRAM chips. The end of the suit should bring life back into the stock as it has defeated the uncertainty that investors do not like.
We have moved up this morning and if we have a resistance level to move through, they are at 6.96. Analysts place them growing to $10.33 so the growth opportunities are good. Look at investing in the stock and then selling either January 5 puts or 8 calls income. the highest density Serial Peripheral Interface (SPI) NOR memory available, launching 1 gigabit (Gb), 512 megabit (Mb) and 256Mb products in both 1.8V and 3V power supply voltages in August of 2011.