Last week, U.K. based Livebookings, which is also OpenTable's (NASDAQ:OPEN) largest competitor in Europe, launched Freebookings.com as a free restaurant reservation service to compete directly with OpenTable in the U.S. Some have asserted that lower pricing will be a competitive threat. Since restaurants have very favorable cost of goods sold (30-35%) along with very high fixed costs for each meal, I will explain why OpenTable's current restaurant clients will not quit using OpenTable and adopt a less expensive alternative like Freebookings.
First, let me summarize the OpenTable value proposition that convinced 24,000 restaurants to subscribe. OpenTable charges $200 per month for table management and marketing technology plus a $1.00 sales commission for each diner booked through an OpenTable media product and a $0.25 technology fee for a diner booked through a restaurant website. On average, a restaurant is paying about $525 per month for OpenTable assuming 450 reservations with 63% coming from OpenTable's media. My estimates are very close to the $581 in "Total Open Table Expenses" estimated by OpenTable below. The 970% return on investment shown below is the key table in the sales presentation to restaurant owners.
(Click charts to expand)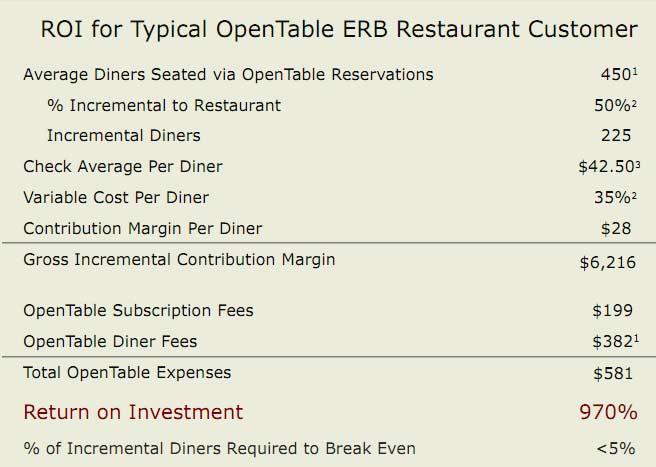 The main assumption in the above analysis is that 50% of OpenTable reservations are incremental. However, some restaurant owners don't believe this math and believe paying for regular diners is a tax on their profits. Oddly, some have publicly complained that as they received more reservations from OpenTable, they had to pay a higher fee (commission) to OpenTable! Other restaurant owner's have decried the OpenTable model without even using the service. As there are no regulatory requirements that restaurants use OpenTable, restaurants can choose other methods to pay for diners.
Some restaurants pay fixed cost for top-dollar leases in high visibility locations for foot traffic that guarantees lots of walk-in diners. Other restaurants pay for customers through fixed cost advertising such as television, radio, internet, billboard, newspaper, magazine, coupons and direct mail. A handful of celebrity chefs don't need to pay anything for diners because they are celebrities and the food quality and referral base fills their restaurant from open to close. In contrast, some chefs leverage the OpenTable database for profitable pop-up concepts. However, most restaurant owners are mere mortals and they grind it out every day to make a good living doing what they love - cooking and making people happy. Generally, restaurant operators care very little about the source of reservations as long as they are turning enough tables during a dinner shift to make sure the commissioned servers earn enough to show up the next day and that the restaurant can pay its bills and hopefully generate a small profit for the owner. Restaurant failure rates are the highest among all business types.
Most fine-dining restaurant owners will concede that online reservations offer a valuable convenience for guests. They also admit that answering the phone in a timely manner is expensive. Thus, part of OpenTable's model is to provide reservation hardware and software for a fixed cost (i.e. $200 per month). The variable cost aspect is completely dependent on the number of diners that reserve through the system with a higher sales commission (i.e. $1.00) for reservations from any OpenTable media product. None of the media products mentioned previously offers variable cost pricing. Most restaurant owners can't usually negotiate a deal with a landlord or newspaper based on a percentage of sales or the number of seated diners, respectively.
Thus, on the heels of OpenTable's success, there are numerous lower price competitors including Urbanspoon's RezBook, Eveve, Restaurant Reservations.com, Reserve Interactive, Restaurant Row, and Freebookings.com, among others. There is even at least one freeware project in development. So far, RezBook is the most viable competitor in the U.S. which is seating about 24 diners per month per restaurant for 800 restaurants. Eveve is competing in the Minneapolis market and has convinced some operators there to stop using OpenTable. Any start-up can create competitive reservation software for less than $500k. The problem that all of these lower cost competitors face is that they lack distribution. For the past 13 years, OpenTable has been building a national restaurant network and a database of fine-dining guests. In the case of the Minneapolis restaurants, which have unsubscribed from OpenTable and joined Eveve, how is a busy executive assistant of a business traveler from Seattle going to even know about Eveve and make reservations for Eveve's client restaurants? Maybe Eveve will do partnerships with Yahoo (NASDAQ:YHOO), Google (NASDAQ:GOOG), Facebook, CitySearch, Zagat or Yelp to add links to make a reservation? Maybe Eveve will get more money from investors and buy some billboard space in Seattle? The more likely scenario is that the executive assistant will log into his or her OpenTable account and choose from among the 235 restaurants in Minneapolis that are already listed on OpenTable and make a reservation in about 30 seconds. Regardless of the probability of this scenario, the competitive threat from Freebookings, as the least expensive solution available today, will be considered by many restaurant operators as an alternative to OpenTable.
The Freebookings launch included a full overhaul of the Livebookings pricing and service model. Usually such changes indicate that a firm is not currently profitable. This is hardly surprising since OpenTable did not turn a profit either when it was serving only 9,000 restaurants even while charging higher prices. The old version of Livebookings pricing is shown below.

Notice that although this is a U.K. Based company, the prices are denominated in USD because it was targeting growth in the U.S. The "Premium" service was listed as "Coming Soon" and had several of the feature sets that more closely resemble OpenTable's functionality and nearly matched its pricing except that Livebookings included 100-150 free diners from either restaurant website and/or partner website. However, the above strategy was obviously not working, so Livebookings last week launched a new pricing model as shown below.

Notice that "Light" version was renamed "Freebookings" and earns the "free" name by doing away the monthly subscription fees. Livebookings was having trouble selling the "Light" version even though the subscription rate was already priced at $49, which was 75% lower than OpenTable's monthly rate of $200. It now assumes that free will be easier to sell than not-free. I will argue that this will not be the case.
The revenue per diner (e.g. cost per cover) was likely priced at a loss since it was providing 100-150 "FREE inclusive website covers" with the previous version. Last quarter, in Europe, Livebookings claimed 2.6m seated diners on a base of 9,000 restaurants or 288 seated diners per restaurant per quarter or 96 per month. So, most of the restaurants were only paying the subscription rate and not paying for diners. In situations where Livebookings was paying partner websites a referral fee, it was actually using the subscription fee to cover the cost of the seated diners. This was a major weakness in the model, which is now corrected with the new pricing structure where there are no free included diners. It has formally adopted a commission model similar to OpenTable. A restaurant that seated 100 people with Freebookings will now pay nothing instead of the $49 it paid before. It is important to notice that Freebooking's does not provide diners from partner websites and instead only allows restaurants to source from their own website, Facebook links, etc. The chart below contrasts the return on investment and the absolute profit contribution between OpenTable and all three of the Livebookings plans.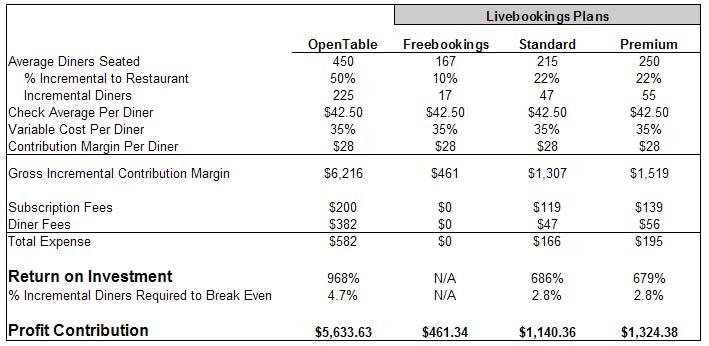 Under the Freebookings plan, I use OpenTable's estimate derived from 24,000 restaurants that about 167 diners will book with the Freebookings product through the restaurant's own website or Facebook page, with only about 10% of these reservations being incremental. The software install is mostly do-it-yourself both on the restaurant website and through Facebook and there are few costs. The profit contribution from incremental diners will be about $461 per month.
Under the "Standard" Livebookings plan, I generously estimate about 48 additional diners will be likely be achieved through the multiple media partners and the Bookatable.com website. While Bookatable.com is the consumer facing website in Europe that delivers 40,000 diners weekly, Bookatable currently lists a few dozen restaurants in the entire U.S. that includes 1 in Atlanta and 1 in Boston. I credit Eveve for at least recognizing that new entrants stand a better chance of success by focusing on just a few cities until they can prove their revenue model to their investors, which will be required to provide additional rounds of funding to create a national network to compete with OpenTable.
Under the "Standard" plan restaurants will actually pay more under the new pricing model than in the past. The subscription rate increased from $99 to $119. Assuming that 22% of the diners were derived from partner websites, the restaurant will also pay $47 for diners for a total of $166 per month whereas under the old plan they would have only paid $99. Thus the "Standard" plan restaurants will pay 68% higher fees, thereby effectively subsidizing the loss-leader, Freebookings.com. Since Freebookings does not offer partner derived diners, email marketing, or many of the table management features that make the software useful, most restaurants will be likely to upgrade to the Standard edition. My estimate of the return on investment for the Standard plan is 686%, which is substantially similar to the 968% achieved through OpenTable. Regardless, it is clear that restaurants with a substantial number of empty tables would rationally choose OpenTable because the greater distribution and network effect drives about 5 times higher profits ($5,634 vs. $1,140). The Premium service provides a mobile website, which I assume would increase the ease of making reservations and I increase the diner count from 215 to 250 but do not increase the percentage of incremental diners. The monthly expense and profit contribution are similar to the Standard plan.
In addition to foregone profits and higher relative fixed costs, there are a wide range of other issues that operators may want to consider before they cancel OpenTable and move to Livebookings.
A majority of the management team at Livebookings is not U.S. based and have all been recruited to lead the company within the past 12 months. Both the CEO and the CFO were recruited from Stepstone ASA (operating in a vertical unrelated to restaurants) where they worked together to grow sales from €17m to €120m over 8 years. In contrast, OpenTable's mangement team has an average tenure of 5-7 years.

According to the Livebookings site, there are no specific job listings available in the U.S. in either the Washington, D.C., or New York City offices. In contrast, OpenTable lists 24 positions across the country with a majority of the positions in sales. Building and maintaining relationships with restaurant operators requires relationship building and continuous focus on helping the operator to fill seats and use the software tools to highest capability. It is likely that Livebookings does not have the funding for these positions and therefore their products are primarily self-serve. This strategy will greatly limit the number of restaurants participating which will prevent the network effects from occurring that make OpenTable successful.

When restaurant operators want to do a special offer, they are provided with a generic form available to the public. This demonstrates that the company lacks the IT resources to build database driven processes that scale.

The testimonials section of the website does feature two strong American brands – B.R. Guest Restaurants and Bonefish Grill. According to the B.R. Guest website, it operates 16 restaurants in New York, and the links on the website use the Livebookings online reservation tool. However, 14 of those same restaurants are also listed on OpenTable. The B.R. Guest website includes the warning that "For same day reservations after 4pm, please call the restaurant." This indicates that OpenTable is still their primary reservation technology provider and that it is highly likely that Livebookings is not connected to the real-time table availability provided by OpenTable. For Bonefish, a testimonial from the CEO is provided. Strangely, I was unable to locate any links on the Bonefish website that indicated that it took reservations online. At least 3 Bonefish locations are already using OpenTable. Other popular New York restaurant logos (Aquavit, Les Halles, Spice Market) are also listed, which also subscribe to both OpenTable and Livebookings. Although both products can be used simultaneously for certain restaurants, the technology provider that generates the most reservations will serve as the primary database.
The real profit contribution to restaurants from OpenTable suggests that operators will continue to use OpenTable and more tech saavy operators will add the Freebookings tools to attract visitors from Europe, where Livebookings and Bookatable.com have brand recognition. Livebookings experience in penetrating the US market will likely be much less successful than Urbanspoon's RezBook effort. After two years RezBook now delivers 24 diners per month per restaurant in 800 restaurants while OpenTable is generating 450 diners per month per restaurant for 24,000 restaurants. Unless Livebookings is prepared to raise large amounts of capital, the Freebookings strategy has likely been designed solely to attract the attention of Facebook or Google in the all-too-common hope that it will win a meaningful partnership or buyout offer. A vast majority of restaurant owners lack the working capital to leave vendors like OpenTable that generate revenue. None of the Livebookings products, particularly Freebookings, will be an effective teaser program to lure restaurants away from OpenTable.
Disclosure: I have no positions in any stocks mentioned, but may initiate a long position in OPEN over the next 72 hours.