The sauce does not taste like tomato soup anymore. The cheese does not have the texture of rubber any more, and the crust no longer tastes likes cardboard. This is the reputation that Domino's Pizza (NYSE:DPZ) had to overcome in order to revive its sagging business.
This 50 year old pizza chain headquartered in Ann Arbor, Michigan, currently operates 9,351 pizza delivery and carry out restaurants in the U. S. and 65 other countries. Domino's is currently the second largest pizza chain behind Yum Brands' (NYSE:YUM) Pizza Hut.
Domino's was sold to Mitt Romney's old firm, Bain Capital, in 1998 for about $1 billion and then went public in 2004. In 2010, Domino's brought in CEO Patrick Doyle to turn the company's tarnished image around.
After getting back to some good pizza making, the company experienced historic same-store sales quarterly gains of 14%, one of the highest ever for a fast-food restaurant chain.
Before embarking on this article, I did my own due diligence by ordering several of the company's new artisan pizzas for the crew. I will give my taste test results after we first look at the performance and valuation of the stock: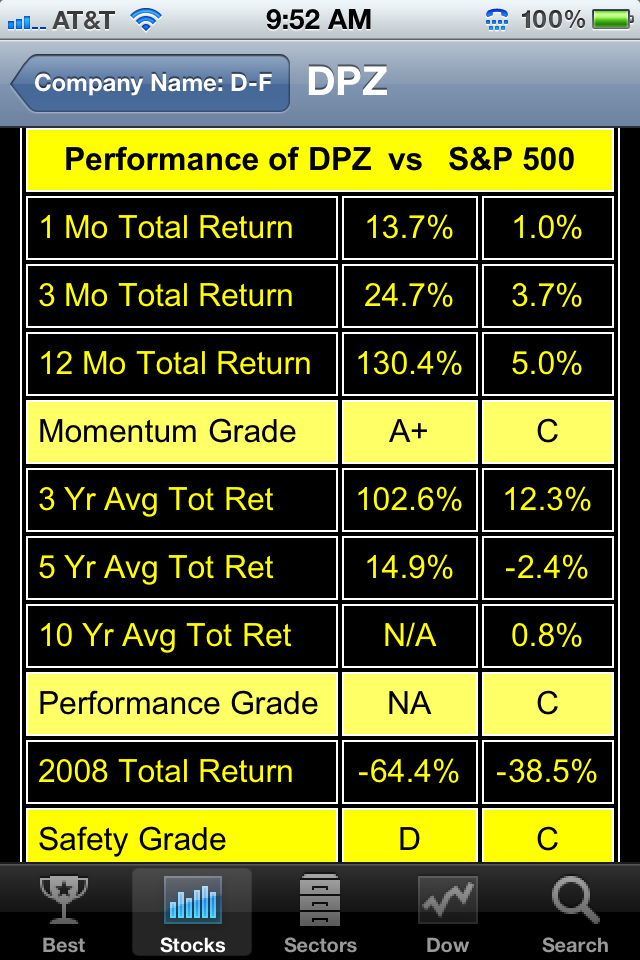 Data From Best Stocks Now App
As you can see, Domino's has delivered more than pepperoni and sausage lately. The stock is up a whopping 130% in the last 12 months and an average of 102.6% per year over the last three years. Oh, to have bought Domino's at just $2.00 per share back in 2008.
As you can see during the market sell-off of 2008, consumers were not exactly picking up the phone and ordering Domino's in order to soothe their frayed stock market nerves. In fact, the stock was down a whopping 64.4% that year. It has been all uphill ever since. Domino's hit a new high of $32.50 just yesterday, a long ways from its $2.00 level back in 2008.
As we all know, investing is about the future. With the big run in Domino's stock, artisan pizzas being delivered all over the world, and a current cracker jack of a CEO, is it to late to buy the shares?
For answers to these questions, we have to turn to the current valuation of the stock: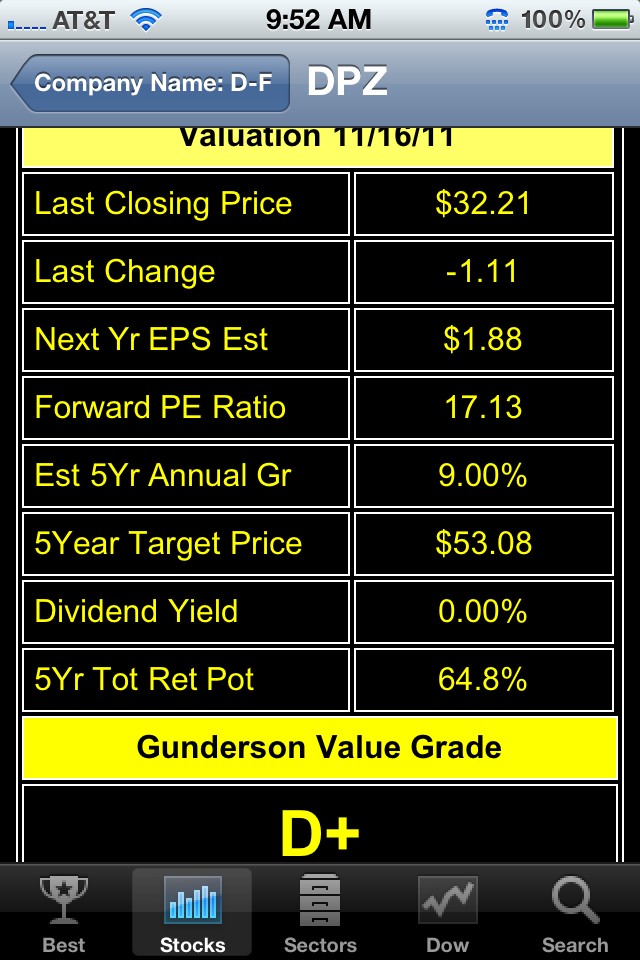 Data From Best Stocks Now App
As you can see, the stock is currently trading at a 17.13 forward earnings. This is fairly expensive for a company only expected to grow earnings by 9% per year over the next five years. This makes for a very unfavorable PEG ratio.
The company is expected to earn $1.88 per share next year. When I extrapolate those earnings out at 9% per year over a five-year period of time, I get earnings of $2.65 per share five years from now.
What kind of multiple would be appropriate for a fast food company growing at 9% per year?
Consider the following: Domino's currently has a PE ratio of 21. Domino's currently has a forward PE ratio of just over 17. Over the last four quarters, the average PE ratio of the stock has ranged between 9-21. Over the last seven years, Domino's has an average PE ratio of 14.35.
With new management in place, a much better product and increasing market share, I am awarding Domino's with a very generous multiple of 20 on future earnings. Even with my generous multiple, I can only come up with a five year target price of $53.
With the stock currently trading at just over $32 per share, it has just about 65% upside potential over the next five years. I like to buy stocks that have 80-100% or more upside potential over that five year period of time. Domino's falls far short of this and only earns a D+ value grade.
I currently own Domino's stock in the aggressive accounts that I manage. I have owned it for quite some time. I have no intention of selling my shares at this level. I would be a bit reluctant in buying new shares at its current level, however. Overall, the stock earns a bottom-line Gunderson Grade of A- right now. I have it ranked 491 out of 2,699 stocks.
Oh yeah, the results of the Domino's Artisan Pizza taste test?
The pizza got an A+ grade from my talented team of pizza lovers.
Disclosure: I am long DPZ.