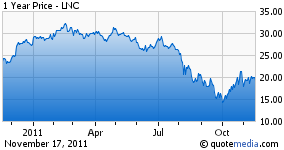 In an earlier article, I presented the case that insurer MetLife (NYSE:MET) was a "strong buy" that will prevail against onerous regulations. Lincoln National (NYSE:LNC), while analysts rate it more of a "hold," is similarly a tremendously undervalued investment at this moment. Despite a challenging market, the fact that the third quarter was solid and earnings rose in variable annuities sets the turnaround story on an optimistic note. Over the last 12 months, the stock has fallen by 15.4% while MetLife has fallen by 16.6%.
From a multiples perspective, Lincoln is cheap. It trades at a respective 6.4x and 5.1x past and forward earnings while offering a dividend yield of 1.58%. The volatility is high, as indicated by the the beta of 2.58, but if the financials firm continues to perform like it did during the third quarter, this will drive high risk-adjusted returns. During the third quarter, 2% of outstanding shares worth $150M were repurchased, an indication that management views the company is undervalued. This commitment to returning free cash flow will be accretive to shareholders and cause ROE to grow into 2011. I nevertheless anticipate ROE to decline below current levels by the end of 2012.
In the recent third quarter earnings call, CEO Dennis Glass noted the solid performance:
"We produced another quarter of very strong operating results with increases in operating income, operating revenues, deposits and flows, particularly good momentum in our Group Protection and Defined Contribution businesses. Highlights in the quarter include sales increases and positive net flows in nearly every business, resulting in $5.5 billion of deposits and $2 billion of bonds net flows. A 6% increase in operating revenues and a 54% increase in income from operations. Also, we accelerated our capital management activities which, year-to-date, includes $375 million worth of share repurchases. On a net basis, our results this quarter were affected by abnormally volatile (ph) markets and other atypical items."
I am optimistic about how management is focusing more on the defined-contributions 401K business, which makes it a less risky investment overall and encourages investor entrance. This will help to offset some of the investor hesitancy over interest spreads and goodwill management. Low interest rates are likely to stay for an extended period of time and the macro outlook appears stagnant. To confront this, Lincoln has purchased $1.3B worth of Treasury locks that have an implied yield of 6.45%. MetLife took a similar action five years back by purchasing $18B worth of notational interest rate floors. As for Lincoln's $3B worth of goodwill, which in good part derives from the Jefferson Pilot 2005 purchase, management claims that this is recoverable.
Perhaps the most attractive facet of Lincoln is that its trends are much more predictable than competitors, if at the cost of limited catalysts. In addition, the company offers a significant margin of safety. Consensus estimates for EPS are that it will increase by 27.2% to $4.12 in 2011, decrease by 3.6% in 2012, and then increase by 10.8% in 2013. Assuming a 7.3x multiple - below peers - and a conservative 2012 EPS estimate of $3.90, the rough intrinsic value of the stock is $28.47. This implies a 40.8% margin of safety that merits calling the investment a "value play."
Calculating the true worth of any financial is extremely challenging, but the greater predictability of Lincoln lends itself to a safer investment. With net debt at only 27.2% of market value compared to almost all of the market value for MetLife, the company also has a good amount of liquidity to acquire depressed businesses. With 12 of the 14 revisions to EPS going up and strong fundamentals, Lincoln has set the tone for a turnaround story.
Disclosure: I have no positions in any stocks mentioned, and no plans to initiate any positions within the next 72 hours.