Any portfolio of stocks is only as strong as the grounds for its collection. Much like a building is planned and built to suit its location, so must a stock portfolio be built to suit the owner's purpose. Many investment strategists recommend dividend-paying stocks. Recent articles have investigated and compared projected dividend yields from eight indices in an effort to sort out an answer to which dividend stocks are good, better, best, bad or ugly.
Many well-paid financial wizards busy themselves attempting to gain followers and credibility for their chosen collections of equities. Some are:
Russell Investments, a subsidiary of Northwestern Mutual Life Insurance, publishes the Russell 1000 index.
Standard and Poors, a division of McGraw Hill, publishes several indices, including the S&P 500 and the S&P 100.
Dow Jones, a CME Group Company, aggregates the Dow Jones industrial average of 30 stocks commonly called the Dow.
Nasdaq, the nation's first electronic stock exchange, was once the National Association of Securities Dealers Automated Quotations.
NYSE the New York Securities Exchange with Euronext has five divisions specializing in financial transaction systems and information.
AMEX, the American Stock Exchange, is third largest in the U.S. and is now part of NYSE Euronext.
CBOT the Chicago Board of Trade is a contract market division of the CME Group.
Most investment houses, such as JPMorgan, Morgan Stanley, Merrill Lynch, Morningstar, Goldman Sachs, Edward Jones, Fidelity and Vanguard, collect lists of multi-purpose equities. Some publish their lists; others do not.
Instant Investment Wisdom
To determine the best of the best dividend stocks, many investors rely on a once per year trading system triggered by yield, called the "Dogs of the Index" strategy. This strategy gives the investor the tactical advantage of obtaining all the wisdom and knowledge of the well-paid wizards of investment and publishing for free, merely by choosing the highest-yielding stocks from an existing collection built by the experts.
The charts below reveal low-yielding stocks whose price increases (or whose dividends decrease) to be sold off once each year to sweep gains and reinvest the seed money into higher-yielding stocks in the same index. Two key metrics determine the yields that rank the S&P 500 Index dividend dog stocks: (1) Stock Price; (2) Annual Dividend. Dividing the annual dividend by the price of the stock declares the percentage yield by which each dog stock is ranked. Thus the investor is able to follow, trade, and await the results from an investment in the lowest priced, highest yielding five or ten stocks in the index.
S&P 500 Index Revelations for November
Picks below as of 11/11/11 by indexarb.com data rank the top dividend yielding stocks listed on the S&P 500 Index. McGraw Hill states: "Standard & Poor's strives to provide investors who want to make better informed investment decisions with market intelligence in the form of credit ratings, indices, investment research and risk evaluations and solutions." The company states that the index includes 500 leading companies in leading industries of the U.S. Economy, capturing 75% coverage of U.S. Equities.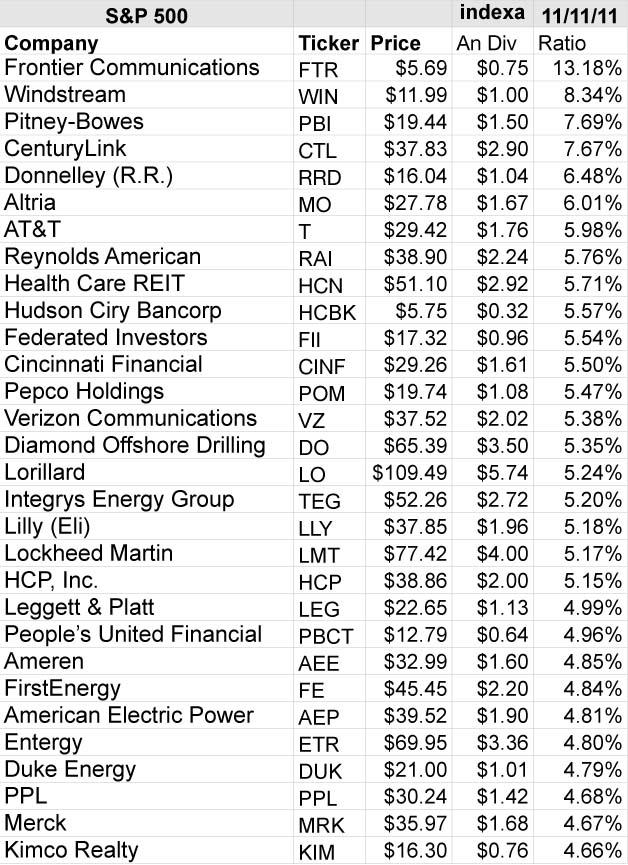 Four of the top ten stocks paying the biggest dividends in this index for October are technology firms. Frontier Communications (NASDAQ:FTR) has topped this list at 9 to 10% yields for ten of the eleven months this year. It's tops again at 13.18% for November. The remaining six include three consumer firms, two financial and one service.
Of these top thirty S&P 500 dividend payers, five are technology companies, five consumer goods, seven financial, one services, one basic materials, one industrial, two health care, and eight utilities with six of them grouped near the bottom, represent the sectors.
Changes in S&P 500 Index Dividend Paying Top 30 for November
Over the first nine months two different firms have exchanged places at the top of the list, FTR and WIN. Color code shows: (Yellow) firms listed in first position at least once between January and November 2011; (Cyan Blue) firms listed in tenth position at least once between January and November 2011; (Magenta) firms listed in twentieth position at least once between January and November 2011; (Green) firms listed in thirtieth position at least once between January and November 2011. Duplicates are depicted in color for highest ranking attained. Notice two more S&P 500 Utility stocks disappeared from the list this month. Merck (NYSE:MRK) in healthcare powered by their announced dividend increase and Kimco Realty (NYSE:KIM) a financial replaced Exelon (NYSE:EXC) and TECO Energy (NYSE:TE) on the list.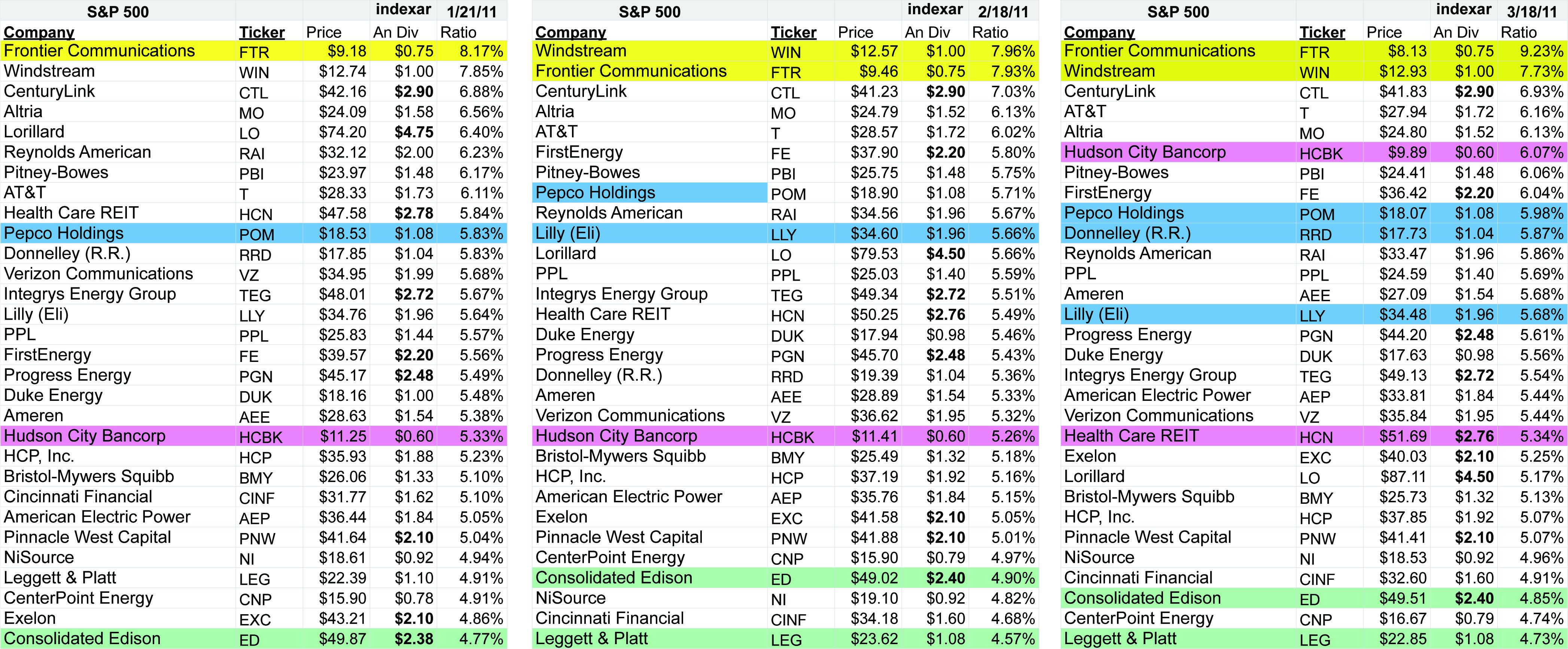 Click to enlarge.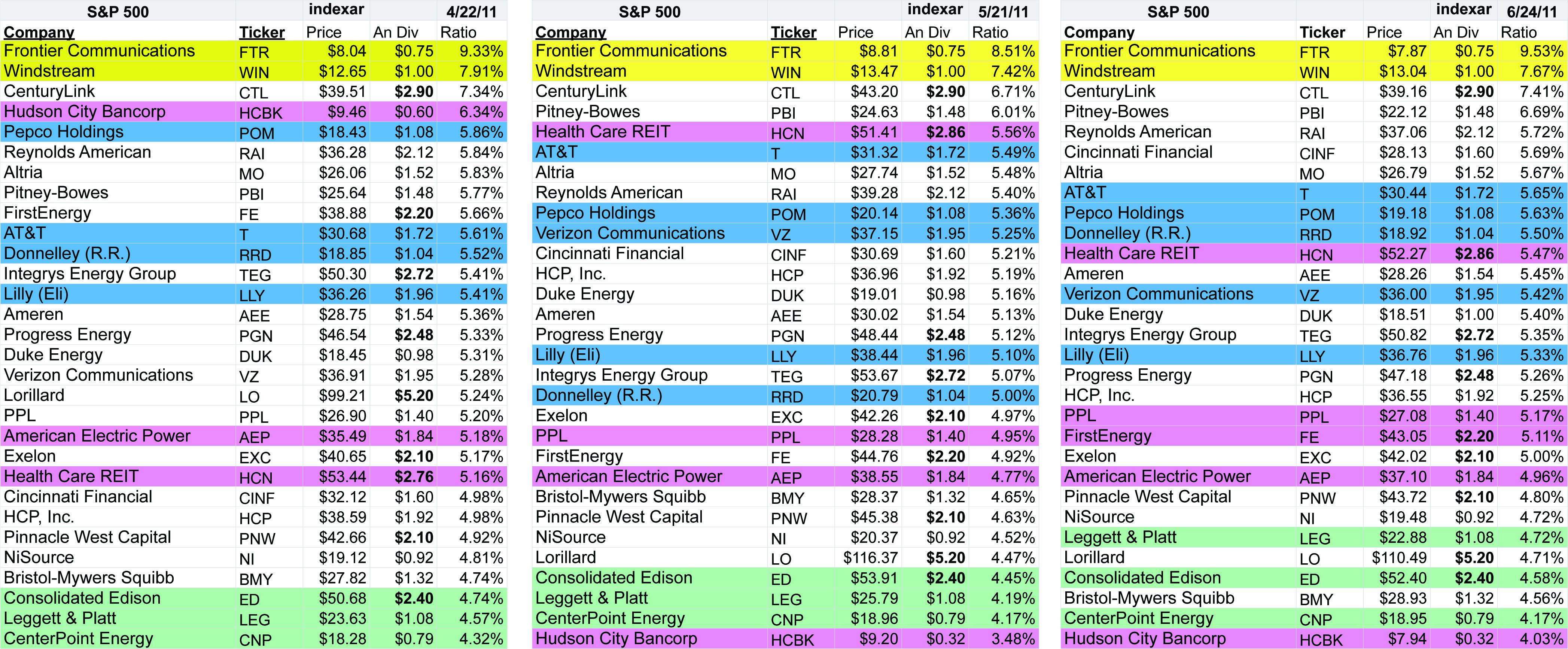 Click to enlarge.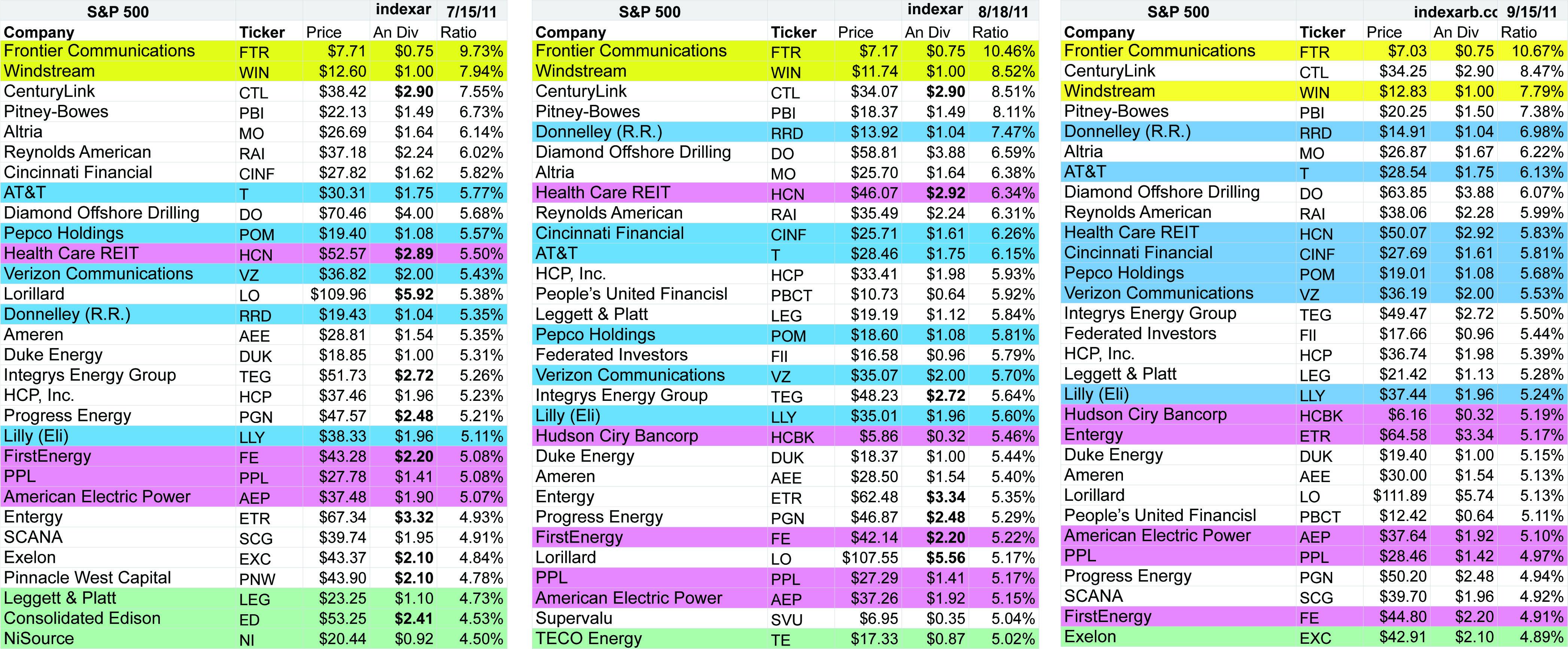 Click to enlarge.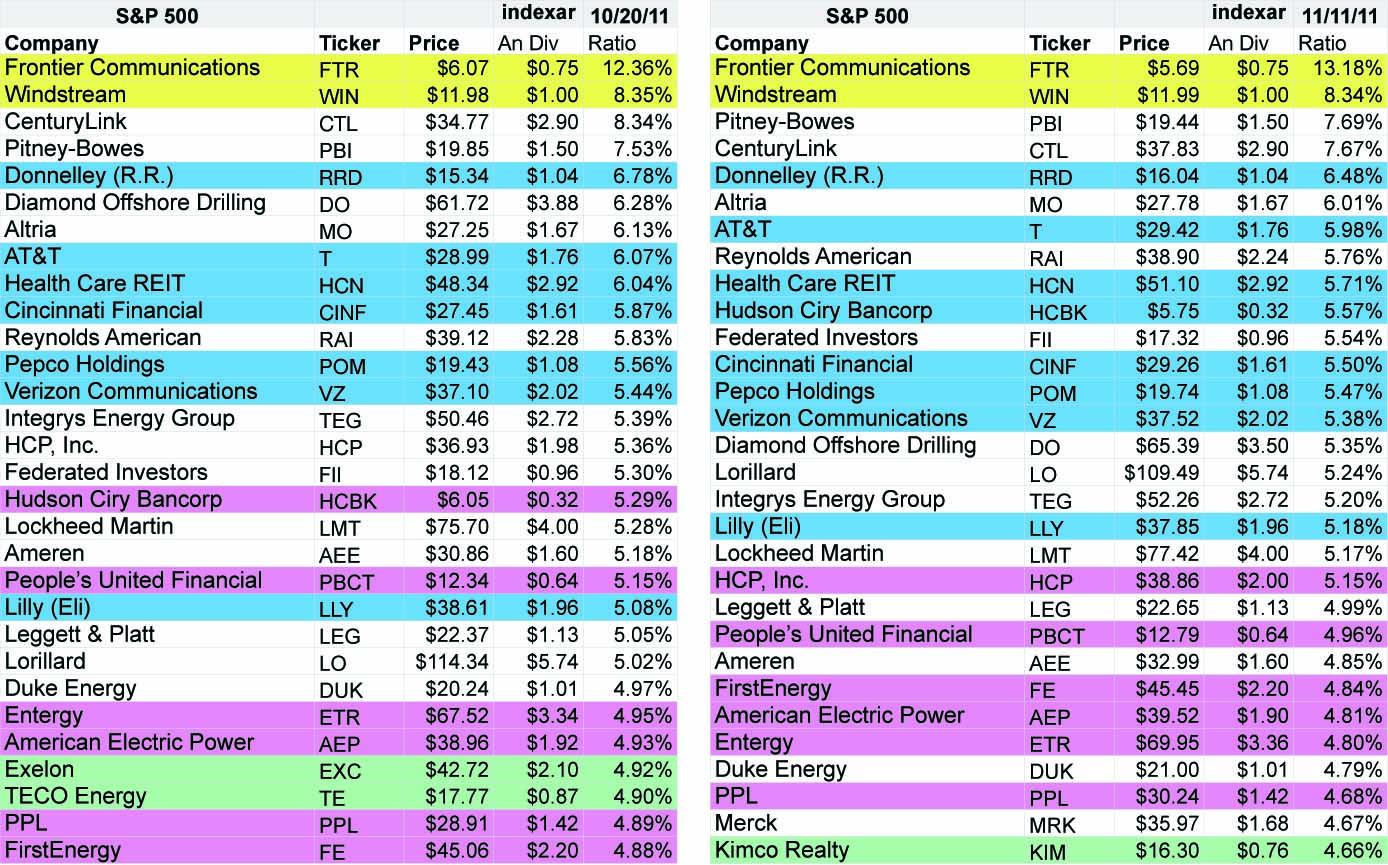 Click to enlarge.
November Dividend vs. Price Results for S&P 500 Index
Below is a graph of the relative strengths of the top ten S&P 500 index stocks by yield as of November 11, 2011. Using eleven months of historic projected annual dividend history from $1000 invested in the ten highest yielding stocks each month and the total single share prices of those ten stocks creates the data points for each month shown in green for price and blue for dividends.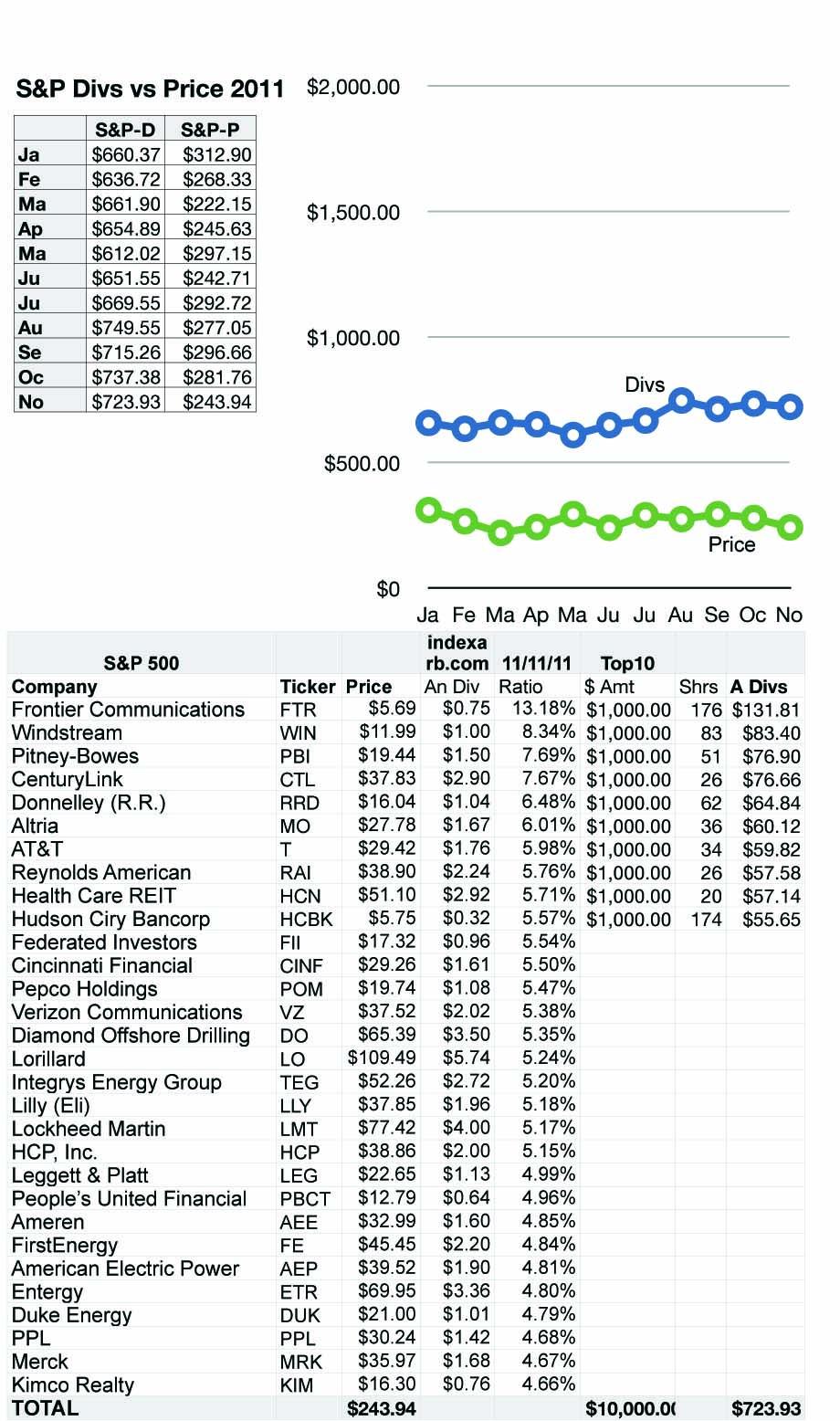 Again in November the S&P 500 top ten yield components continue to show bear market divergence with dividend yields holding even as their aggregate total single share prices drop. Perhaps the bulls will hold sway in the month to come and the share prices will begin to grow up toward the dividend yields. Stay tuned.
Disclosure: I am long T, VZ.
Disclaimer: This article is for informational and educational purposes only and shall not be construed to constitute investment advice. Nothing contained herein shall constitute a solicitation, recommendation or endorsement to buy or sell any security.