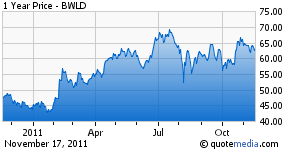 It looks increasingly unlikely that there will be a 2011-12 NBA season. And the media has already started to warn about the potential economic impacts of the lockout, specifically the loss of jobs and local business in cities with franchises. For example, studies claim that Miami would lose $200 million in local revenue without the Heat taking the floor at American Airlines Arena this season.
Therefore, it seems logical to assume that Buffalo Wild Wings (NASDAQ:BWLD), the casual restaurant chain which prides itself on "Wings, Beer and Sports," would potentially be negatively impacted by a NBA cancellation. Let's take a deeper look by reviewing academic literature, historical performance and management guidance to see if investors should panic over a NBA lockout.
Academia: Pro Sports Work Stoppages Have Little Macroeconomic Impact
A number of academic studies dismiss the idea that professional sports work stoppages lead to lower discretionary spending and a negative economic impact.
Baade, Baumann and Matheson (2006) explain that "none of the labor disruptions in the big four professional leagues have been associated with any statistically significant reductions in taxable sales" in their analysis from 1980 to 2005. The authors note that discretionary income is simply redistributed when there is a lockout. Instead of spending money on an NBA game, fans go out to dinner or a movie, bowling, etc (see Time columnist Sean Gregory's article for a more detailed explanation).
Furthermore, Coates and Humphreys (2000) find that "the departure of a franchise in any sport, particularly in basketball, has never significantly lowered real per capita personal income in a metropolitan area." Lastly, Zipp (1994) finds that the canceled MLB baseball games in 1994 had little or no impact on retail trade or hotel room sales in cities with franchises.
How Will It Affect Buffalo Wild Wings Specifically?
First of all, the NFL truly drives business for "B Dubs." Over the past five years, nearly 28% of revenues are earned during the start of the regular season in the fall (Q4). The period with the NBA playoffs, along with the NHL playoffs and MLB regular season (Q2), only accounts for 23.4% of total revenues.
Click to enlarge

We have a little bit of history to work off of when it comes pro sports work stoppages and B Dubs' restaurant performance since the company went public back in 2003. The 2004-05 NHL season was completely canceled, with the loss of 1,230 games. It was the first time the Stanley Cup was not awarded since 1919 (that year due to a Spanish flu pandemic). This is not a perfect comparison, but it's the best we can do.
Looking at the annual revenue growth chart below, it is safe to say that the NHL season's cancellation barely had an impact on BWLD. In fact, revenues increased 35.2% year-over-year.
Click to enlarge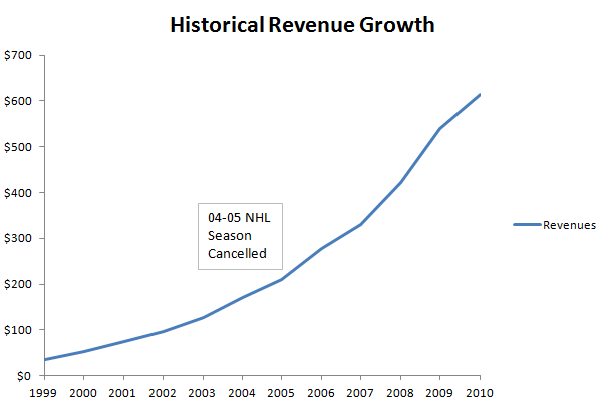 Analysis of same-store sales confirm this story: In 2004, company-owned same-store sales jumped 9.7% compared to the prior period: which was better than both the two previous years.
Click to enlarge

On a quarterly basis, B Dubs' revenues increased 27.2% from Q2 in 2003 to Q2 in 2004. Same-store sales increased in this time frame as well. In company-owned stores, the figure improved 2.7% in Q2.
Click to enlarge

It is important to note, however, that the NHL likely doesn't draw as many patrons to the restaurant locations as the NBA does. The difference may be smaller than most think, though: In 2011-12, the NBA recorded $4.2 in revenues, compared to $2.9 billion for the NHL.
Management Guidance
During the Q3 Conference Call, CEO Sally Smith told analysts that the "NBA isn't a huge driver for restaurant sales ... it really isn't until the finals." Chief Operating Officer Jim Schmidt said in an interview that: "As for the NBA, we are looking at contingencies (if the season is canceled), but pro basketball is not as significant a driver of sales as NFL football is, so I think we'll be OK." Certainly, management has a plenty time to have a back up plan in place.
In the company's most recent 10-K filing, management notes in the risk factors section that revenues "depend, in part on special events, such as the Super Bowl and other sporting events viewed by guests in our restaurants such as the NFL, MLB, NBA, NHL and NCAA. Interruptions in the viewing of these professional sporting league events due to strikes, lockouts or labor disputes may impact our results." The same warning was issued in the 2010 10-K. However, the 2009 report only mentioned the Super Bowl and the fluctuations based on dates for "popular sporting events." Take that for what it's worth.
Conclusion
An NFL lockout would have been detrimental to Buffalo Wild Wings. A cancellation of the NBA season, however, would not even have close to the same effect. I find no evidence to suggest that B Dubs' chains would see a significant drop in business. Regardless, the company's fundamentals remain solid and growth is meeting, if not, exceeding expectations.
Perhaps overblown fears of the impact of an NBA lockout on the restaurant chain will give an opportunity for investors to pick up the stock at a discounted price.
Disclosure: I am long BWLD.