It's easy to get lost in all the technology around chip designs and fabrication platforms. But the facts are that a host of new technologies is revolutionizing the interface between man and machine. The keyboard and pointing device are being replaced with touch, gesture and voice. InvenSense (NYSE:INVN) is a pure play on this space with a solid market position, strong revenue growth ($160m RR) and high operating margins (~30%.) The company has some customer concentration issues and not necessarily with the "right" OEMs. Still our base case IV suggests a $16-20 range for the shares at a 22x multiple.
Positives
InvenSense is the only company specialized in this market, and offers the broadest line of products, including accelerometers, gyroscopes, compasses and pressure sensors.
It's a large and rapidly growing market, driven by increasing "attach rates" for motion processing in tablets, smartphones, gaming devices and iTV. Core market growth plus a 2-3x increase in attach rates translates into a 5-7x market size in the next few years.
Most leading OEMs are among the 140 current customers and InvenSense supports most major operating systems including Android, QNX and Windows8 along with most major processing reference platforms.
Growth has been remarkable. Revenues have grown from $29M in the 2009 fiscal year to a $160M run rate today. At the same time the company has shifted from a somewhat gaming-centric revenue stream to a very balanced mix of sales from tablets, smartphones and gaming devices.
InvenSense has demonstrated an ability to maintain consistent gross and operating margins. Gross margins have been 52-55% and operating margins 22-34%. This suggests that while aggressive their operating margin target of 30-34% is achievable (see below).
The company has superior process technology that combines MEMS and CMOS standard fabrication to produce higher performance yet smaller and more efficient devices. In markets characterized by high unit volumes and constant cost pressure this type of advantage is important. (This is a nice to have, but won't prevent the company from reductions in gross margin from market pressure.)
InvenSense has taken a more system-oriented approach to packaging their technology into their "MotionProcessor" platform and to make it easier for developers to leverage these technologies with a set of basic algorithms and APIs they refer to as "MotionApps."
Although some management positions have seen turnover (see below) the founder and CEO, Steve Nasiri, has been in the industry for decades and probably knows this space as well or better than anyone.
Neutral
The market is competitive but fairly fragmented. The biggest direct competitor is STMicroelectronics which is broad line firm that is capable but not overwhelming.
Although the company is incorporated in Delaware, the bulk of company revenues are generated in Asia, and insiders own a controlling majority equity interest.
Patents and IP protection look solid, but in an industry as large as this one, it's always possible for IP disputes to emerge. As a smaller company, InvenSense might be more affected by litigation.
The company has burned through a few executives in the CFO role in the past few years. In June 2010 Mahesh Karanth was let go. In January 2011 Mark Voll was terminated. Jim Callas stepped in as an interim CFO and was released per agreement when the current CFO, Alan Krock was hired in May 2011.
Negatives
Nintendo accounts for a large portion of company revenues. The Wii is due for a transition. A pause in current demand and/or a supplier shift in the next generation of Wii would be very detrimental to near term business trends at InvenSense. It's worth noting that the concentration issue is abating but still about 60% of revenues come from the top three customers including Nintendo.
More broadly, InvenSense relies on their customers for growth. While gaining share in a growing market most people don't think about this. However when one or more customers change plans it impacts downstream suppliers.
The margin targets the company has set are achievable but fairly aggressive. It's not clear how the company will maintain them during periods of industry weakness.
Apple, Motorola and Nokia don't appear to be major customers of InvenSense.
Valuation
Putting a valuation model together on InvenSense is deceptively easy. Most will agree on numbers that are all fairly close. However, the multiple is a mystery and choices create a wide range of potential outcomes. We are going to start with the base case shown below and come back to do a more complete analysis with more cases and better peer input.
We're not in a position to argue the 24% long-term tax rate now but note that it well below our standard rate of 35% for US-listed companies. At a 35% tax rate our IV would drop to $14-17.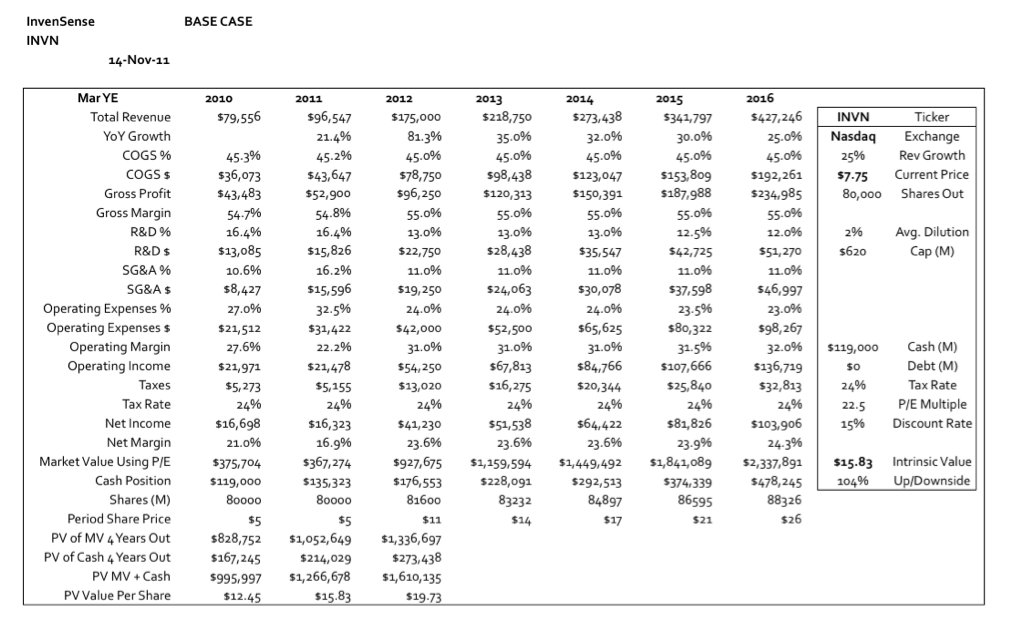 Click to enlarge
Disclosure: I have no positions in any stocks mentioned, and no plans to initiate any positions within the next 72 hours.