This is a great trap of the twentieth century: on the one side is the logic of the market, where we like to imagine we all start out as individuals who don't owe each other anything. On the other is the logic of the state, where we all begin with a debt we can never truly pay. We are constantly told that they are opposites, and that between them they contain the only real human possibilities. But it's a false dichotomy. States created markets. Markets require states. Neither could continue without the other, at least, in anything like the forms we would recognize today.

- David Graeber, Debt: The First 5,000 Years
For a couple of days in late October, European authorities appeared to have settled on a massive monetization scheme that would have eliminated the imminent risk of a collapse of Europe's banking system. We wrote "appeared to have settled" because less than a week after the plan was announced, Greek Prime Minister Papandreou unexpectedly called for a public referendum on the plan. The vote wouldn't occur until January 2012, which would extend the period of uncertainty for two more months. The market reaction to this announcement was dutifully panicked, with European bourses (VGK) plunging and German bund yields dropping (BUNL) below 2 percent. Systemic risk was placed squarely back on the table and cut out the legs from the rally that boosted markets out of the upper end of their trading range at the end of the month.
Mr. Papandreou didn't last too long after his volte-face and was out of office by mid-November, replaced by a so-called technocrat. He was quickly followed by Italian Prime Minister Silvio Berlusconi, whose sell-by date had passed long ago. Mr. Berlusconi was also replaced by a so-called technocrat who promised economic discipline in the face of ever-rising Italian bond yields. While regime change was sweeping the weaker European economies, the European Central Bank was nibbling at Italian debt in an effort to keep yields under 7 percent with one hand while holding off German objections to these purchases with the other. Germany remains opposed to these purchase on the grounds that they violate the ECB's charter.
One scheme being discussed to avoid this objection is for the ECB to lend money to the International Money Fund and then have the IMF repurchase the bonds. Such an exercise in form over substance might meet the letter of the law but would hardly conform with its spirit, which was designed to prevent the monetization of sovereign debt. And in the end that is the problem Europe has not solved – every solution to its debt crisis involves the monetization of debt, which simply creates problems in the future while having increasingly minimal positive effects today. Those praying for a massive intervention by the ECB are likely to continue to be disappointed: the ECB just doesn't seem to have what it takes to carry off such a feat.
The weaker European sovereigns (primarily Italy and Spain) face a combined €1.5 trillion of borrowing needs over the next three years. Those hoping that the European Financial Stability Facility can be leveraged up sufficiently to handle this volume of financing are very hopeful indeed. After all, the EFSF is not an actual pool of money but merely a collection of IOUs that have to be fulfilled by 17 European states, at least two of which (Italy and Spain) are unlikely to keep them. At the very least, such a program will experience serious strains and trigger bouts of serious market volatility. More likely, it will fall flat on its face, particularly with the spread on the EFSF's bonds widening against German yields on a daily basis.
As one who has written that there is little chance of a long-term solution to these problems without a radical rethinking of global economic policy, the Europeans are peering over a cliff and trying to figure out how to step back and buy some time before taking the inevitable leap. For, in the end, they have no other option than to jump. The world is getting a lesson in how Europe stumbled into two world wars during the 20th century as it watches the Continent stumble into a crisis of its own making that its flawed decision-making apparatus only keeps making worse.
European economies are facing severe economic contractions in late 2011 and 2012 with little clarity on pathways toward growth. This is not news to the markets. Italian 10-year bond yields (ITLY) took little time to blow back through 7 percent and have now widened by more than 225 basis points this year. The European Central Bank might as well have thrown money down a rat hole as purchased Italian bonds earlier this year. Yet, while Italy seems to be getting most of the attention of both the media and European political leaders pressuring its government to implement budget cuts, Spain is starting to experience alarming degrees of economic pain. With an election coming on November 20, the country's economy is in truly dire shape.
In the third quarter, Spain's unemployment rate reached the highest level in 15 years – an abominable 21.5 percent. The number of households without any income also reached a record level – 559,900, or 3.2 percent of all families. This is a result of the exhaustion of unemployment benefits for a growing number of Spaniards. In Spain, these benefits end or decline significantly after 24 months, compared with 3 to 5 years in some other European countries. While the Spanish government is looking for ways to stimulate job growth through government spending, the European Union is pressuring the country to reduce its budget deficit from more than 9 percent of GDP to 3 percent by 2013. The struggle between the government safety net and budget discipline will be increasingly painful across the union for the next few years.
Greece is mired in a depression that is getting worse by the day as it is forced to meet its northern neighbors' austerity demands in order to receive aid that still won't get it out of the bottomless economic pit it has dug for itself (the country needs to exit the EU, something that may be addressed in the referendum – if there is one). Banks taking 50 percent haircuts on Greek debt will now have to raise additional capital either in the public markets (highly unlikely) or via the EFSF, which will further dilute their already washed out stocks and divert them from the business of lending into recessionary economies (see below for more on European banks). The rating agencies are licking their chops in anticipation of dunning France's AAA-rating, and Germany is only slightly further behind on their list for downgrade). The costs of fiscal union are proving to be somewhere between excessive and prohibitive.
A Death Knell For Credit Default Swaps?
One of the rabbits that the Europeans succeeded in pulling out of their hats is deeming the 50 percent write-off of Greek debt something other than a "credit event" that would trigger payment under the credit insurance contracts governing Greek debt. According to The Wall Street Journal, only a relatively small amount of money would have actually changed hands had a "credit event" been deemed to have occurred - $3.7 billion. But European leaders were able to convince holders of the debt to accept a "voluntary" write-down, which does not trigger a payment under the insurance contracts (known as credit default swap contracts, or CDS).
The concern raised by market participants is that CDS will lose its utility as a hedge if parties are able to negotiate around it as they did in this case. A number of bankers were fretting in the media that this would result in higher borrowing costs for sovereigns by making it harder for buyers of sovereign debt to hedge their positions. To a limited extent that argument may have some merit, but for the most part CDS is used to speculate and not to hedge. If these self-interested bankers are really concerned about lowering sovereign borrowing costs, they should simply support a ban on naked sovereign CDS. That would leave investors with the ability to hedge, which would lead borrowers to lower their yield demands, and eliminate the pressure on rates placed by speculators who sell short sovereign credit without actually owning it. One of the reasons European leaders were so focused on not invoking a "credit event" in a Greek debt restructuring was to prevent speculators from profiting from Greece's troubles.
European Banks
Figure 1:
The Banks That Swallowed Europe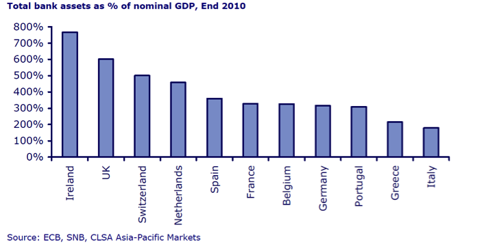 A key part of the Greek rescue plan is leveraging the EFSF so that banks will be able to take the write-downs of their Greek debt holdings and then access capital so they will not be rendered insolvent. Although since the entire edifice is built on debt it is unclear how they will be able to pull that off. It would seem that some non-traditional financing structures are going to be required for European banks. Among the structures that should be considered are bonds with warrants and convertible securities. Lenders will be taking equity risk and should be compensated accordingly. They should also be granted appropriate covenants that limit the ability of managements to make the same kind of stupid decisions that got them into their current messes. Nonetheless, the dilemma facing Europe's banks is truly formidable. Banks represent a much larger presence in European economies than they do in the United States, as Figure 1 illustrates above.
In an appearance on CNBC's Squawk Box and in an important essay in the Financial Times, Oliver Sarkozy, the half-brother of France's Nicholas Sarkozy, laid out the challenges facing the sector. Mr. Sarkozy notes that Europe's banking sector has $55 trillion of assets, four times larger than the U.S. sector. As a result, European banks are funded through institutional (what he calls wholesale markets, which he describes as much less stable and much more fickle than depositors. European banks rely on institutional markets for about $30 trillion of their funding, about 10 times more than U.S. banks. In the third quarter, this market was essentially closed to European banks, leaving them with only internally-generated sources of cash to repay institutional funding as it rolls off. Institutional funding has a three-year average life, so European banks need to generate more than $800 billion each month to fund maturing institutional borrowings. This is, in Mr. Sarkozy's words, unsustainable.
And the markets are saying so. The CDS market for European banks is back at or above the peak levels seen during the 2008 financial crisis. While Mr. Sarkozy does not come out and say it, TCS will – the likely future for European banks is Dexia SA (OTC:DXBGF), which was nationalized by France and Belgium when it ran aground a couple of weeks ago. Figure 2 below shows the horrible performance of European bank stocks over the past few years and since January 2011 (longtime readers will note that TCS has been recommending that investors short European banks all year).
Figure 2:
The Heart of the Problem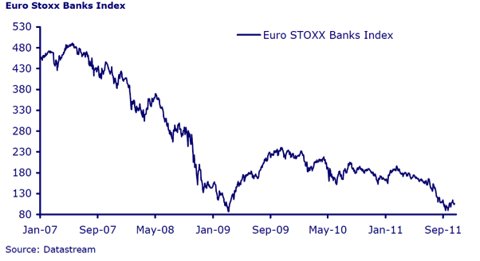 Mr. Sarkozy suggests that European banks will require $2 trillion of recapitalization, twice the amount that is provided for in the plan announced by European leaders. TCS would like to ask what type of financial prestidigitation is going to be required to transmogrify EFSF borrowings into bank equity. Either way, the problem is enormous and is unlikely to be solved by what the Europeans have proposed thus far.
U.S. Economy
Fears of a double dip recession can placed on the back burner as the U.S. economy grew at a respectable 2.5 percent annual rate in the third quarter. After six months of below one percent growth, this was a welcome recovery. The main contributors to growth were personal spending, which increased by 2.4 percent (adding 1.7 percent to annualized GDP) and business fixed investment (which added 1.5 percent to annualized GDP). Inventories subtracted 1.1 percent from GDP growth and government spending was flat.
If readers are puzzled by the contribution of personal spending in the face of 9.1 percent unemployment and a persistent housing crisis, we are too. The will-to-spend of the American consumer is something to behold, and apparently the addition of even a disappointing 100,000-125,000 jobs per month is sufficient to keep it afloat. But it should also be recognized that personal spending remains below the levels of previous recoveries (as does pretty much every other sign of economic health). Business spending is responding to decent demand in the emerging world, but there are indications that this is starting to slow. The point to be taken from these numbers is that the U.S. would do well to maintain growth in the 2.5-3.0 percent range going into 2012. This is a growth rate that is going to have to be proven; it is not something to bank on.
The Global Debt Albatross
In a late August interview on Bloomberg television with Tom Keane, I argued that one of the major factors suppressing economic growth in the U.S. is the enormous weight of debt throughout the economy. Debt service is a drag on economic growth today because much of this debt was not incurred with respect to productive activities. Instead, much of this debt is related to either housing (which is an unproductive asset) or financial speculation in the markets. Accordingly, economic actors are required to commit their capital to service debt that didn't contribute to productive economic growth.
Figure 3:
A Civilization Built on Debt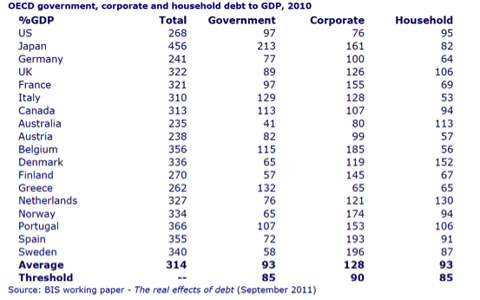 There is also increasing evidence that the sheer amount of debt has reached the point where it is retarding growth and that additional debt will place additional downward pressure on the economy. TCS came across confirmation of its argument in the always indispensable writings of our friend Christopher Wood. Mr. Wood wrote in the October 6, 2011 issue of GREED & fear that:
the evidence increasingly suggests that the Western world has now reached a point where further increases in total aggregate indebtedness are bad for growth even if it is assumed, optimistically, that the authorities are successful in triggering private-sector deleveraging.
Mr. Wood cited a Bank of International Settlements Working Paper written by Stephen Cecchetti, M.S. Mohanty and Fabrizio Zampolli entitled The Real Effects of Debt. This paper was presented at the August meeting of central bankers in Jackson Hole, Wyoming. The authors of this report analyzed data for 18 OECD countries for the 30-year period 1980-2010. Their findings are disturbing (though hardly surprising). First, the ratio of debt-to-GDP (total government, corporate and household debt but excluding financial sector debt) has risen from 167 percent to 314 percent during that period. Second, regression analysis showed that debt becomes sufficiently large to slow economic growth as follows: government debt – 85 percent; corporate debt – 90 percent; household debt – 85 percent. Needless to say, the United States has exceeded those levels today with no diminution of the debt burden in sight. U.S. government debt is at 97 percent and household debt is 95 percent. Only corporate debt, at 76 percent, is below the threshold. Figure 3 above shows these statistics for all of the countries studied. It is not a pretty picture.
One thing to focus on in Figure 3 above and in Figure 4 below is the fact that Germany, the country on which the economic fate of Europe largely rests, is itself heavily indebted. Germany carries a total non-financial debt-to-GDP ratio of 241 percent (government – 77 percent; corporate – 100 percent; household – 64 percent). One can see why it is far from certain that Germany will have the economic or political wherewithal to bail out its weak European neighbors even if it musters up the political will to do so.
Figure 4:
Germany – Going, Going, Gone?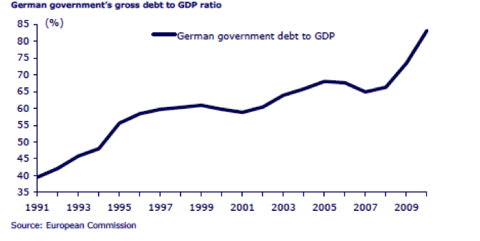 One of the other points made in the BIS paper – something TCS discussed in the Introduction to my book The Death of Capital and in Figure 5, is the enormous impact that aging populations will have on countries throughout the world. This was developed by the International Monetary Fund to show that spending on the 2008 financial crisis, which was in the trillions of dollars, is dwarfed by the projected costs of caring for aging populations. On average, aging populations will cost the advanced G-20 countries 14 times more than the financial crisis.
The point made in both the BIS study and my book is that it is incumbent upon advanced economies to bring their debt under control. Otherwise, the world is at risk of not having the resources to deal with the problems that they are going to face in the future. These problems include natural disasters (like Japan's tsunami); environmental degradation and climate change; nuclear proliferation; terrorism; military conflict; pandemics, and hunger and poverty. Each one of these poses a potential threat to human survival (and is precisely the type of Black Swan for which most investors are not prepared). To continue to run our economies like a bunch of drunken sailors is incredibly reckless in the face of these future challenges.
Figure 5:
Debt May Kill Us Before Old Age Does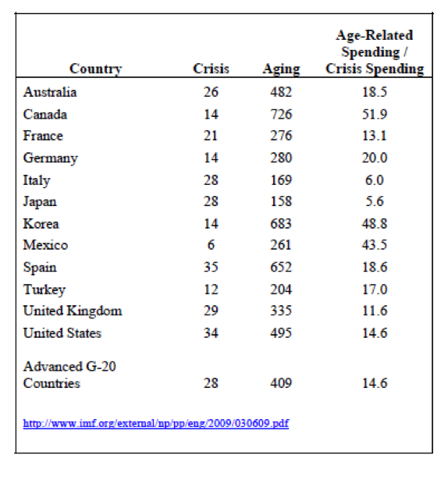 It should also be noted that China, the Great Hope of the global economy, is hardly a paragon of fiscal rectitude. China's total non-financial debt-to-GDP ratio is 174 percent (government debt – 44 percent; household debt – 19 percent; corporate debt – 111 percent. This does not include the massive amounts of debt hidden on the balance sheets of opaque Chinese banks. China is concealing its own debt problem and the opaque nature of the situation renders it a bit of a wild card in the global economic picture.