In a recent Marketwatch article titled, "Buffett pays dearly for IBM", the author Christopher Hinton lays out his case why he thinks Buffett overpaid for his recent purchase of IBM stock. Here are some excerpts:
In building up his $10.7 billion stake in International Business Machines Corp., billionaire Warren Buffett apparently turned a blind eye to one of the most basic rules of investing: Buy low.


IBM shares have been building on all-time highs for nearly two years, breaking past $131 a share for the first time at the end of 2009. More recently, shares traded at $187.74, up a fraction since last week, but gaining more than 15% since mid-March.
Really?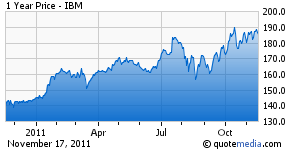 The only analysis the author gives as to why he contends that IBM is expensive is simply due to the fact that IBM has been going up for a long time...ipso facto: it is overpriced. The author's analysis certainly seems like an overly-simplified leap of logic.
Let's look at IBM another way.
IBM has a forward P/E ratio of 12.62. I like to take the inverse of the P/E ratio giving me the earnings yield. The earnings yield of IBM is 7.9%. The earnings yield of a stock allows it to be comparable to the yield of a bond or even a savings account. IBM will give you back approximately 2% of that 7.9% in the form of a dividend. Looking at its history you can be sure IBM will return the remaining 5.9% of its earnings to you in the form of buybacks or business expansion. So even if it never grew its earnings again, right now, IBM is way more attractive than a savings account or US treasuries.
That's fine, we know it's cheap compared to savings accounts and US treasuries, but is it cheap compared to other stocks historically?
Yes. Like I pointed out earlier, IBM has a forward P/E of 12.62 compared to the S&P's historical average of 15.9. This analysis is fine for average stocks, but IBM is far from average. It is one of the best stocks (companies) of all time. From 1950 to 2003 IBM had annual growth rates of 11% and commanded an average p/e ratio of 26.76. Today IBM has an IT service business that is impossible to duplicate giving owners an impenetrable economic moat that Warren Buffett so covets.
From my perspective, Mr. Buffett just bought an All-Star business for a great price.
Disclosure: I have no positions in any stocks mentioned, and no plans to initiate any positions within the next 72 hours.