Solid cash flow generation despite significant challenges to revenue line
The merger with Wyeth enables Pfizer (NYSE:PFE) to extract significant synergies, which should improve the company's EPS profile during the important patent expiry period from 2011 onward. A business review is under way and is likely to result in increased shareholder returns supported by the company's strong cash flow generation. However, it will take longer than initially thought. Nevertheless, Pfizer moves from a pure cost-cutting story to one which is supported by its pipeline.
Increasing confidence in 2012 targets warrants a higher P/E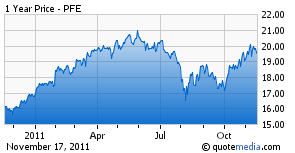 Pfizer's shares currently trade at a P/E 2011E/12E of 8.5 and 8.4, at a significant discount to the US pharma sector at 10.1 and 10.9, respectively. The magnitude of the discount is not justified, and should gradually narrow.
Q3 results clearly beat expectations; raises FY 2011 EPS guidance
Pfizer reported strong Q3 2011 revenues of USD 17.2 bn (up 7% YoY, up 1% in local currency (LC)), 5% above consensus expectations. Regionally, US revenues decreased 3% while international revenues grew 15% (4% in LC). Within Pharmaceuticals, most products beat expectations with Lipitor beating consensus by 12% and the Prevnar franchise meeting expectations. On a side note, Lipitor will lose patent protection in November 2011. Significantly lower-than-expected SG&A costs led to an operating profit of USD 7.27 bn (up 13% YoY), 13% above consensus. The resulting adjusted EPS of USD 0.62 (up 15% YoY) beat consensus of USD 0.56 by 11%, despite a higher-than-expected tax rate. The company raised its FY 2011 adjusted EPS guidance range from USD 2.16-2.26 to USD 2.24-2.29 (consensus currently expects USD 2.25) and confirmed its FY 2012 EPS guidance of USD 2.25-2.35. In addition, the company increased its FY 2011 share repurchase target to USD 7-9 bn (from USD 5-7 bn).
Challenges to revenue line are known by now; pipeline could surprise positively
Lipitor (cholesterol lowering) generates sales of roughly USD 10.5 bn and represents the world's best-selling drug. The drug will lose its US patent protection by the end of 2011. Following significant pipeline failures in the past, the clinical news flow has changed for the better. Upcoming news flow includes: Phase 3 data on tasocitinib (rheumatoid arthritis), filing of apixaban (blood thinner) in the USA/EU as well as US regulatory decisions on Prevnar (vaccine) and axitinib (cancer).
Pfizer is committed to strict cost cutting
Pfizer has large cost-saving programs in place to compensate for margin pressures, which will result from the upcoming patent expiries. The company issued a guidance for 2012 revenue and earnings. Pfizer targets a 20% reduction in R&D expenditures, which follows a long history of pipeline failures. This should allow the company to report a 2012 EPS in the range of USD 2.25-2.35. Furthermore, the strict commitment to cost cutting adds credibility to this target.
Disclosure: I have no positions in any stocks mentioned, and no plans to initiate any positions within the next 72 hours.