Commtouch Software (CTCH) ($3.50) reported good Q3 results. The company ended the nine month period below our forecast. That might cast light on its decision to hire a new Chief Executive last month. But the numbers weren't bad. The foundation remains solid. Profit margins are fantastic. And the potential for superior growth is undiminished. Revenues improved 27% to $5.86 million. Organic growth probably was around 15%.
Commtouch made a significant acquisition last year, which was included for only one month in the Q3'10 quarter. Earnings (fully taxed) were flat year to year at $.06 a share. The acquired company generated lower margins than Commtouch's existing business, but improvements are being made.
For the entire year we've reduced our earnings estimate to $.23 a share. Commtouch generates most of its revenue from subscriptions that are recognized for accounting purposes as earned, month to month. The company doesn't provide exact numbers but it did indicate that full year revenue would finish around $23 million. That's $1.0 million below our earlier prediction. We'd been hoping the company would capitalize on the growing need for internet security, especially now that cloud computing and mobile applications were gaining momentum. All the same, income looks 21% higher this year. Sales are likely to finish up 26% at $23 million.
Organic growth could accelerate in 2012. Internet crime is hard to prosecute. And the payoff is can be tremendous. Demand for security software is expanding as a result. The former CEO put in place a strong book of business. So we we think income will keep climbing in 2012. The combination of 22% sales growth and expanding margins could deliver a 30% gain in income to $.30 a share.
Long term growth could be be faster. Acquisitions, combined with internal product development and an expanded sales force, could accelerate earnings growth in subsequent years. In 2-3 years income could attain $.50 a share. Applying a P/E multiple of 20x suggests a target price of $10 a share, potential appreciation of 185% from the current quote. Commtouch is based in Israel.
click to enlarge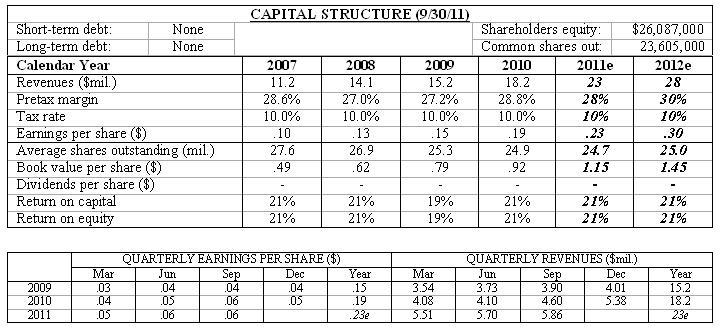 Disclosure: I am long CTCH.