Confusion Among Leading Indicators
Economic Cycle Research Institute ("ECRI") chief Lakshman Achuthan recently took some heat from CNBC hosts on the ECRI's vocal recession call. Detractors have focused on increases in equity market prices and mixed economic indicators including better employment data as indicators that the U.S. will stay out of recession.
The chart below outlines the differences between ECRI's leading index and the Conference Board's Leading Indicators (source: Bloomberg).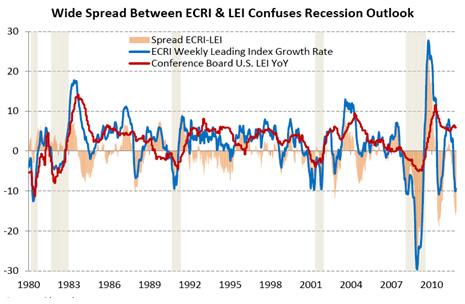 Recession Call Intact
While the data has been confusing and markets have remained volatile due to noise out of Europe, we remain cautious and convinced that a recession is ahead. The headwinds are dramatic and confidence is becoming increasingly shaky. We believe the recent spike in yields in Italy and Spain are very troublesome. Italy represents one of the top 10 largest economies in the world, thus Italy's issues are significantly more destabilizing than Greece.
We remain defensive and advocate a portfolio focused on (i) high quality, low beta equities, (ii) equities that will perform in a low growth, low interest rate environment (e.g., mortgage REITs), and (iii) precious metals.
Hiding out in cash for prolonged periods of time is difficult due to the Fed's zero interest rate policy. Dividend stocks with low betas, like the ones listed in the table below, will tend to be less volatile than the general market and should hold up well in a market downturn. In addition, mortgage REITs provide strong dividends in low and stable interest rate environments and we advocate Annaly Capital Management (NYSE:NLY) due to its conservative leverage profile and tenured management team.
Note: This is by no means an exhaustive list of recession-proof stocks, but investors should use this list as a start for their own analysis.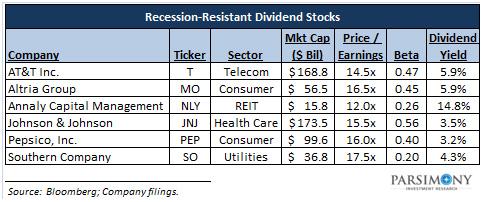 Increase Exposure to Precious Metals
As we have highlighted in recent articles, we believe the Federal Reserve will continue to increase the monetary base and weaken the dollar as long unemployment remains elevated. Precious metals like gold and silver are a direct beneficiary of this money printing.
We own gold and silver in physical and ETF form, the SPDR Gold Trust ETF (NYSEARCA:GLD) and iShares Silver Trust (NYSEARCA:SLV), and we recommend that investors should increase their exposure to precious metals (preferably physical) as the double-dip recession looms.