AstraZeneca (NYSE:AZN) is one of the largest pharmaceutical companies in the world. Its drug portfolio contains numerous blockbusters including Crestor, Symicort, and Nexium. Over 17% of AstraZeneca's 2010 revenue came from Crestor, which is used to treat high cholesterol in millions of patients.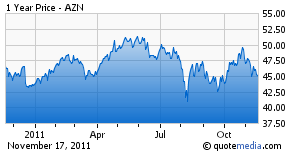 AstraZeneca, through successful marketing and price increases, has increased revenue of Crestor by 14% this year alone and over 55% from 2008. Crestor's prescription count has also increased faster than the overall statin market through the first 9 months of 2011. This indicates how crucial Crestor is to AstraZeneca's fiscal health.
Also, unlike Pfizer's (NYSE:PFE) Lipitor which recently lost its patent protection, AstraZeneca will have patent protection until 2016 on Crestor. Combine this with Nexium, Crestor's second leading drug possibly losing patent protection in 2014, AstraZeneca will be relying heavily on Crestor for future profit and revenue generation until new drugs in the pipeline can be approved. The recently completed SATURN trial will weigh heavily on AstraZeneca's ability to grow Crestor revenue in the future.
Trial results:
The SATURN trial, conducted by the Cleveland Clinic, pitted two of the best-selling statin medications (Lipitor and Crestor) against one another in a large double-blind, multi-centered, randomized trial. Not only are double-blind, randomized trials considered the gold standard of the research industry, but the Cleveland Clinic is well known for being one of the most effective hospitals in the world for cardiovascular care. This indicates that the results and data gathered from the trial will be taken very seriously by most cardiologists and general practitioners.
The trial confirmed that while Crestor did significantly lower LDL levels (a cholesterol indicator) when compared to Lipitor, it was not superior in decreasing atherosclerosis as measured by intravascular ultrasonography, the primary end point. The study also illustrated no significant difference between the two drugs in clinical events (MI, Stroke, Cardiovascular related death). How physicians utilize the results and data found in this study is still undetermined.
Impact:
The economic climate also plays a role in consumer purchasing behavior. The poor economic conditions are increasing physician awareness of how difficult it can be for some of their patients to afford their medications. As more generic manufacturers start producing Lipitor in the coming months, the free market will take over and the price will drop drastically. Large insurance companies will also start requiring prior authorizations for Crestor, inadvertently causing doctors to prescribe more generic statins.
In conclusion, it will become extremely difficult for AstraZeneca to continue revenue growth and prescription count increases for Crestor considering generic Lipitor becoming available and the data from the SATURN trial. These results, along with the looming expiration of Nexium, will put pressure on AstraZeneca's future revenue and profit.
Disclosure: I am long PFE.