This piece seeks to answer two questions:
Was Dover Corp (NYSE:DOV) the best dividend play of the last quarter-century?
Is Dover Corp the best dividend play of the next quarter-century?
The short answer to each question is no, but it has certainly performed admirably over this time and its future prospects are bright. In proving this, this article will look more at the math behind Dover's dividend, rather than their fundamentals, but as one of the world's largest industrial conglomerates, the fundamentals are sound.
The fact of the matter is that there is no perfect stock and this is why diversification is such a highly debated topic. The more diversified you are, the less risk taken on. Consider this: a few days ago an article described how you could have accrued over $1 million investing in Coca-Cola (NYSE:KO) in 1984. The takeaway was that Coke has grown substantially over this time period, while maintaining a steady flow of dividends that, if reinvested, would have taken $24,000 to a million in 27 years.
First, while the math checks out and proves that Coke is an excellent company, very few people would have had $24,000 to invest. First, given inflation, that is almost $52,000 in 2011. The constant flow of Occupy Wall Street news has taught me that the average household income in 2011 is around $40k and the savings rate has tanked. So, it's unlikely that one would have had $24k lying around to invest.
Second, if you were going to invest this amount, it would not have been all at one time. Any large purchases like this should be bought in steps to attain the lowest basis possible. With $24k it should have been over a series of years. This would afford you the ability to decide if Coke was really the stock you want to be playing. You would have the choice to diversify, perhaps put some into a risky sector. I'm not really sure what was risky then, I wasn't even born yet, but I'm guessing anything technology based.
Third, this makes the assumption that you have the stomach to bear swings in the market. Three years into this investment was the stock market crash of 1987 and Coke dropped from $6 per share to $4.50. That means that $24k would now be worth $18k. Our most recent recession has shown that investors are apt to flee the market in times of panic. Though it is not advisable to sell in a downturn, it is certainly a possibility that it would have been contemplated.
Lastly, the growth of the 1990s is unlikely to be duplicated anytime soon. From 1990 to 2000 the Dow rose 250%, (Coke was over 400% in that time). It's nice to look back in hindsight but banking on it happening again is foolish. For comparison's sake, it would put the Dow at over 30,000 (this was once dreamed about, by intelligent economists at that, but seriously?).
My point is that picking a long-term winner is not easy. It takes due diligence, due vigilance, and some luck. Which brings us to Dover; a company you've probably never heard of unless you frequent the lists of companies who have increased their dividends for over 50 years. And even if you have, it would be impossible to say exactly what they do.
Dover is an industrial conglomerate, and operates through a series of subsidiaries. From Bloomberg Law:
products include material handling equipment, refuse truck bodies, tank trailers, refrigeration systems, refrigeration display cases, marking and coding systems, sucker rods, drill bit inserts, nozzles, swivels and breakaways, and electronic technology equipment.
As you can see, it's fairly diversified within the industry, an industry with a relatively constant demand. That last part implies that while the risks are low, the potential gains in the short term are bleak as well.
For an excellent look at Dover's growth potential, you should read Chuck Carnevale's write up from this past summer. More important is the examination of the historical dividend payments, which is the basis of the next part of this analysis. Above it was stated that investing in Coke could make you a millionaire through dividend reinvesting, though most of the gain was from price appreciation. An important conclusion is that locking in a low price in a company that consistently raises their dividends gives you a significant yield.
So, the reason we are looking at Dover is that they have raised their dividend for over 50 years in a row. There are very few corporations that can say that. Its past the point of remarkable and borderline unfathomable given all of the market shifting events that have occurred since then. The conclusion we can draw from this is that they will probably continue to increase over the next 25 years, but more significant is the incentive this gives to invest in a company that is only currently yielding 2.2%. Sure a tenet among most dividend investors is minimum 3%, but here you lock in the future high yields, in a company whose payout ratio is a mere 27%.
Now for some math and statistics in an attempt to predict the future using the past. For disclosure purposes from here on out, I have a pretty large stake in this company with a cost basis of around $4 a share (there were some stock splits in there). In this time the quarterly dividend has risen from a few pennies to $0.315. From 1997 to present the annual increase in dividend pay is just shy of 9%.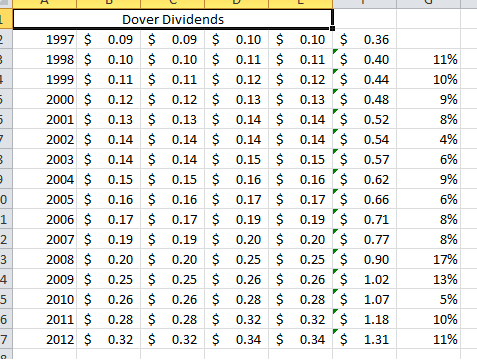 The last row is a prediction; no dividends have been announced past this December. The column on the far right is the percent change from the following year.
With this we can extrapolate 10 and 25 years into the future. Using a very conservative dividend growth rate of 7.5%, 10 years from now Dover would payout $2.60/share and 25 years from now it would be around $7.70/share. Now let's say you bought 100 shares of Dover right now at roughly $55 (many would argue that this is undervalued), for a $5,500 investment. Using these projected dividends, and not using DRIP, the initial investment would be made back in dividends by year 20, excluding taxes since they're subject to change any given year. Or you could do this through a Roth IRA to avoid the taxes altogether and it would only take 2 years to invest this amount.
Couple this with the fact that Dover has a long-term earnings growth rate of 12% and you have a really strong pick. Based on that you would triple up in 10 years. The counter argument to all of this is that there may be much better plays to be made and that is certainly true. But here we are looking at what would be an intermediate-sized investment for most that has a half-century history of awarding its shareholders, with little risk. There is plenty of room for other investment to be made while have a safety net to fall back on.
There are a number of other similar companies that could provide the same sort of long-term gains and a history of annually increasing dividends. It is just important to remember to look for low entry points and to diversify. The easiest way would be to simply look at the Dow.
Procter & Gamble (NYSE:PG), 3M (NYSE:MMM), Johnson & Johnson (NYSE:JNJ), Wal-Mart (NYSE:WMT), McDonald's (NYSE:MCD), Coca-Cola, Exxon (NYSE:XOM) and AT&T (NYSE:T) have all raised their dividends for over 25 years running and they are part of the Dow not only because they are representative of the market as a whole, but also because of their size, which reduces their risk.
In picking a company, focus on the history of increasing dividends with a solid growth ratio (showing that the dividend increases will be substantial and consistent), and a low payout ratio (to ensure that they will be able to keep paying these dividends).