In order to be entitled to a stock's dividend, an investor must own the stock and not sell it before the ex-dividend date. The dividend may not actually be paid for several weeks after the ex-dividend date, but the equity will immediately be re-priced to reflect the owed dividend being removed from the corporate coffers and share value.
Below, I have assembled a list of equities that will be going ex-dividend next week. Some individuals like to buy equities before an ex-dividend date, in order to capture the dividend. Others prefer to buy equities after ex-dividends, when the stock's price is hurt to a greater extent than is warranted by the dividend being paid.
While neither plan is a sure thing nor even an advisable investment discipline, keeping track of ex-dividend dates is important so that you can understand why an equity may be zigging when the rest of the market zags.
Below, I have provided the present annual yield, the value of the pending dividend and performance charts for those equities that have ex-dividend dates scheduled for Monday, November 21, 2011. I have only included those equities v
alued at over $1 billion and with dividends of at least 2%.
click on all charts to enlarge
Applied Materials (NASDAQ:AMAT)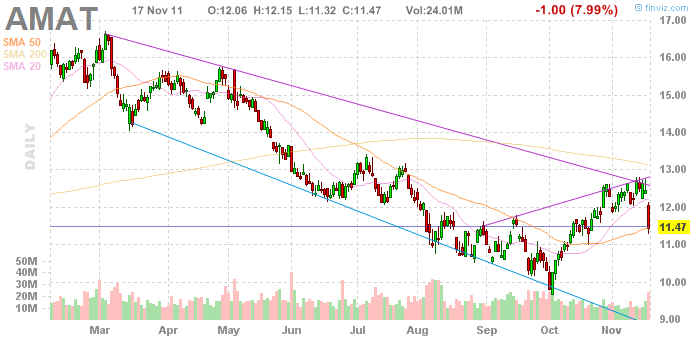 Maxim Integrated Products (NASDAQ:MXIM)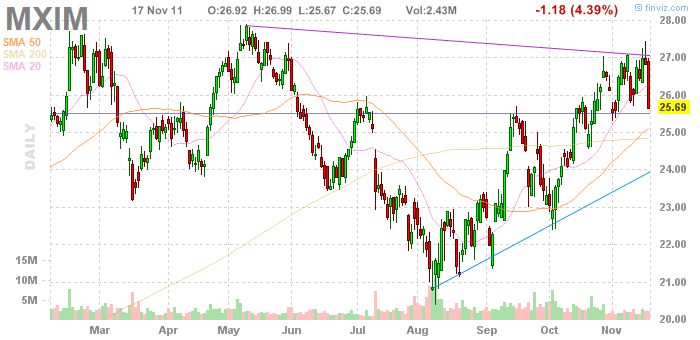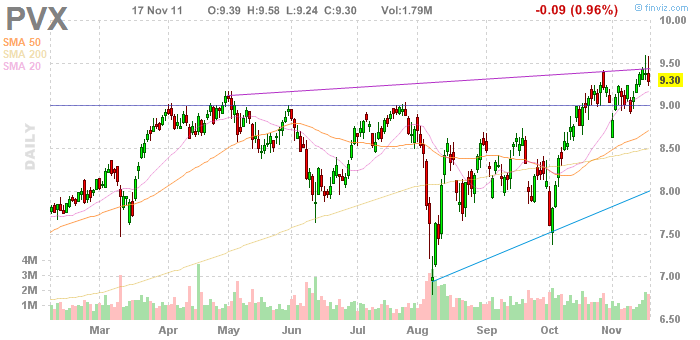 Steris (NYSE:STE)
·
Dividend Value: $0.17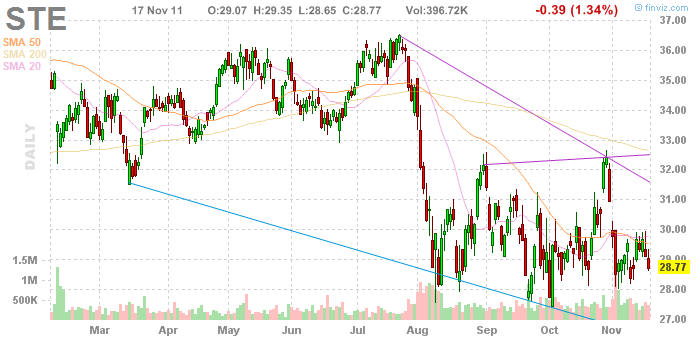 Sun Life Financial (NYSE:SLF)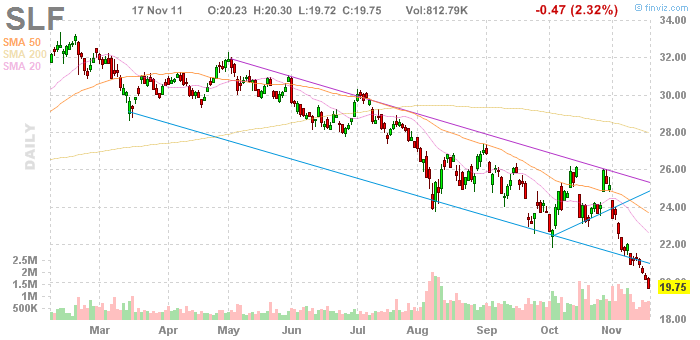 The ex-dividend date is usually two trading days before the holder of record date for U.S. securities. In order to have a claim towards the dividend, shares must be purchased no later than the last business day before the ex-dividend date. The price of a stock may increase in anticipation of the upcoming dividend, but it will suffer a reduction in price due to the dividend exclusion.

Disclosure: I have no positions in any stocks mentioned, and no plans to initiate any positions within the next 72 hours.
Disclaimer:
This article is intended to be informative and should not be construed as personalized advice, as it does not take into account your specific situation or objectives.