Key highlights of Dangdang's (NYSE:DANG) 3Q11 results:
Net revenue: $142.5 million (+50% y/y)
Media product revenue: $100.3 million (+27% y/y).
General merchandise revenue: $40 million (+162% y/y).
Gross margin: 14%, compared to 25% last year. The decline in gross margin was due to competitive pricing, product promotion and increased sale from General Merchandise, which carries lower margin.
Operating loss: $12.8 million due to increase in fulfillment and marketing expense.
Net loss per ADS: $0.14 compared to Street estimate of $0.07
As of most recent quarter, Dangdang has total cash of $243.3 million.
What I liked: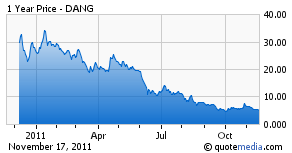 Strong revenue growth from all segments. Media revenue, which consists of mostly book, saw sales increase 50% y/y and now accounts for 70% of total revenue compared to 82% in 4Q10 as Dangdang shifts its product mix towards more General Merchandise, which now accounts for 28% of total revenue compared to 16% a year ago.
A diverse product offering will likely attract more active customers in the future. During the quarter, Dangdang's total active customer base reached 5.5 million, an increase of 36% last year and total orders volume increased 32% from a year ago to 10.8 million. The company's also recently introduced a mobile version of its website, which currently generates more than 7,000 orders per day, and will likely generate additional sales as user stickiness takes effect.
Continued investments in brand building and customer experience. Dangdang has been promoting its brand in tier 1 cities (Beijing, Shanghai, Shenzhen, and Guangzhou) since mid-September and continuing to strive for better customer experience with improved packaging and faster delivery. The company has expanded same day delivery service to 17 cities and next day delivery services to ~100 cities. In addition, the company equipped its cash-on-delivery network with mobile payment terminals that allow customers in 130 cities to pay with credit or bank cards upon receiving their package. The number of same-day and next day delivery services will likely increase upon the completion of warehouses in Fuzhou and Jinan.
Strong guidance and sound balance sheet. For the fourth quarter, the management guided $185 million in revenue (+ 65% y/y), above the consensus of $169 million (+57% y/y). The company also has a total cash holding of $243.3 million, which equals to million 55% of the company's market cap, making Dangdang one of most cash-rich Chinese technology companies in North America.
Positioning for the future. Dangdang will begin to offer E-books that are compatible with Android and iPad tablets. I would like to point that this initiative is still in its infancy and will unlikely boost earnings in the near-term. However, I am encouraged to see that Dangdang is well-positioned for the future as a growing number of consumers begin to adopt the tablet PCs.
What concerned me:
As I mentioned in my earnings preview, Dangdang is investing for the future and investors will continue to see near-term pressure on its margins. However, Dangdang's current strategy of investing in revenue growth is sound due to the competitive nature of China's ecommerce market. Hence, I remain overweight on Dangdang's growth prospect.
Disclosure: I have no positions in any stocks mentioned, and no plans to initiate any positions within the next 72 hours.