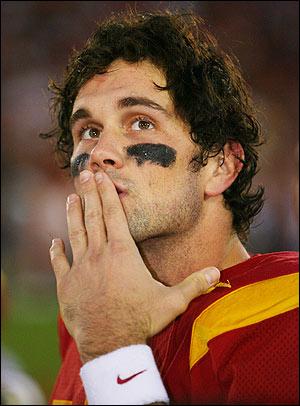 In football it's called "happy feet," a quarterback with a great arm who stands in the pocket too long, bouncing on his feet, fearing a sack, until he gets sacked. Matt Leinart (right) has happy feet.
AOL (AOL) CEO Tim Armstrong is the Matt Leinart of the Internet business.
Since buying Huffington Post early this year, a deal which cried for a follow-up, Armstrong has been shuffling his feet in the pocket, looking down the field, waiting for something to happen, making nothing happen himself. And his linemen have tired of blocking for him.
Paul Berry, the man who really made Arianna Huffington rich, is "stepping back". Saul Hansell, their top editor, has gone to Betaworks. Chief of strategy Jeff Grusd has left for Spotify.
Most famously, TechCrunch founder Michael Arrington became a venture capitalist and unpaid blogger. More importantly Brad Garlinghouse, whom Armstrong brought in to turn around the company two years ago, said he's gone.
When the quarterback coach quits the quarterback, sell.
Quarterbacks with happy feet do complete some passes. AOL's latest quarterly numbers beat expectations. But look inside. It's because dial-up revenues aren't bleeding out as fast as expected. And that "profitable" mobile ad business? Its profits are based on carrier deals signed years ago. To use another football analogy, Armstrong is piling up numbers with screens and check-downs to his running backs.
While Armstrong has diddled, Arianna Huffington has used AOL's money to sign a whole host of dead tree journalists. This is how "Citizen Kane" won the New York newspaper wars, but that was a movie, about something that happened a century ago.
The result isn't "schizophrenia," as Business Insider recently described it. With apologies to all those suffering from it, that's Alzheimer's.
Smart traders are putting in strategies that see AOL losing another one-third of its value over a very short period of time. Short is the only way to play this stock. Unless you think Matt Leinart is about to throw 400 yards for the Texans against Jacksonville next week.
And even if he does, it's Jacksonville.
Disclosure: I have no positions in any stocks mentioned, and no plans to initiate any positions within the next 72 hours.