Railroads might seem like an antiquated concept, but they remain a vital part of North America's infrastructure. Rail is still by far the cheapest way to transport bulk goods. From grain to coal to cars, virtually everything is moved by means of freight. With the "big six" railroads having near monopolies, profits are all but guaranteed.
Dividend lovers tend to focus on the higher-yielding, more stable sectors like consumer goods or utilities and I fear that some are making a mistake by ignoring more economically sensitive stocks. Please don't let the cyclical nature of these companies fool you: they are the cash cows of the transportation world and have tremendous potential to grow their dividends.
I will make my case by highlighting my two favorite railroad stocks.
Canadian National Railway (NYSE:CNI)
Canadian National Railway owns over 20,000 miles of railway track across Canada, The United States and Mexico and is the largest railway on the continent. Since going public in 1995, CNI has grown steadily through organic growth and key acquisitions and generated tremendous profits. The company's focus on reducing costs and improving operating efficiency has led CNI to have the lowest operating costs and highest margins among any major North American railroad. This profit growth has allowed CNI to increase their dividend each year for 14 years. Their dividend growth hasn't slowed down any either: an annualized 14% 5-year dividend growth rate was topped by a 20% dividend hike this year. Click to enlarge: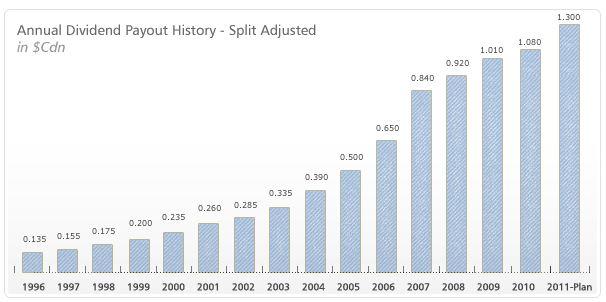 I know you are not supposed to get emotionally attached to your stocks but I must admit that I am fond of Canadian National Railway. It was one of my first stock purchases, way back in 1997, and has rewarded me handsomely. The following table shows the performance of my first lot of CNR stock and demonstrates the power of rising dividends over time.
| | |
| --- | --- |
| Original Shares | 100 |
| Original Price | $8.54 |
| Original Investment Value | $854 |
| Original Dividend | $0.155 |
| Today's Shares | 600 |
| Today's Price | $79.65 |
| Today's Investment Value | $47,790 |
| Today's Dividend | $1.30 |
| Price Appreciation | 814% |
| Yield On Cost | 15.2 |
The Great Recession took a huge bite out of rail traffic but since then CNI has seen a sharp recovery in car loads -- their recent earning release not only recorded record profit, but the highest car loads for any railroad in North America. As highlighted most recently by their deal with CoalSpur Mines this month, CNI continues to sign long-term contracts, ensuring continued growth for the future.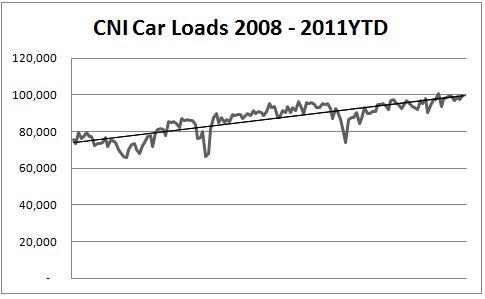 Canadian National Railroad's future looks bright: a low pay-out ratio, growing volumes, record profits and projected EPS growth in the double digits. I expect the next 15 years to be just as rewarding as the previous 15 were.
CSX Corp (NYSE:CSX)
CSX Corp is a very different railroad company from Canadian National Railroad. As opposed to CNI's long continent-spanning rail lines, CSX has hundreds of short regional lines. Their lines provide short and long rail services across the eastern United States and access more than 70 marine ports. This is very bullish for CSX, if you believe that North America sending raw goods out east is a trend that will continue.
CSX also has a unique intermodal segment to their business: they provide companies with truck-to-rail, rail-to-truck and (marine) container shipping. Their distinctive "transrail" network and related logistical services offer their customers a compelling transportation solution.
While I think CSX's vision of an intermodal transportation company is ingenious, there were some bumps along the road. For much of this decade, their incredibly complex network was plagued by operational difficulties that led to decreased efficiency and lower margins that significantly lagged their main competitor Norfolk Southern Corp (NYSE:NSC).
CSX Corp has begun to hit its stride the last few years as network problems have slowly waned. Their operational ratio has improved from 77.8% in 2009 to 70.4% in 2011. While this is still behind NSC, the spread is quickly narrowing, and CSX has now pulled slightly ahead of their larger rival in EPS.
Their intermodal segment – the most creative part of their business model – is now the fastest growing part of their business. Their latest earning results produced record revenue and showed an impressive 19% EPS growth year over year. Analysts have also turned bullish on the stock, with the majority rating CSX as "Strong Buy" and giving a median EPS growth projection of 14.1% for next year.
Finally, CSX is beating NSC by a wide margin in what is perhaps my favorite statistic: 5 year dividend growth rate. Now, CSX Corp has been paying and (mostly) increasing their dividends for a long time but in the last few years have decided to use their newfound profit growth and fatter margins to get serious about increasing their dividend. Check out this chart of CSX Corp's last twenty quarterly dividend payments!
click to enlarge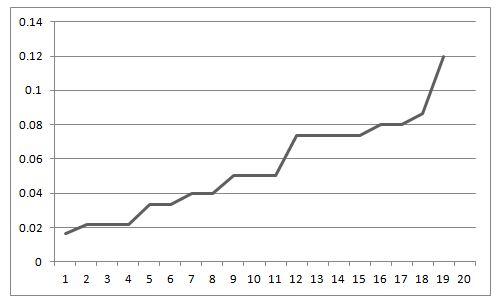 For those of you keeping track at home, that is a full eight dividend increases in the last five years for an impressive 5 year dividend growth rate of almost 30%. During that time, CSX's dividend yield has increased from well under 1% to the current 2.2%. I expect it to go much higher in the future.