Today I have put together a new screen to identify beaten-down stocks with upside potential. To build this screen, I first isolated stocks with heavy insider buying (specifically, insider buying that has increased by over 50% over the past six months). While company insiders frequently purchase shares of their own company, unusually heavy increases in insider buying may signal growing confidence in the company's future.
Although company insiders cannot trade on material non-public information (e.g. earnings releases, acquisitions, major deals), their opinions formed by tons of immaterial non-public information provides a great barometer of the company's potential. Insiders understand industry threats, company strengths and market opportunities better than anyone , and they have a good idea how these factors will influence a company's prospects well before they evolve into incremental earnings or any other material piece of information.
The next step of my screening process was to isolate the stocks that are trading close to their 52 week lows (within 10%). My hypothesis is that insiders, knowing their company's potential prospects, are especially enticed by a falling stock price, causing them to dramatically increase their company stock purchases.
As an investor, I'm interested in knowing what I, and others, don't know. Trading on material non-public information is illegal. But following the cues of insiders who act on a massive collection of non-material non-public information -- especially on an out-of-favor stock -- might be a great way to begin research into potential investment opportunities.
The stocks identified by my screen include the following:
| | | |
| --- | --- | --- |
| Ticker | Company | Sector |
| PCG | PG & E Corp. | Utilities |
| WHR | Whirlpool Corp. | Services |
| CSC | Computer Sciences Corporation | Technology |
| FIS | Fidelity National Information Services, Inc. | Services |
| AVP | Avon Products Inc. | Consumer Goods |
These 5 stocks have all dropped significantly over the past year and are currently trading within 10% of their 52-week lows: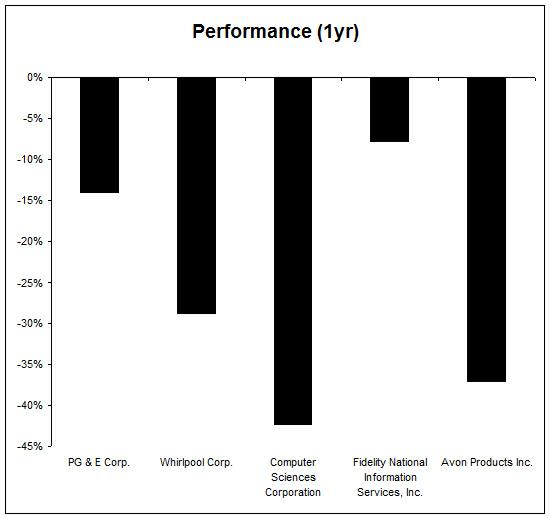 Four of these stocks are trading close to book value, and four have a dividend yield above 3%.
| | | | |
| --- | --- | --- | --- |
| Ticker | P/B | Dividend Yield | Operating Margin |
| PCG | 1.32 | 4.68% | 14.06% |
| WHR | 0.93 | 3.86% | 4.20% |
| CSC | 0.85 | 3.10% | -13.84% |
| FIS | 1.11 | 0.82% | 17.75% |
| AVP | 4.13 | 5.25% | 10.48% |
Now that we've identified 5 beaten-down stocks with heavy insider buying, investors should conduct further qualitative and quantitative research to determine if any of these stocks meet their personal investment objectives.
While conducting your research, remember that there may be other, potentially irrational, factors causing insiders to buy big amounts of company stock. Consequently, investors should use insider buying activity as a way to validate their own quantitative valuation techniques.
Disclosure: I have no positions in any stocks mentioned, and no plans to initiate any positions within the next 72 hours.
Disclaimer: This is not advice. While Plan B Economics makes every effort to provide high-quality information, the information is not guaranteed to be accurate and should not be relied upon. Investing involves risk, and you could lose all your money. Consult a professional advisor before making any investing decisions.