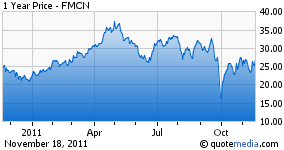 As expected in
my earnings preview
, Focus Media (
FMCN
) delivered a strong 3Q11 in which:
Total revenue: $210.7 million
Core net revenue, which includes those from LCD, in-store and poster frame network, was $196 million (+53% y/y, and +18% q/q)
Non-core net revenue from traditional outdoor billboard was $14.6 million (+64% y/y, and +13% q/q).
Gross margin: 64.3%, compared to 58.3% a year ago.
GAAP net income: $62.2 million (-44% y/y, +45% q/q). The y/y loss includes one-time income of $79 million from the sale of Focus Media's internet business in 3Q11.
Non-GAAP net income: $82.7 million (+60% y/y, and +31% q/q), in which EPS was $0.59 (+69% y/y, and +34% q/q).
At the end of the quarter Focus Media has $639.9 million in cash and short-term investments.
What I liked
Record high total revenue. Despite the fear over China's economic slowdown, Focus Media reported record revenues from all of its core businesses. LCD display network revenue was $133.6 million (+54% y/y and +18% q/q), post frame network revenue was $46.6 million (+45% y/y and 22% q/q), and in-store networks revenue was $15.9 million (+69% y/y and +7% q/q). Finally, non-core billboard unit saw sales grew 64% y/y and 13% q/q to $14.6 million.
Strong revenue was also accompanied by growth in the number of display units. Total number of LCD displays in its LCD network grew 19% y/y and 5% q/q to 178,382 nationwide, which includes 169,810 displays in its directly owned networks and 8,572 displays in its distributors' networks. Total number of poster frames increased 42% y/y and 10% q/q to 391,304 nationwide, while the total number of displays within the in-store networks increased 11% y/y and +1% q/q to 50,696 nationwide.
Continued pricing power. Focus Media's gross margin expanded 6ppts to 64.3% from a year ago. Specifically, we saw strong margin expansion in all core business units in which LCD margin expanded 3 ppts to 79%, poster margin expanded 4 ppts to 42%, and in-store margin expanded to 63% from 36% a year ago. The continued margin expansion highlights Focus Media's pricing power in China's outdoor advertising industry and will continue to be accretive to earnings.
Repositioning on the S-Curve. Focus Media is transitioning from low-tech to high-tech by introducing new LCD screens that feature location-based-services (LBS). During the quarter, the company launched the first phase of its new interactive LBS advertising platform, which includes 30,000 screens cross seven cities. By year end, the company hopes to have 40,000 screens operational.
The LBS platform will likely drive additional revenue source and attract new clienteles because it is transforming Focus Media from a brand advertising platform into an advertising and direct sales platform. The new LCD screen features one large screen for advertisement and three small screens for local coupons, and stores 100 Q Cards (RFID cards). Upon receiving the free Q Card, consumers need to register via SMS or online. In order to get the coupon, consumers can beep the Q Card against the sensor on the LCD screen and subsequently receive a SMS coupon which they can use at the nearest location. The LCD screens are also compatible with RFID-embedded SIMs or near field communication to cater to the growing usage of smart phones in China.
The new LBS platform is critical to advertisers in that it is transforming viewers into buyers. Meanwhile, this platform also opens new revenue stream to Focus Media because promotion and direct sales budget are separate from advertising budget. In addition, new clienteles within the insurance and banking industry, which has not been actively using Focus Media's product offerings, have shown interest in the new product, implying further upside in future revenue growth.
Positive guidance. For the fourth quarter, the management guided $212 - 214 million in revenue (+45% y/y) for the core units. For the non-core billboard unit, the management guided $14 – 16 million in revenue, the midpoint of which represents 68% y/y growth. The management forecast well exceeded the consensus of $196 million.
Q4 revenue growth is likely to come from verticals such as FMCG, telecommunication and home electronic appliances. In addition, the management secured large MNC including P&G, L'Oreal, Johnson & Johnson, and Samsung for the new LBS platform and has indicated that 80% of the existing customers have shown interest in the service.
What concerned me
None. The quarter was spectacular. After years of being underappreciated by both investors and analysts, Focus Media is making a comeback to show the market that this old-timer is not slowing down anytime soon.

Disclosure: I have no positions in any stocks mentioned, and no plans to initiate any positions within the next 72 hours.