I live in Charlotte so banking news is always on the front page, the local page and the business page of our paper. Not a day goes by when Bank of American (NYSE:BAC) isn't the subject of the headline on one of these sections, if not all three. This article is not about the long term prospects of BAC. I have no crystal ball. This is about where I think the stock is at this point in time. Let's try to look only at the objective information.
Of course, the question on all your minds: Is this the time to buy? I really think the bottom has not yet been reached. If you look at this graph provided by Barchart, I think you'll agree. The chart shows the stock price over the last year compared to its 20, 50 and 100 day moving average and a 14 day turtle channel. The turtle channel plots the highest price from the prior 14 trading days and the lowest price from the prior 14 trading days as a channel around the prices.
Click to enlarge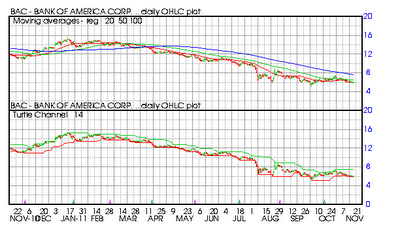 Bank of America Corporation, through its subsidiaries, provides banking and financial services to individuals, small- and middle-market businesses, corporations, and governments primarily in the United States and internationally. The company's deposits segment generates savings accounts, money market savings accounts, certificate of deposits and IRAs, and checking accounts; and the global card services segment provides the U.S. consumer and business card, consumer lending, international card and debit card services. Its Home Loans and Insurance segment offers fixed and adjustable-rate first-lien mortgage loans for home purchase and refinancing needs, reverse mortgages, home equity lines of credit, and home equity loans, as well as property, casualty, life, disability and credit insurance.
The company's Global Commercial Banking segment provides commercial loans and commitment facilities, real estate lending, leasing, trade finance, short-term credit, asset-based lending, and indirect consumer loans; and capital management and treasury solutions, such as treasury management, foreign exchange, and short-term investing options. Its Global Banking and Markets segment provides financial products, advisory services, financing, securities clearing, settlement, and custody services; debt and equity underwriting and distribution, merger-related advisory services, and risk management products; and integrated working capital management and treasury solutions.
The company's Global Wealth and Investment Management segment offers advisory services, team-based investment advice and guidance, brokerage services, and wealth management solutions, as well as retirement services. Bank of America serves customers through a network of approximately 5,900 banking centers and 18,000 automated teller machines. The company was founded in 1874 and is based in Charlotte, North Carolina. (Yahoo Finance profile)
Factors To Consider
Barchart technical indicators:
56% Barchart technical sell signal
Trend Spotter hold signal
Sell signals are weakening and buy signals are getting stronger
The stock is 61.01% off its one-year high
Relative Strength Index is 42.77% and falling
Barchart computes a technical support level at 5.72
Recently traded at 5.99 with a 50 day moving average of 6.46
Fundamental factors:
This is a very widely followed stock on Wall Street with 25 brokerage firms assigning 32 analysts to cover the stock
The brokerage analysts project revenue to fall by 15.30% this year and only increase by 4.40% next year
Earnings estimates vary wildly with a forecast of a 101.20% decrease this year, an increase of 10% next year ( coming off small numbers) and expected to maintain an 11.75% annual increase over a five-year period
Those consensus numbers result in 5 strong buy, 10 buy, 16 hold, 1 under perform and no sell recommendations for clients
There is good news and bad news; The good news is the New BAC project is expected to save $5 billion. The bad news is the project will also hand out over 30,000 pink slips.
They must find a way to refund the $11.7 billion of bad mortgages they dumped on investors
It looks like they have about $14.6 billion of PIIGS debt on the books (Portugal, Italy, Ireland, Greece and Spain)
General investor interest:
This is the 9th most followed stock with the readers of Motley Fool with over 10,720 readers expressing an opinion on the stock
The general readers vote is 88% that the stock will beat the market
The more experienced All Stars vote 85% for the same result
Fool notes that 37 Wall Street columnists wrote articles and 92% of them were positive
I noted that in the readers' simulated portfolios the 10 Fool readers that made the most on this stock were all short sellers
One of the recent columnists who recommended shorting or selling the stock was Jim Cramer, who recommended sell
Competitors:
I like to compare the price action of a stock to some of its competitors. Over the past year BAC was down 51% while US Bank (NYSE:USB) was up 1%, First Third (NASDAQ:FITB) down only 7% and Keycorp (NYSE:KEY) down 11%:
Click to enlarge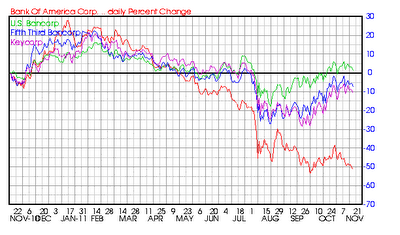 Summary: As I stated this in an article about whether the stock hit the bottom yet and I think it has a little bit more to go. Bank of America is not unlike its costumers. In this uncertain economic cycle there will be more resources trained on cost saving and containment and not a lot on growth and expansion. If customers are not needing new expansion funds then growth prospects in the banking sector are still a bit away. Sit on the sidelines at this time.
Disclosure: I have no positions in any stocks mentioned, and no plans to initiate any positions within the next 72 hours.