For many investors, the market's undercut and reversal on October 4 marked an important change in trend for the major indices, ushering in one of the best Octobers on record. Thanks to the ongoing European debt crisis, however, the first two weeks of November have offered up a much less enjoyable series of whipsaws, characterized by news-driven rallies and violent selloffs -- the kind of action that drives all but the most nimble day-traders a little crazy.
With the indices now struggling with major resistance at their 200-day simple moving averages, now is a good time to ask yourself whether you believe October 4 was the start of a new bull market, or a strong, intermediate rally within on ongoing bear market. At IPI, we like to gather as much evidence as we can when analyzing the overall market trend.
Leading Stocks and Volume
First and foremost, for a bull market to sustain itself, you need leading stocks to guide the indices higher. As the markets melted up off the October lows and into earnings season, volume was conspicuous, but the lack of leading stocks to emerge has been a major concern. Where are all the gap-up breakouts by leading stocks on skyscraper volume?
While a few names, like Fusion-Io (NYSE:FIO), Netsuite (NYSE:N), and Questcor Pharmaceuticals (QCOR), have performed admirably, for the most part you get sense that institutions are hiding in highly liquid names like Google (NASDAQ:GOOG), International Business Machines (NYSE:IBM), Intel (NASDAQ:INTC) and SanDisk (SNDK). These are former leaders the big boys can get out of in a hurry, if need be, at the first sign of major market distress. Even institutional darlings like Apple (NASDAQ:AAPL), Amazon (NASDAQ:AMZN) and Chipotle (NYSE:CMG) are all now trading below their 50-day moving averages. Not a good sign.
Distribution Days Are Piling Up
A look at the daily chart of the Nasdaq shows an increasing number of William O'Neil-style, higher-volume distribution days since November began, a sign that institutions are unloading major positions while the getting is good. This is not what we want to see. While three or four distribution days over the course of two weeks does not strike the death knoll for the market, it does warrant caution and appropriate position sizing:
Nasdaq 1-Year Daily Chart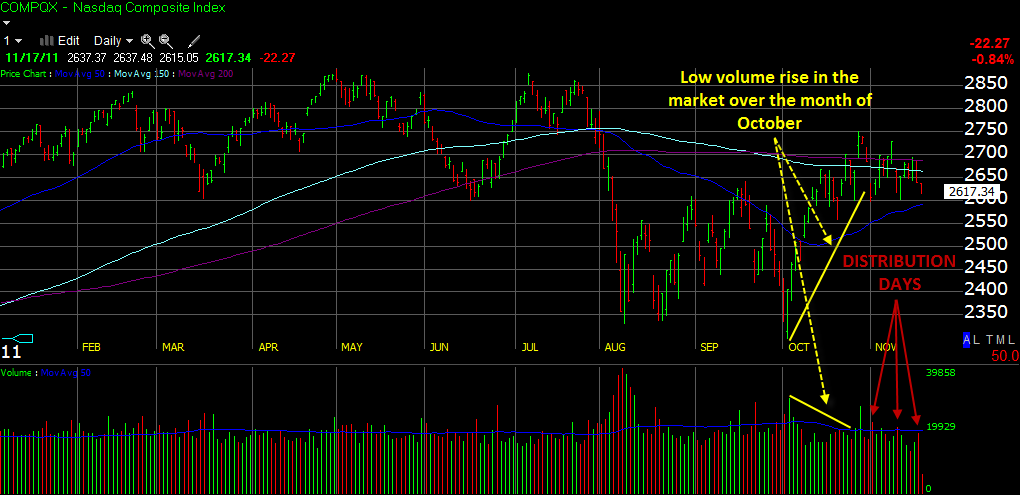 Click to enlargeSource: TeleChart Gold.
New Highs/New Lows Index
Another market indicator we closely follow at IPI is the New Highs/New Lows Index, popularized by well-known trader Dr. Alexander Elder. According to StockCharts.com, "The index is computed by counting up all of the US stocks (on any of the three major exchanges) that are making new 52-week highs and subtracting all of the US stocks that are making new 52-week lows." We use this index to help us spot divergences at significant market tops and bottoms. When we compare the last bear market lows of March, 2009 to the more recent lows registered October 4th, we see a positive divergence at one bottom but not the other.
SPX 3YR Daily Chart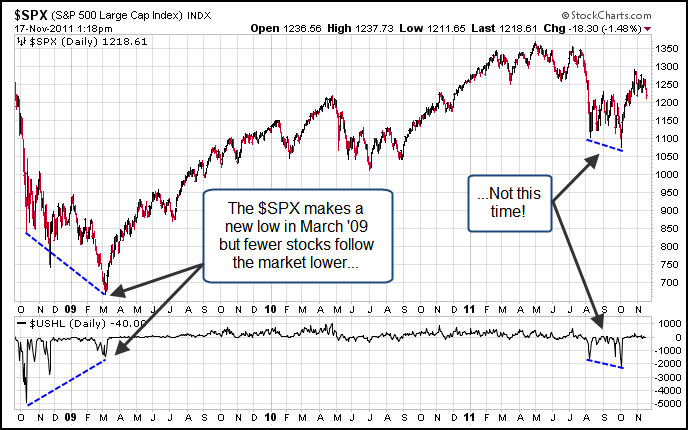 Click to enlargeSource: StockCharts.com.
In March of 2009, as the SPX made a lower low, the number of stocks making new lows was demonstrably less than in October and November of 2008. Conversely, when we examine the lower low the SPX put in on October 4 of this year, we see that the number of stocks making new lows also increased as stocks sold off and then reversed. Again, in moments where pundits are declaring "capitulation bottoms," it's always nice to see underlying strength accompanying these headline proclamations.
Abandon Hope?
While the situation in Europe is making for near un-tradeable market volatility, we do see more and more encouraging signs coming from the U.S. economy. Additionally, in the small-cap arena where we focus much of our research, company earnings reports and conference calls have been underscored by cautiously optimistic outlooks on the global economy.
If the debt crisis in Europe can be resolved, we do think this rally could find legs again and perhaps make a run at yearly highs. The majority of money managers are now trailing the major indices at this point in the year. As these managers scramble to play catch-up, it could provide a nice bid for the markets. Just don't be seduced into thinking a strong bear-market rally is a new bull market. After this rally has turned the last bear into a bull, the next downleg could well be upon us. This is not the time to be a hero!
Disclosure: I have no positions in any stocks mentioned, and no plans to initiate any positions within the next 72 hours.