If you're looking for a stock that makes money year in and year out for your IRA you don't have to look any further than Exxon Mobil (NYSE:XOM). The uninterrupted string of positive earnings is truly impressive. The company continues a fully integrated strategy and has recently bought back over $16 billion of stock to increase stockholder value. A look at this graph provided by Barchart shows a stock in recovery at the moment. Long term investors can have comfort in the earnings stream and short term investors should look at the 14 day turtle channel as a guide for where to place your stop losses.
Click to enlarge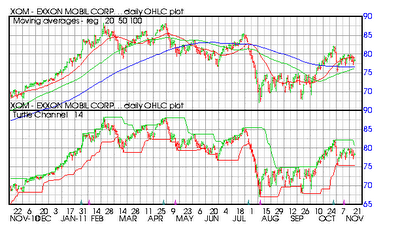 Exxon Mobil Corporation engages in the exploration and production of crude oil and natural gas and manufacture of petroleum products, as well as transportation and sale of crude oil, natural gas and petroleum products. The company manufactures and markets commodity petrochemicals, including olefins, aromatics, polyethylene and polypropylene plastics and other specialty products. As of December 31, 2010, it operated 35,691 gross and 30,494 net operated wells. The company has operations in the United States, Canada/South America, Europe, Africa, Asia, and Australia/Oceania. Exxon Mobil Corporation was founded in 1870 and is based in Irving, Texas. (Yahoo Finance profile)
Factors To Consider
Barchart technical indicators:
8% Barchart technical buy signal
Trend Spotter buy signal
Although the stock is 11.38% off its 1 year high, that compares favorably to the 16.36% that the overall market is off for its 2 year high
Relative Strength Index is 50.50% and falling
Barchart computes a technical support level at 77.95
The stock recently traded at 78.24 with a 50 day moving average of 76.19
Fundamental factors:
The stock is popular with Wall Street and 17 brokerages have assigned 23 analysts to follow the stock
Analysts project revenue will increase by 23.60% this year but decrease by 5.50% next year mostly based on forecasts of lower oil prices
Earnings estimates are for an increase of 37.32% this year, slightly off by 1.40% next year but over the next five years to grow by an annual rate of 6.66%
The consensus numbers resulted in 7 strong buy, 5 buy, 9 hold and 2 under perform recommendations for clients
The P/E ratio of 9.43% is a bargain when compared to the P/E ratio of 14.8 for the overall market
The 2.4% dividend is only 25% of projected earnings and in line with the 2.2% dividend rate of the market
The company has an A++ financial strength rating and the stock's price has a 100 percentile score on Price Stability
The $16 billion stock buy back program has increased stockholder value
General investor interest:
Widely followed by the readers of Motley Fool with 8,217 readers expressing an opinion on the stock
Readers voted 94% that the stock will beat the market
The more experienced and savvy All Stars voted 96% for the same result
The 34 Wall Street columnists writing about the company were 91% positive
Among those that were positive were Bill Nygren, Pat Dorsey, John Rogers and Wayne Rogers. One of the dissenters with a sell call was Jim Cramer
Competitors:
I like to compare the price action of a stock major competitors over the past year. XOM is up 14% while BP is up 2% and Chevron (NYSE:CVX) and Royal Dutch (RDS) are both up 22%:
Click to enlarge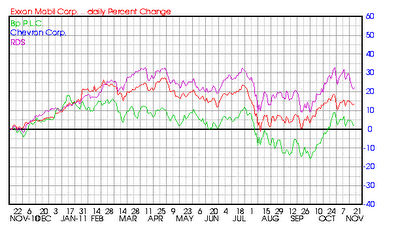 Summary: Exxon Mobil is a good candidate for both long and short term investors. Long term investors can have this in their IRA on a DRIP program and feel secure. Short term traders should use a stop loss program with either the 14 day turtle channel or the 50 day moving average as a stop loss guide.
Disclosure: I have no positions in any stocks mentioned, and no plans to initiate any positions within the next 72 hours.