Looking at how Apple (NASDAQ:AAPL) has been trading lately, I'm amazed at how little Wall Street seems to value this stock - compared to say Amazon.com (NASDAQ:AMZN).
So I did a little experiment. I looked up the earnings for both companies and calculated the annual earnings per share on a trailing four quarters basis. Looking at that compared to the stock price shows the PE ratios for both companies.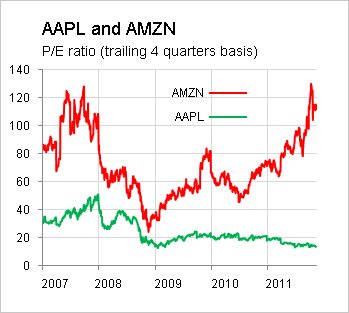 I also looked up operating income, again on a trailing four quarters basis.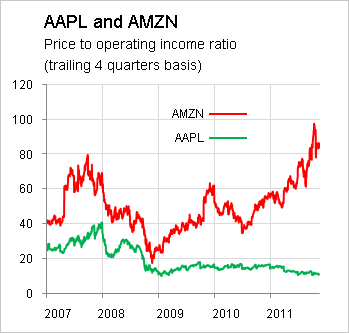 So what if Apple traded at Amazon's multiple? Here's what that would have looked like over the past few years.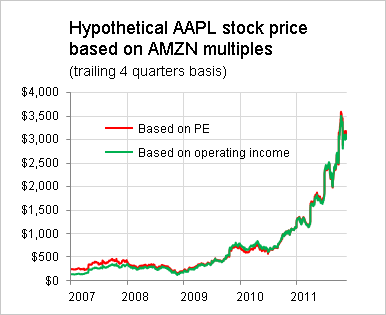 Based on earnings and operating income, Apple would be a $3,000 stock if it traded as richly as Amazon.
I'm not silly enough to suggest that Apple really should be a $3,000 stock, but perhaps $1,000? The stock once commanded a multiple of more than 30. If it ever does again, $1,000 would certainly be within reach.
Another way to look at this, of course, is that AAPL appears to be the stock with less risk. Where would Amazon trade if its multiple were more like Apple's? I'm not necessarily bearish on Amazon, but if it were valued at the same ratio, AMZN would be trading well south of $50.
Disclosure: I am long AAPL.